After several years living in Colorado, Justin Leonard and his wife Amanda moved their family to South Florida right after the U.S. Open at The Country Club, where Leonard worked for NBC and Golf Channel and had a chance to reminisce about one of the most indelible moments of his career.
The transition to the Sunshine State says plenty about Leonard's intentions as a competitive golfer, an identity he surrendered in 2016 when his smarts and short game no longer could compensate for the immense disadvantage he encountered on practically every length-fortified tournament course.
Winner of 12 PGA Tour titles, including the 1997 Open Championship at Royal Troon, Leonard is eager to find out what kind of golf he can produce against his peers. The Texas native makes his PGA Tour Champions debut this week at the Bridgestone Senior Players Championship in Akron, Ohio, a place where he hasn't enjoyed much success, but, as he explains, "at least it's one that I know and I'm familiar with the surroundings."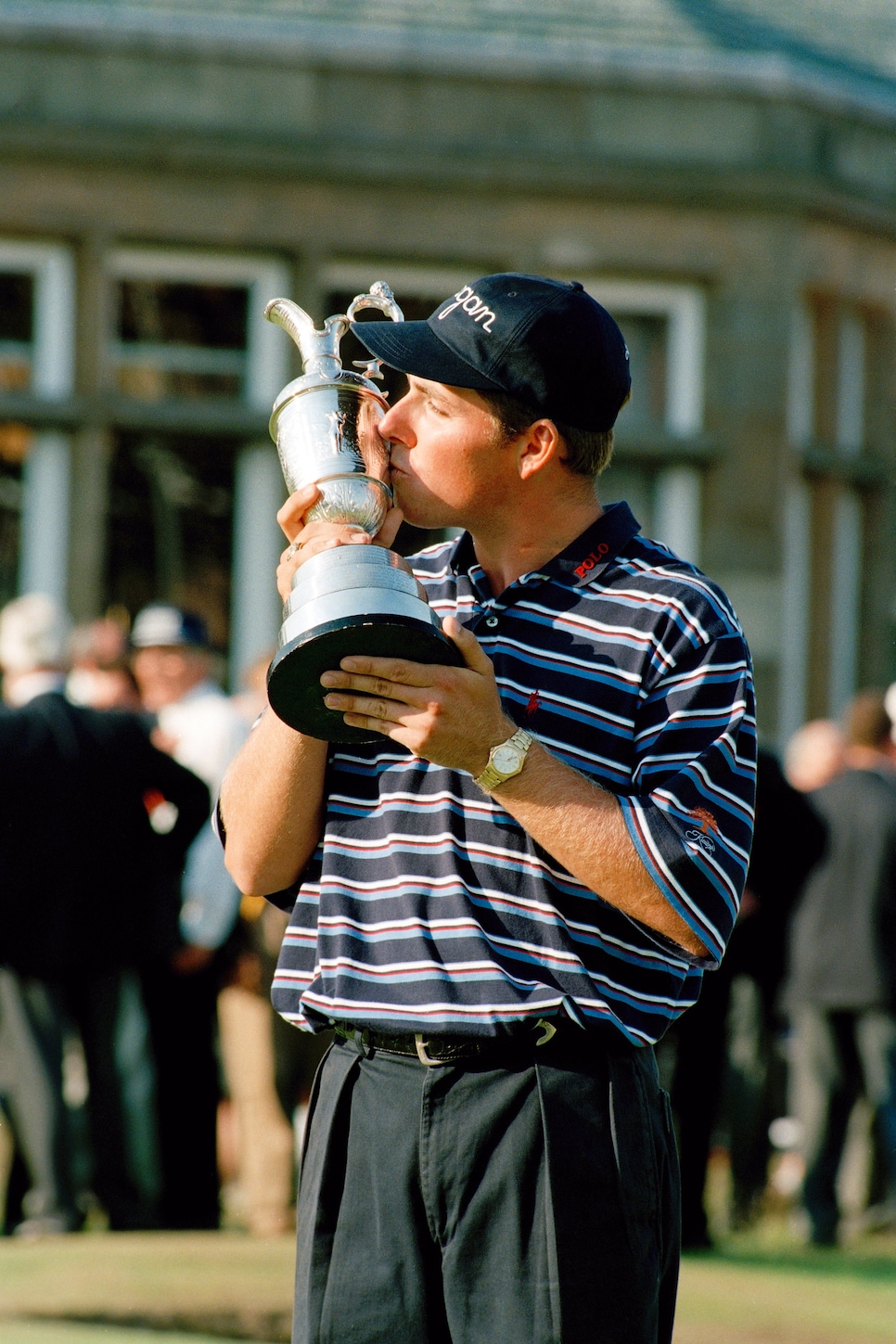 "For the most part, people don't realize I won the Open or The Players [in 1998], but everyone remembers that putt," Leonard said. "Of course, it's been a while."
As in, it's been a while since his halcyon days. Leonard registered his final tour victory at the 2008 Stanford St. Jude Championship and last made the FedEx Cup playoffs in 2014. Only recently has he begun to play more than "a handful" of times a year, partly to get ready to rejoin the competitive fray, but more so as a way to spend more time with his two sons, Luke and Skylar, who have become avid golfers.
"I've enjoyed getting back into the game," Leonard said in a phone interview during the U.S. Open. "This last year and a half, I've gotten more into it with the possibility that I'd play senior golf and also playing more with my boys. It's been fun to get out and work and get into familiar work habits and thoughts about the game. I'm very curious about how that translates. I'm not expecting immediate success, but I am looking forward to it, and I hope to see enough good things in the few events that I play to find some things to build on."
Swing coach Randy Smith believes his longtime pupil will indeed find something to build on.
"If you can gauge someone's chances for success off of a level of enthusiasm, I'd say he's going to do really well," said Smith, whose current players includes World No. 1 Scottie Scheffler. "Second childhood, you never know how they're going to turn out, and what I mean is it's like a second childhood to see his excitement. He's fiddling with golf clubs, working on his game. I just told him, don't overthink this. Just go do your thing."
Leonard hasn't played the brutal, broad-shouldered South Course at Firestone since 2010, when he acquitted himself decently by finishing at one-under 279 and T-22 in the WGC-Bridgestone Invitational. His best showing at the South Course came in 2000 when he finished runner-up to Tiger Woods, no shame there given that Woods was nearly unstoppable at Firestone.
Though now eligible for senior golf, Leonard said he is better equipped to play a course like Firestone due to his healthy lifestyle in Aspen, Colo., which included lots of hiking, biking and skiing. His work the last few years with GolfForever, a golf fitness and training system intended to improve core strength and rotational power, will also come in handy.
"I feel in better shape than I did five, 10 or even 15 years ago. I think part of that is from my time living in the mountains and how Amanda and I approached things, the slower pace, the exercise we got," Leonard said. "But doing those golf-specific movements and workouts required for the golf swing, I think I have come out ahead of where I would have been if I'd been doing more normal routines. It will be fun to see how I put that to use on a golf course when it counts."
After the Senior Players, Leonard resumes his TV duties for NBC at the Open at the Old Course at St. Andrews, Scotland, one of six events he has left on his broadcast schedule this year. In the meantime, he'll try to sneak in a few more senior events.
He'll be busy, but he's already busy with two sons and two daughters and all their sporting events, which he is loath to miss.
"It's just a different busy, where I'm just throwing another piece into the puzzle," he said. "Kids are at an age where I don't want to miss their sporting events, their lacrosse games and golf tournaments and tennis and volleyball games. It's finding a balance. I can tell you that I'm not going to be out doing 30-35 weeks out on the road and trying to manage all that. I'm going to play a little and then make some decisions in the fall."
Those decisions include how to split his time between TV and the Champions Tour, if, indeed he does both. The move to Florida suggests that might garner most, if not all, his attention.
"It's going to be a fun change," he said. "Amanda is from Florida, and she has family down there, and it will make travel easier. And the weather … you know, the boys can play more golf."
He hesitated for a beat or so. "And so can I," he added. "Yeah, I'm going to need to have warm weather."