The Loop
If wearing your dreaded rival's jersey to training to force a transfer is wrong, we don't want to be right
Here in the good old US of A, we've seen various antics from players trying to force trades over the years. We've seen holdouts, badmouths, and mystery injuries. We've seen agents take to SportsCenter and TO host workouts in his driveway. It's almost fair to say that we've seen it all . . . except that we haven't. Because despite the passive-aggressive press conferences and rivers of crocodile tears, American sports has never seen anything quite like the move Royal Antwerp forward Didier Lamkel Zé just pulled while trying to force a move to Greece Super League side Panathinaikos.
If you're not a regular viewer of the Jupiler Pro League, the top tier of Belgian club soccer, you might not immediately recognize the royal purple of R.S.C. Anderlecht—Royal Antwerp's dreaded rivals. The sheer audacity of such a move, however, should bridge any cultural gap. Imagine if Mookie Betts had shown up to Fenway Park in Yankees pinstripes in order to accelerate his trade to the Los Angeles Dodgers or if Joe Burrow had walked into the Horseshoe decked out in maize and blue before transferring to LSU. This, in a nutshell, is what Lamkel Zé just did, and there's no overstating the ballen (that's Flemish for "balls") it took. As you can probably guess, they didn't even let his ass inside the building . . .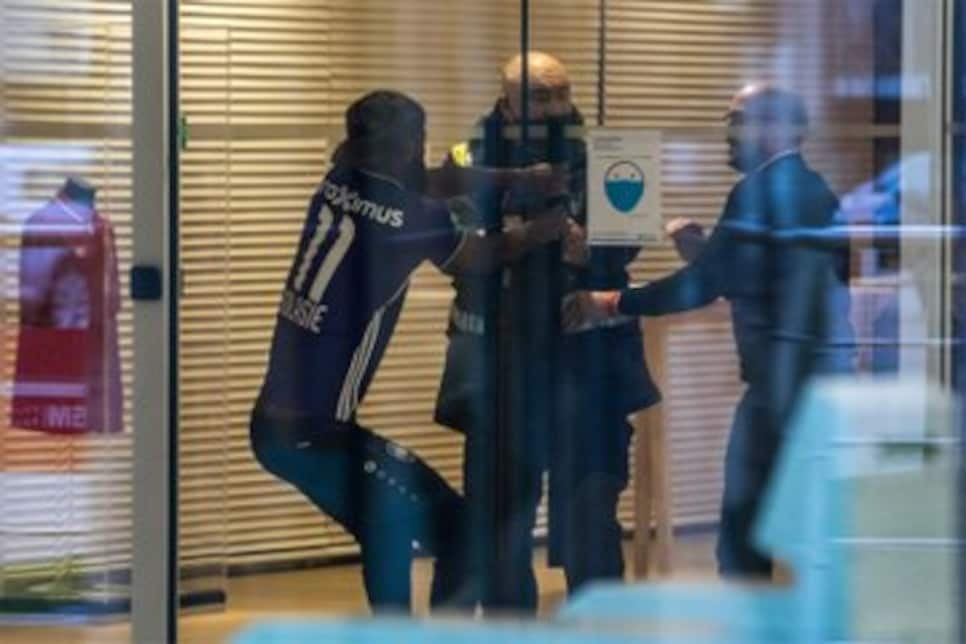 If that's not the sports photo of the year, we truly don't know what is.
Needless to say, it's only a matter of time until U.S. athletes get wind of this. James Harden might be pulling up to the strip club in Golden State gear as we speak. Nolan Arenado could report to Spring Training decked out in Diamondbacks gear. The opportunities are as endless as they are tantalizing, and we honestly can't wait to see what happens next.