News
PGA Championship 2020: Two pictures sadly sum up just how lost Jordan Spieth is with his game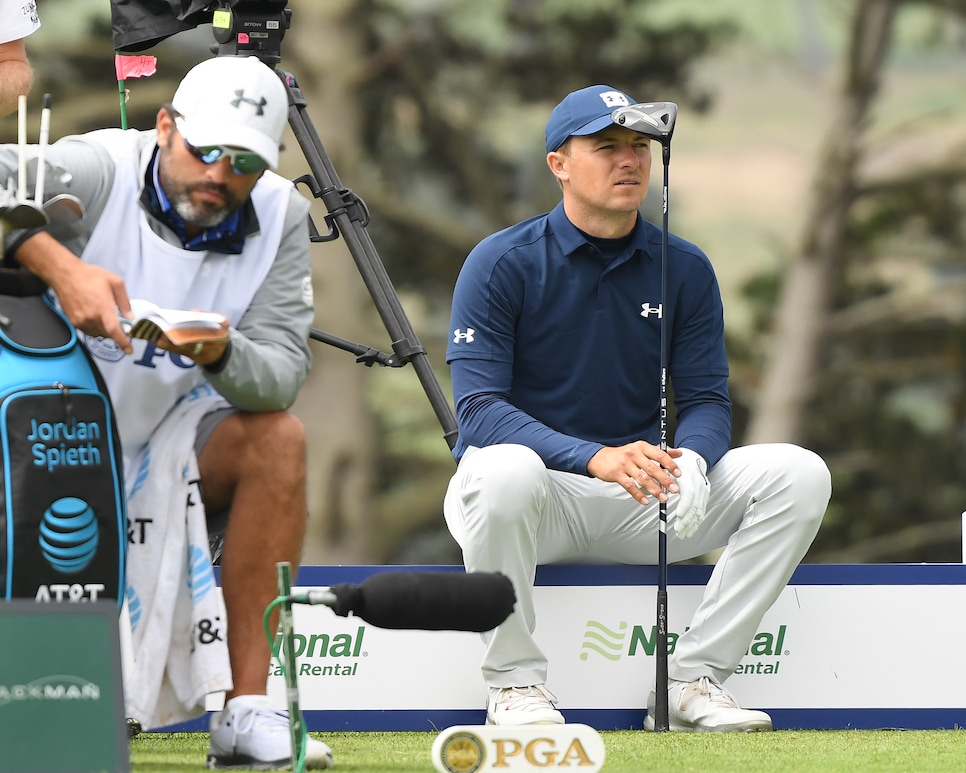 Jordan Spieth waits on the fourth tee during the first round of the 2020 PGA Championship
Harry how
Jordan Spieth had long ago finished his opening round of the PGA Championship. The sun was out, San Francisco's notorious afternoon breeze was kicking up and there was Spieth, more than three-and-a-half hours after tapping in his final putt for a closing bogey, still on the driving range at TPC Harding Park.
If there were two images from ESPN's telecast that summed up Spieth's day—and the last three years, really—they were of the 27-year-old three-time major champion sitting cross-legged, along with his coach Cameron McCormick, looking like a befuddled if not dejected teen who'd just been unexpectedly dumped on the eve of the prom, and another of him hitting balls, with McCormick and caddie Michael Greller looking on, no one else on the range in sight.
Being the last man on the range can mean two very different things. If it's early on a Sunday afternoon, it's very likely a good thing. Several hours after stumbling through a three-over 73 in the year's first major, not so much.
No one from the media talked to Spieth after his round, but then again why would they? What would there be for him to say, really?
It turned out the scene would say it all.
"This looks like a tough conversation to be having," Eddie Pepperell opined on Twitter from afar. "But you know he'll be driving it and owning it. Tremendous professional."
Three years ago, Spieth was often the professional and often among the last of them standing on the range on a lot of weekends. That is, of course, also the last time he won—in part thanks to a driving range, ironically—at the Open Championship at Royal Birkdale, where he famously was able to use the practice area to take a drop during the final round after declaring an unplayable lie on the par-4 13th following a tee shot that he'd hit 100 yards right of the fairway and into knee-high grass on the side of a massive dune. You know what happened from there.
Spieth didn't win again that season, but he hardly played poorly, closing out the year with six straight top-10s, including a pair of runner-up finishes during the FedEx Cup Playoffs. The following year was worse with just five top 10s in all and his putter abandoning him, though a final-round charge from nine back at Augusta National to finish third in the Masters was something.
Though Spieth's putting has since improved, his chances to win each of the last two years have been less for myriad reasons that have been well-documented—from spending months working on what he said was the "wrong thing," to his struggles off the tee and with his irons.
Thursday's start didn't help the cause to turn things around.
Spieth hit just four of 14 fairways, nine greens and ranked near the bottom of the 156-man field in strokes gained/putting. It was no wonder, then, that he headed straight for the practice area to spend a noticeable chunk of time following his round, perhaps in search of the one swing that will make it all right and send him into the history books again.
Though Spieth is already a Hall-of-Famer with three majors on his resume—the 2015 Masters and the 2015 U.S. Open to go with the 2017 Open—if he were to win this week, he would escalate to legend status as just the sixth player to win the career Grand Slam, joining Gene Sarazen, Ben Hogan, Gary Player, Jack Nicklaus, Tiger Woods.
At last year's PGA at Bethpage Black, Spieth tied for third. It was a promising result but nothing more, with Brooks Koepka crushing the field like one of his drives.
Then came this week. Asked on Tuesday about his pursuit of the career Grand Slam, Spieth said it's been his No. 1 goal since that victory at Birkdale. He also offered some insight on what he would have thought if someone told him three years ago that he would not have won another major by now.
"I'd say I hope you're wrong," Spieth said. "But, they don't come easily.
"If you told me that, I'd probably say that guy is kind of a jerk and I'd walk the other way. But here we are."
For how much longer, remains one of golf's most intriguing questions.