The Grind
Brooks Koepka's fiancée gets trolled, Phil Mickelson's perfect post-PGA quote and Jordan Spieth's chatty viral moment
Welcome to another edition of The Grind, where we are officially old after suffering an extremely embarrassing injury. I never thought I'd top throwing out my back while on a practice putting green, but I'm pretty sure tweaking that same back while reaching for a slice of pizza takes the cake. True story. And tough times with my annual golf trip just four weeks away. But at least I can lay down and apply some ice while talking about the finely tuned athletes who play professional golf. Let's get to it before I hurt myself trying to eat something else.
Jason Kokrak: It took this big guy 233 starts to win his first PGA Tour title and now just 16 starts later, he's a two-time winner. Golf! Seriously, Kokrak is giving off strong Jimmy Walker 2013-2014 vibes as a mid-30s late bloomer who is legit. If JK follows JW's path, he'll be on the U.S. Ryder Cup team later this year, and he'll claim a major in the near future. When you consider Kokrak's power and putting (sixth this season in strokes gained), neither of those things should shock anyone. In the meantime, he's going to enjoy taking down Jordan Spieth at Colonial—and his new ride!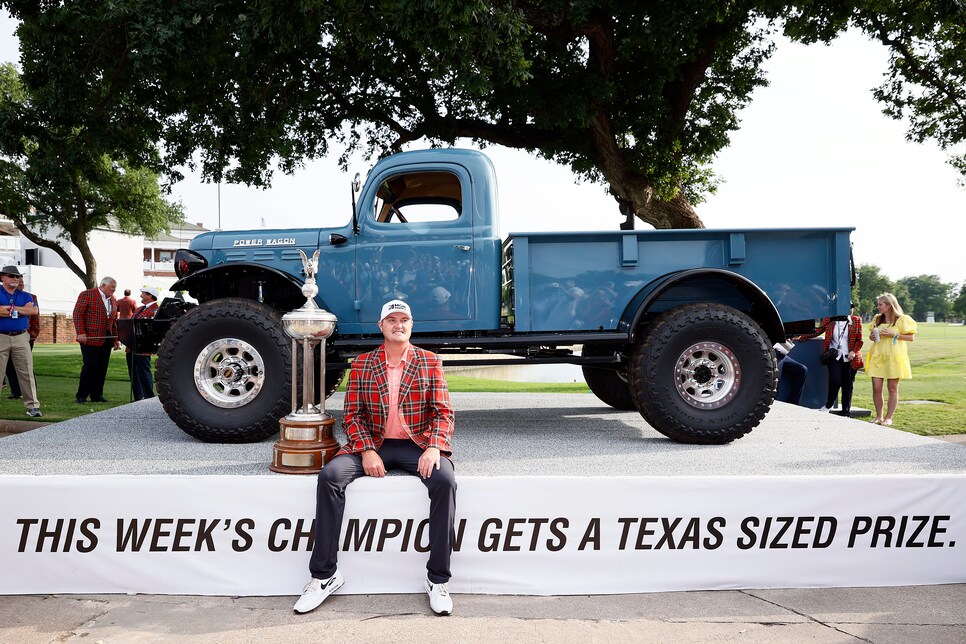 Fingers crossed he drives that bad boy down Magnolia Lane next year.
Match Play: This format always seems to deliver and last week's Bank of Hope LPGA Match Play was no exception. There were big names in the mix at spectacular Shadow Creek, a walk-off hole-in-one (Talk about the VAGARIES of match play!), and even an entire consolation match conceded (OK, so Golf Channel executives probably weren't too thrilled at Shanshan Feng for doing that). In the end, 20th-seeded Ally Ewing (No relation to Patrick. Sorry, I've got the FOURTH-seeded Knicks on the brain.) defeated Sophia Popov to win her second LPGA Tour title. On her one-year wedding anniversary!
Awww. Something tells me neither would mind making this an annual tradition.
Jordan Spieth: Yeah, yeah, he most certainly didn't get it done on Sunday, but this was the latest proof the three-time major champ is back among the top players in the world. In fact, as CBS Sports' Kyle Porter points out, in terms of strokes gained total in 2021, Spieth has been the top player. He's certainly still the top talker to the golf ball. There's never a dull moment with this guy—even when facing a 100-yard shot from the fairway:
So good. Although, the best part of the video is probably caddie Michael Greller simply saying, "yep," four times. Also, while he was unable to win for a second time this year, the runner-up gives him eight top 10s in his past 11 starts. That's one more than he had the past two seasons. Combined. So, yeah, he's still back. Maybe not "BACK!" back, but close.
Babe Didrikson Zaharias: Admittedly, I didn't know much about this legend when I embarked upon the latest episode of Local Knowledge, but I'm all in now. And how could you not be? Babe was the dominant female golfer of her era—and that came after she proved to be the dominant female athlete in just about every other sport she tried.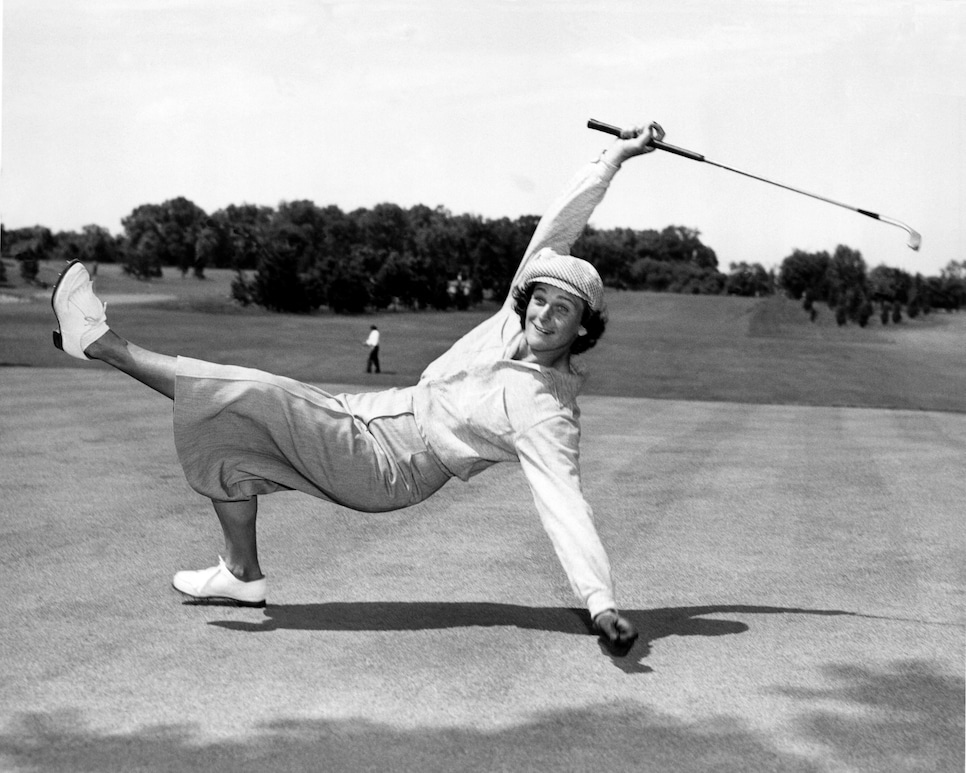 If you're like I was and not too familiar with her story, please do yourself a favor and listen to our pod with "Wonder Girl" author Don Van Natta Jr.:
Slow-play penalty losses: To be clear, we were happy to see a slow-play penalty enforced. Even if it meant a golfer losing a match. But we're still selling having that happen, because, wow, that must have sucked for Carlota Ciganda. The two-time LPGA Tour winner believed she had won her match against Sarah Schmezel after she birdied the 18th hole at Shadow Creek. But in the scoring area, Ciganda, who had already been put on the clock, was told she was being assessed a slow-play penalty. That meant she lost the final hole AND the match. VAGARIES! Just an absolutely brutal turn of events. But this kind of tough love might be what's necessary to speed players up out there. We're guessing Ciganda learned her (expensive) lesson.
Scott Piercy's week: It was a tough four days for this four-time PGA Tour winner. On Tuesday, he missed this short putt for an alternate spot at the U.S. Open and promptly snapped his putter:
Then he missed the cut at Colonial, signed an incorrect scorecard, and was promptly DQ'd. Rough. But at least he didn't encounter this . . .
Snakes on the golf course: Specifically snakes that hide around water coolers like this one:
I might never play golf again if that happened to me. Legitimately the scariest thing I've ever seen.
We've got a huge week as the PGA Tour heads to a revamped Muirfield Village for the Memorial, AKA that tournament Jack Nicklaus hosts. But there's also the U.S. Women's Open at the Olympic Club, AKA that place that's famous for those hot dog-burger things.
Random tournament fact: Babe Didrikson Zaharias won the 1954 U.S. Women's Open by 12 shots. Just 15 months after being diagnosed with colon cancer. While having a colostomy bag strapped to her side. So, yeah, we're going to plug that podcast again:
RANDOM PROP BETS OF THE WEEK
—Someone will win the U.S. Women's Open by 12 shots this week: 1,000-to-1 odds
—Someone will ever win the U.S. Women's Open by 12 shots with a colostomy bag strapped to her side: 1 MILLION-to-1 odds
—A LOT more people will be bringing their own water to the golf course now: LOCK
The latest edition of The Match was announced and it kicked off a flurry of trash-talking the likes of which Golf Twitter has never seen. From Tom Brady:
And Brooks Koepka, who isn't even playing in The Match!
Yes, there's probably a lot of PIP bonus money at play here, but it's still fun. For now.
VIRAL VIDEO OF THE WEEK (FUNNY DIVISION)
This is former PGA Tour pro James Nitties putting on quite a performance:
Sadly, James is not eligible for PIP points. Bad timing on his part.
VIRAL VIDEO OF THE WEEK (TEARJERKER DIVISION)
First of all, congratulations to Ole Miss for claiming its first women's golf title. But the aftermath is what had everyone talking. Head coach Kory Henkes was allowed to choose one of her players to get an exemption into the LPGA's Marathon Classic. Watch what happened next:
Great stuff, but I think I just tweaked my back again reaching for the tissues.
THIS WEEK IN PUBLIC DISPLAYS OF AFFECTION
Jena Sims was on a rare tropical vacation without fiancé Brooks Koepka, but the person making her lattes made sure she was reminded of him. He also trolled her pretty hard by getting Bryson in the mix: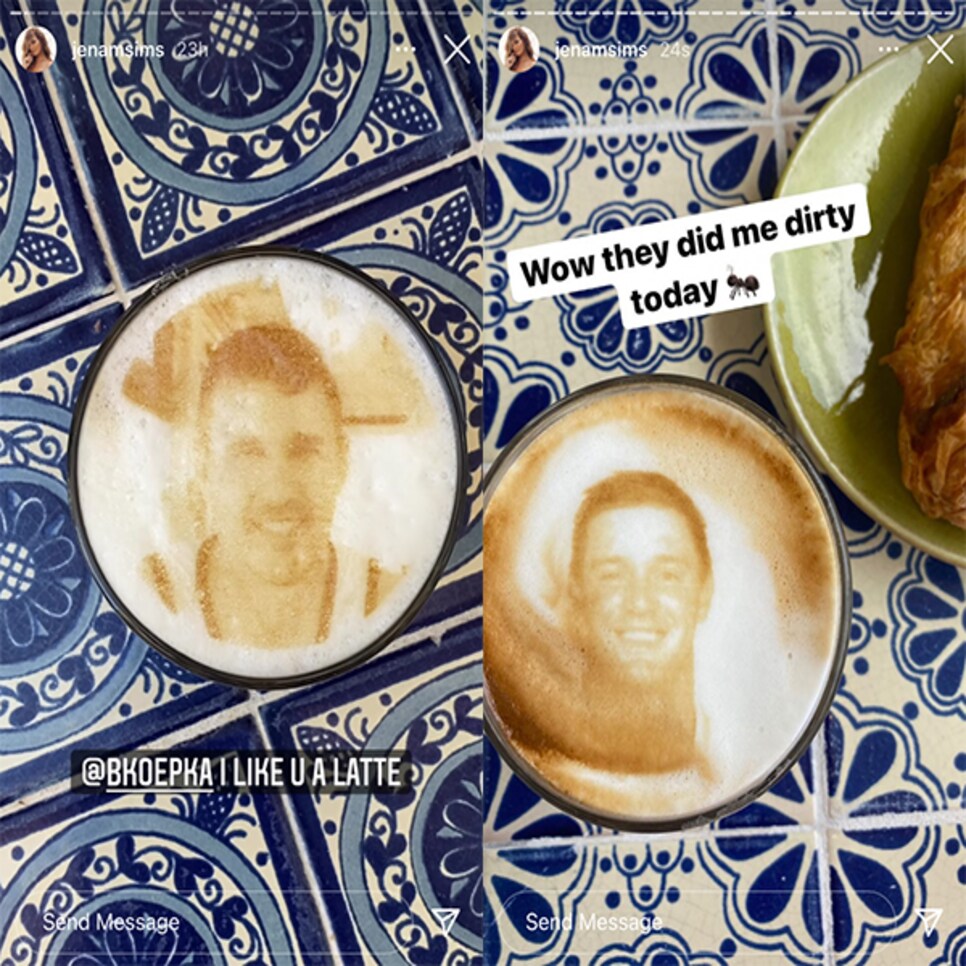 Nice subtle dagger at DeChambeau by Jena with that ant emoji. Although, this PIP stuff might be getting out of control when Bahamas baristas are getting involved. ... Then there was Phil Mickelson penning this sweet birthday tweet to wife Amy:
Apparently, Phil is trying for the title of husband of the year in addition to being the PGA champ.
"Yeah, I didn't play well. But I won the PGA, so..." —Phil Mickelson with the perfect response to a bad first round at Colonial. And he wound up missing the cut by one, probably so he could spend more time with Amy on her birthday. Smooth.
Congrats to Alex Cjeka for winning a second PGA Tour Champions major in May. Pretty amazing for someone who only had limited status at the beginning of the month. . . . Farewell to Mark Russell and Slugger White, who worked their final PGA Tour event together after three decades. I talked to both of them (another podcast plug!) for an episode of Local Knowledge earlier this year. Check it out! . . . Speaking of episodes, HBO's Mare of Easttown is fantastic. Just wanted to throw that out there. . . . And finally, my wife and I hosting a guest other than our parents for the first time since before the pandemic started meant her finally making this delicious "dip" again: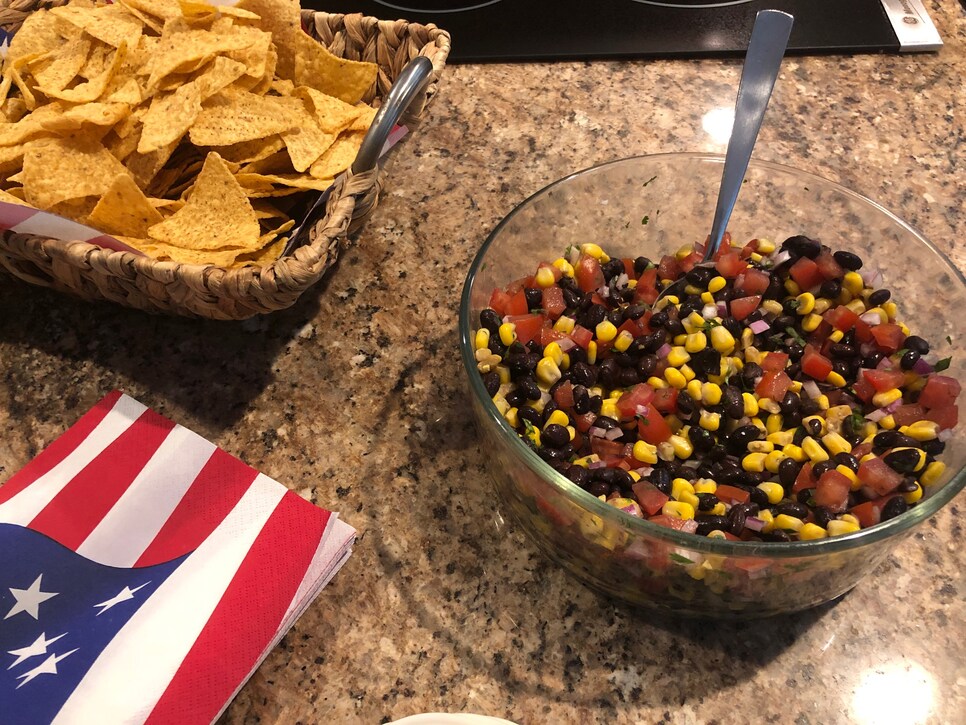 Let's really hope things are back to normal.
RANDOM QUESTIONS TO PONDER
How many tortilla chips have I eaten in my life?
How many times has Greller said, "Yep," to Spieth?
Does anyone know a good chiropractor?