Charles Schwab Challenge
Jason Kokrak is a dangerous golfer now that he's found the missing ingredient to his game. (Ask Jordan Spieth)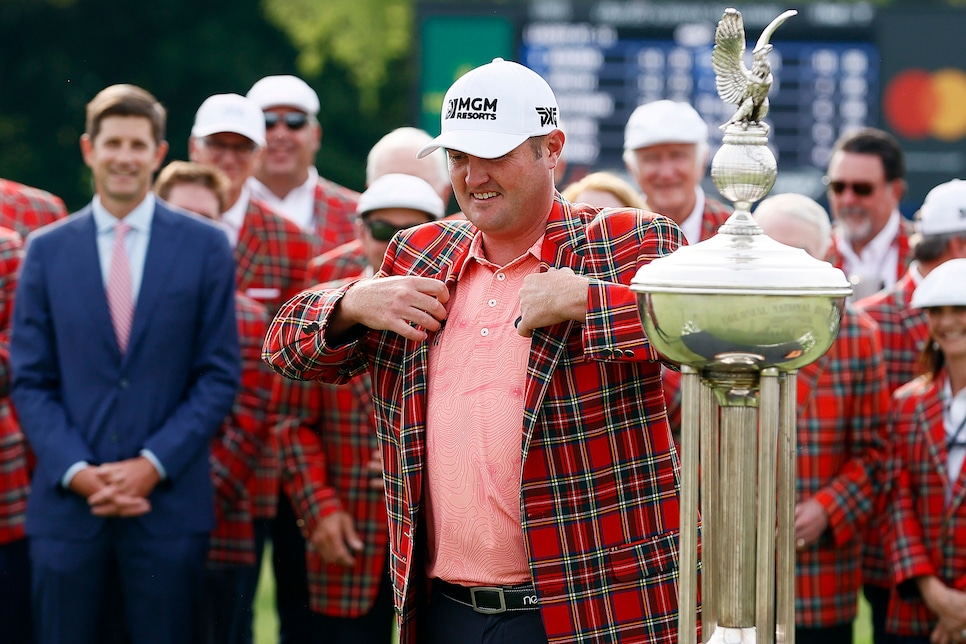 Sit up and listen, boys and girls. Write it down. Jason Kokrak isn't solely the winner of the Charles Schwab Challenge, a victory Sunday over crowd favorite Jordan Spieth that was as gritty as any this year on the PGA Tour. He also is an object lesson.
Well, maybe several lessons. You wait until your mid-30s to win your first two tour events in the span of 17 starts shows the benefit of perseverance. You lean on your caddie to read greens for you because you understand your weaknesses. You stick to a game plan regardless of what your opponent is doing or how the crowd—rather inhospitable at times—reacts to your shots.
But the real lesson is this, and it's quite simple: learn to putt.
Kokrak's sudden spurt of success can be attributed to his work on the greens, and that is how he outdueled the master classman of putters, Spieth, at Colonial Country Club for a two-stroke victory. A spotty final-round 70, even par, proved enough for the 6-foot-4 Ohioan to leapfrog over a struggling Spieth, who closed with a 73.
"I'm a big guy with a big truck, with a big jacket and a big paycheck. So I guess everything's bigger in Texas, right?" Kokrak, 36, said with, yes, a big smile after he joined Bryson DeChambeau and Stewart Cink as the only two-time winners this season. His breakthrough win came last fall at the CJ Cup at Shadow Creek.
He also knew he was the big outsider. The interloper. His peach-colored shirt clashed with his red plaid winner's jacket, and he seemed proud of that. "My shirt doesn't match the jacket, but that's OK because I'm the guy that spoiled the party."
Spieth, hailing from Dallas and, thus, the favorite of the Fort Worth crowd, was vying for his second win this year in his home state. He began the day with a one-stroke lead—his fourth 54-hole lead of the season, tied for most with Sam Burns—but somehow lost his swing on the way to equaling the lowest 54-hole score (15-under 195) of his career. Not even a video lesson after the third round from his swing coach, Cameron McCormick, could save him.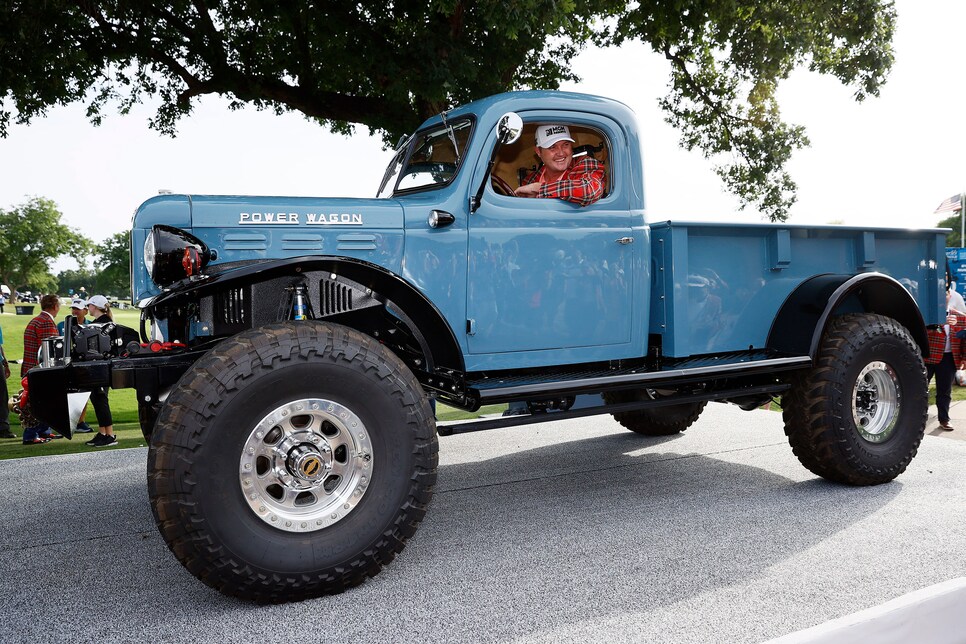 Kokrak celebrates with a 1946 "Schwab" Power Wagon given to him after winning the 2021 Charles Schwab Challenge.
Tom Pennington
Not that his playing partner was having a great day either. Frankly, the final pairing engaged in a battle of attrition, both men having periodic issues finding the middle of the clubface. They gave the one-armed follow-through decent airplay. Spieth and Kokrak combined in equal measure for 10 bogeys. Good thing they had separated themselves from the pack.
Spieth sprayed his way to three straight bogeys early. Kokrak, after birdies at 11 and 13 put him three ahead, suffered two bogeys in a row late to the delight of the well-oiled Texas gallery. That he didn't have three in a row was the key. Kokrak successfully saved par at 17 from behind the green, sinking a seven-footer to preserve a one-stroke lead and forcing Spieth to gamble at the last. From the right rough, Spieth went at the flag on the 18th green, tugged his approach slightly and watched it skitter into the water. Ball game.
"I played a bad round of golf," Spieth said succinctly in the aftermath of his third runner-up finish at Colonial to go with his 2016 victory.
"I could have shot even par today and won the golf tournament, but from the very get-go, just a really bad start, and then tried to fight my way through it," he added. "But I was just really off with my golf swing. I really lost it this weekend. You just have to be in control around Colonial."
"We had a little bit of an ebb and flow. Both didn't have our A-games today," said Kokrak, who two-putted the last for a 14-under 266 total and was able to show up the crowd who he said offered a few less than supportive comments. "Kind of grinded it out. DRob kept me patient, even though I didn't finish the way I wanted to, but still got the win."
DRob is David Robinson, his caddie, who receives copious amounts of credit from his boss for helping him read greens. That arrangement is paying dividends. "Ever since we got together four years ago, I called him up and said, 'Listen, this is going a good ride. I'm a pretty good ball striker and you're a great green reader, and we'll make a good duo."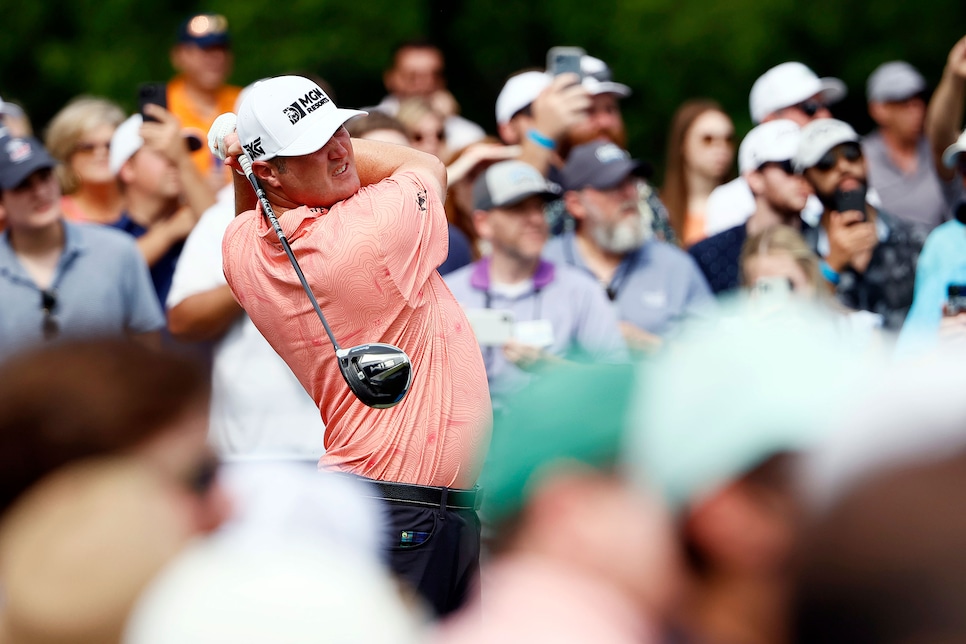 Kokrak has improved his putting this season, which pairs well with being on of the longest off the tee on tour.
Tom Pennington
It was Robinson who suggested Kokrak go to a longer 36-inch putter, which allows the towering golfer to stand more upright. The Bettinardi Studio Stock 38 putter he has wielded since last summer's BMW Championship also has a bit more loft.
This season he ranks seventh in strokes gained/putting, an improvement of 144 places from a season ago, an incredible leap. In fact, he hasn't ranked inside the top 100 in putting the past six seasons. At Colonial, he gained 5.382 strokes on the field on the greens, which pairs nicely with red wine and a 321-yard driving distance average, which led the field. He was fourth in fairways hit.
The putt at 17 was as big as any he made in four days. "It was really big," he agreed. "Said this is the time to do it. It was nice to roll that in."
Something else that goes well with good putting is a USA Ryder Cup uniform. Captain Steve Stricker, who knows the value of putting as much as anyone, must be taking a long look at a guy with firepower and finishing touch.
Kokrak, who moved up to 13th on the U.S. points list, is game.
"I didn't really end it like I wanted to, but, you know, I think it shows that I've got a lot of grit and a lot of fight in me," he said. "Whether I'm in the conversation or not, I've had an incredible year. Yes, to make a Ryder Cup or any team event has always been a lifelong goal. I missed out on a Walker Cup as an amateur, and that's just something that's a lifelong goal and I would love to be a part of the team. Love to be in that team room."
Kokrak is the second player in the last three years to win his first two tour titles after age 35, joining Francesco Molinari. He won't play again until the U.S. Open at Torrey Pines Golf Course, which will be long and demanding, and, at this point, right in his wheelhouse. He's even skipping this week's Memorial Tournament in his home state because, well, that was his plan
"I've been getting a lot of flak or that," Kokrak admitted. "I took off Wells Fargo where I used to live in Charlotte … I apologize for that. These days, you have things scheduled in life with the kids and the wife; it's part of the schedule. I don't think I've ever missed the Memorial Tournament if I was in, and this is the one year that I'm going to miss. Unfortunately, I'm going to miss this year but hopefully I'll see Jack [Nicklaus] next year."
Kokrak went 232 starts without a tour win. He's now a two-time champ. He seems to know what he's doing. It took a while, but he's figured things out.
And, oh yeah, he can putt now, too. Which is, well, big.