Winner's Bag
The clubs Jason Kokrak used to win the 2021 Charles Schwab Challenge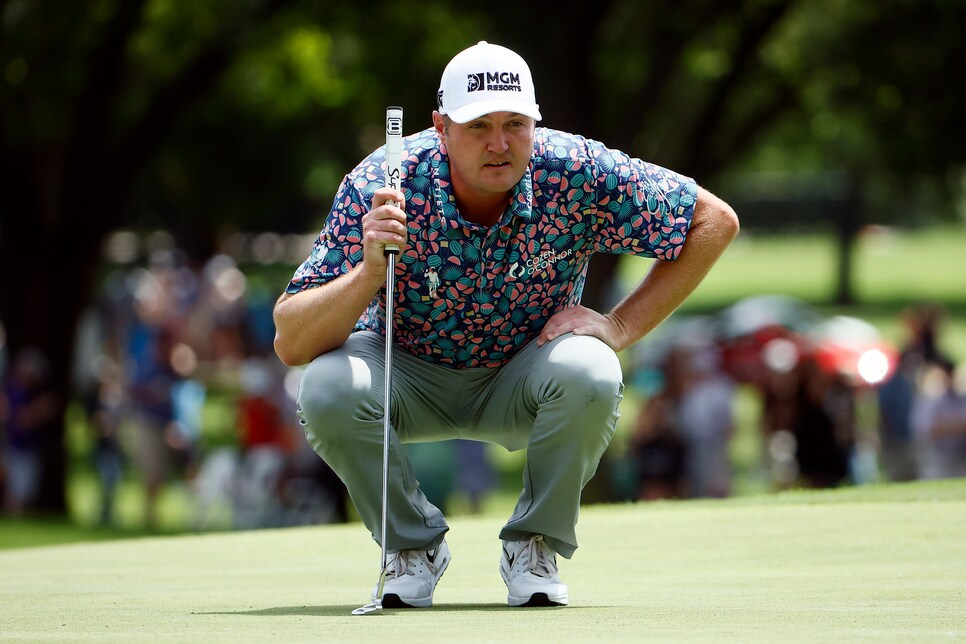 In 2012, Golf World magazine had a feature on Jason Kokrak titled "The Making of a Bomber," a reference to his prodigious length off the tee. On the weekend at the Charles Schwab Challenge that could have applied to his putting instead, with a number of "bombs" dropping, leading to a win over Jordan Spieth.
Over his final 22 holes, Kokrak made birdie putts of 15, 13, 23, 10, 6, 13 and 17 feet, the last coming from the fringe after a pushed tee shot on the par-3 13th stayed dry, upping his advantage over Spieth to two shots, but it was a seven-foot par save at the 71st hole that proved pivotal and kept him in the lead.
Despite a couple of hiccups coming in, Kokrak's stat sheet for the week was impressive. He ranked seventh in strokes gained/putting, picking up 5.382 strokes on the field on the greens with his Bettinardi Studio Stock 38 putter that he first put in play at last year's BMW Championship, and it helped him greatly to his first win at the CJ Cup at Shadow Creek. According to Bettinardi, Kokrak's compact mallet putter is 358 grams to fit Kokrak's preference. Although known for his work off the tee, Kokrak has been impressive with the putter all season long, ranking seventh in strokes gained/putting coming into the Schwab—an incredible turnaround considering in the previous five seasons he ranked 151st, 103rd, 110th, 175th and 154th.
Not that Kokrak was giving up anything off the tee. Using a 8-degree TaylorMade SIM2, Kokrak ranked first in strokes gained/off-the-tee, besting the field average by nearly six strokes. He topped the field in driving distance at 321.8 yards and was fifth in accuracy, hitting 75 percent of his fairways. That put him in position to hit 54 of his greens (75 percent) in regulation with a set of PXG 0311T Gen4 irons that he just put in play this week, ranking second in the field.
Distance, accuracy, strong iron play and a putter locked on target. The making of a bomber? The making of a complete golfer sounds a little more like it.
What Jason Kokrak had in the bag at the 2021 Charles Schwab Challenge

Irons: (4-PW): PXG 0311T GEN4

Wedges: PXG 0311 Sugar Daddy (52 degrees); Titleist Vokey SM8 (56 degrees); Titleist Vokey WedgeWorks (60 degrees)
Find the right club for your game with our new Hot List interactive: