Masters
Masters 2023: Jordan Spieth is ridiculous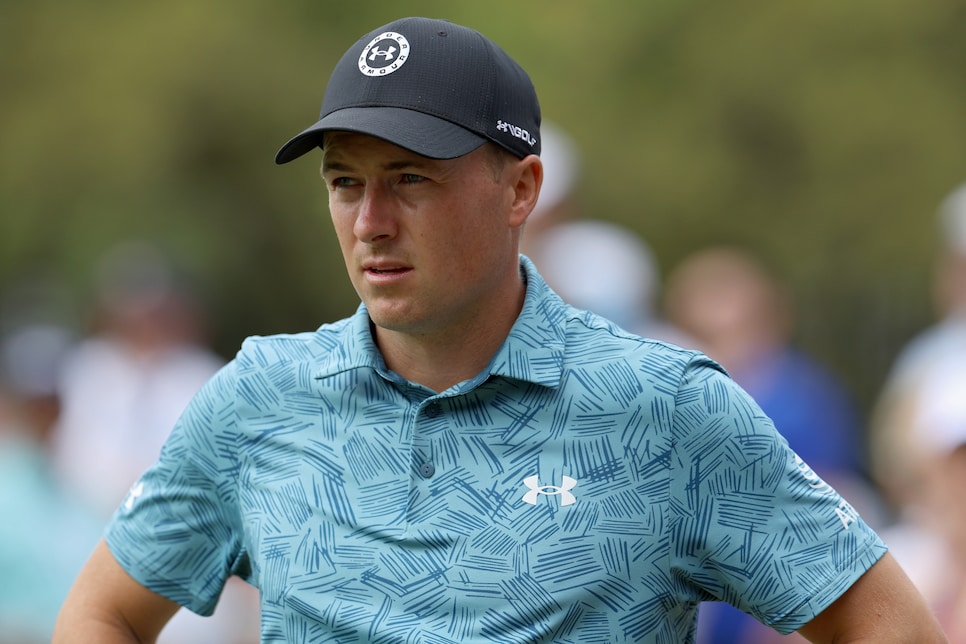 AUGUSTA, Ga. — Jordan Spieth is ridiculous. We should clarify; he's not a ridiculous person. Far from it. He's humble, astute, well-mannered, approachable, careful with his words to a fault. But as a player, as a performer whose performance is publicly consumed, Spieth the golfer is certifiably, undeniably, Santa-in-a-speedo ridiculous.
He drives his ball into spots that leave cartographers scratching their heads. He drops 20-footers with ease but two-footers give him the damndest time. He makes a mess of situations that seem safe while escaping inexorable fates. He sees things that no one else sees, and we know this because caddie Michael Greller will routinely say, "I don't see it, Jordan." Ah, Greller; he used to be a middle-school math teacher. Caddieing should be a breeze compared to the tantrums of tweens. We guess not, judging by the grays in Greller's beard from watching Spieth do what Spieth does.
So yes, Jordan Spieth is ridiculous, which is why he is at home at Augusta National. Because at Augusta the ridiculous is routine.
There are a lot of storylines at this Masters. If Jon Rahm can remain hotter than Nevada in the summer. If Scottie Scheffler can defend. If the golf gods reward Rory McIlroy for his righteous battle with the Grand Slam or if golf's civil war will spill out on these forever-green fairways. If Tiger Woods can be magic once more. Yet Spieth and his ridiculousness remain near the top of the possible storylines, because he and Augusta are this sport's closest thing to a celebrity power couple. We want to love them being in love with each other.
"I really fell in love with the game because of this tournament, back to Tiger's chip-in to Phil's first win," Spieth said of the Masters. "These were kind of heroic moments when I was at an age where I was playing some other sports and loving golf, and it inspired me to really take up the game and see what kind of moments you can create, because the ball is always in your hands. Few things are as electric as those moments they had in sports. I wanted to create my own."
Spieth has a win, two runner-ups and two bronze medals at this tournament. Probably because his ridiculousness receives a warm Southern welcome.
He can punch question marks into the launch codes and it doesn't matter, for the ball is always in play at Augusta. Those two-footers that give him fits are trouble for everyone for the greens are like deciphering a Rubik's cube if the cube could fight back. Those things that only he can see are rewarded, because while modern golf is increasingly a paint-by-numbers formula the Masters is a canvas that requires coloring outside the lines. Augusta National requires both patience and gusto, and if those seem like conflicting ideologies you've never watched the Masters, nor Spieth.
"You're kind of forced to play flights and shots versus being just technical straight line, straight ball flight," Spieth said. "The rest of your approach shots, which is really what is golf course is about, is greens in regulation, and a second-shot golf course, along with speed control, I feel like that's a good strength of my game when I'm forced to seeing a certain shot and I get to fight it off a hill or ride it off the hill."
However, as of late Spieth hasn't been that ridiculous at Augusta, and that's the problem. After finishing third or better in four of his first five starts, Spieth has posted just one top-20 finish in his last four Masters appearances. It is an interval that has overlapped Spieth's multi-year slump, and while the course is his playground it is also no analgesic. Even as he's returned from the sport's wilderness the resurgence hasn't been seen here.
"I would have liked to have won it every year, but I also never assumed that," Spieth said of his Masters drought, "that the bounces go your way a second time, you know."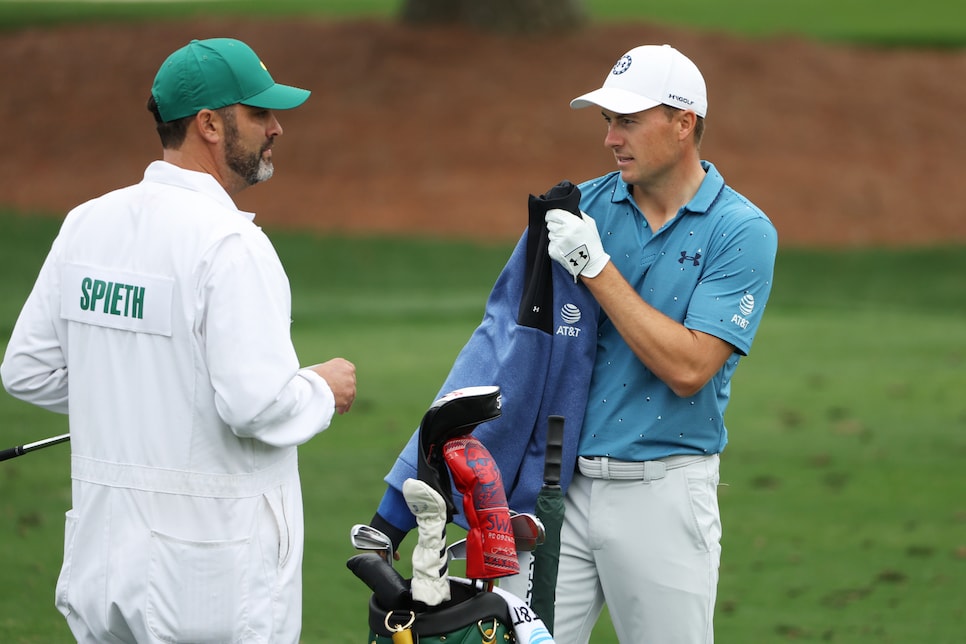 ordan Spieth talks with his caddie Michael Greller at the practice area prior to the 2023 Masters.
Patrick Smith
It should be noted that not all ridiculousness is positive. Any notion to that need only to look back to this tournament in 2016 (and you know what we mean) or 2018, when Spieth darn near pulled off the biggest comeback in major history until his tee shot clipped a branch at the 18th, leading to bogey and "settling" for a 64 to finish two behind Patrick Reed. He's also trying to cut back on some of that ridiculousness. He's looking for consistency, something that can't be had with wayward tee shots (173rd in accuracy) and poor approaches (111th in proximity to hole) and three-jacks galore (98th in three-putt avoidance).
Conversely, that ridiculousness makes Spieth as identifiable as anyone inside the ropes—maybe because he spends a lot of his rounds outside the ropes. No, we can't work his irons like him, or have the hole triple in size when rolling the rock from deep, or own the potential that lacks a ceiling. And we do hit snap hooks and pulled putts and shots that were supposed to do this instead of doing that which Spieth is all guilty of. But he's relatable for this simple truth: We all know what it feels like—in golf, in work, in life—to wonder if the future will ever be as good as the past. We all doubt if we can accomplish what others think we can achieve. We know how it feels to be nakedly vulnerable no matter how hard we try to cover it up.
Often we confuse these sentiments as weaknesses. They don't fit the archetype we want out of our sports heroes. Except according to Spieth, these experiences have made him stronger.
"I think I've learned that it's a game. It's a game, and I've approached the highs and lows as life-and-death in different scenarios, and that's not the case," Spieth said, latter adding: "There were a lot of years in a row where I would go to the course and I would be uncertain if I would come out that day feeling better or worse. That's tough to go into. So falling in love with the process starts with knowing what you need to work on and then from there, putting in the hours. I've got the scars to show the hours. But it's what I want to do, too, because it's really, really enjoyable when you start to feel progression and confidence coming back.
"To me, there's nothing like it. It's everything to kind of re-fall in love with the game and enjoy working it back. I don't feel I have all the weapons right now. But I have enough, and I'm continuing to work on the ones that I don't have, and I get a little better each day with them."
Ten years. That's how long Spieth has been playing in this tournament. He's not the same baby-faced assassin that took this tournament by storm, who was a couple strokes away from winning the Grand Slam and appeared to be on an all-time trajectory. He's weathered too much, here and elsewhere. He remains a superstar, albeit one prone to falling.
But the reason Spieth is so enchanting at Augusta is that, for four days every April, Spieth can be that player he once was and could be again.
"From the moment I got here I was always very excited, and I wanted to learn it and fall in love with it," Spieth said of Augusta. "Just a lot of positivity. Didn't know what to expect, and got off to a nice start my first year and tried to carry it on every year.
Spieth later added, "I'd love to get in the mix because I feel like right now, I feel better about my game than I've felt since probably 2017." That was the last time he won a major. Spieth is not one for such bravado. It signals things are about to get ridiculous.
MORE GOLF DIGEST MASTERS PREVIEW STORIES: