News
Why Jon Rahm wound up getting a two-stroke penalty for the best shot of his career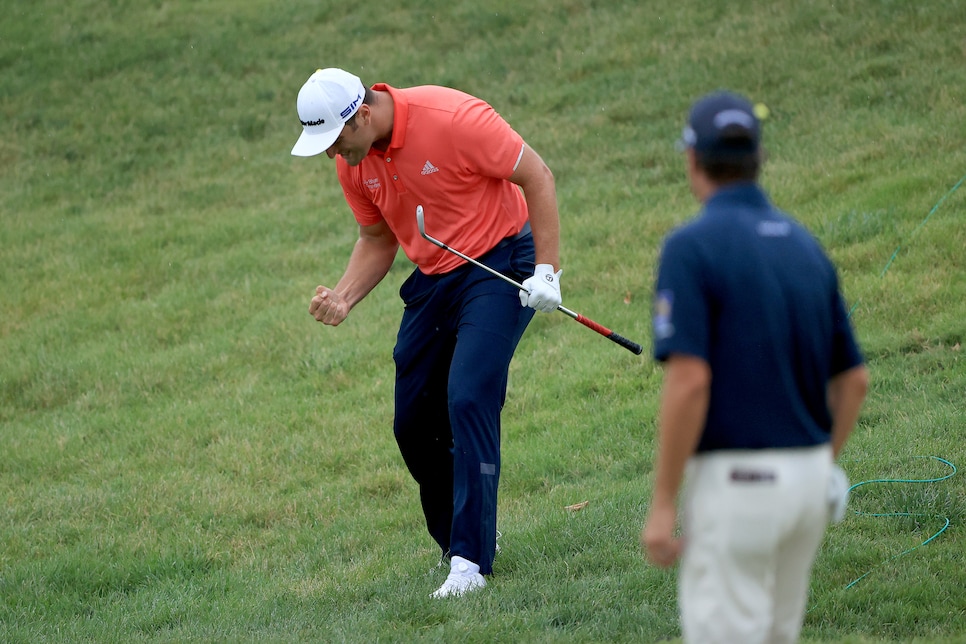 Jon Rahm celebrates after chipping in on the 16th hole during the final round of The Memorial Tournament.
Sam Greenwood
Jon Rahm moved to No. 1 in the Official World Golf Ranking with his win at the Memorial on Sunday, but it was one closeup view of the most important shot of the final round that drew most of the attention afterward.
Rahm pulled off a miraculous pitch-in for birdie on the par-3 16th hole to all but seal the victory at Muirfield Village. But as he played his final two holes, videos began circulating that Rahm's golf ball may have moved in the thick Muirfield Village rough before he struck the shot.
Eventually, the CBS broadcast—most notably, Nick Faldo—focused on the movement of Rahm's TaylorMade ball as Rahm placed his wedge behind it. The six-time major champ believed Rahm should be assessed a two-stroke penalty for moving a ball at rest. Faldo wound up being right, but it took some time.
After briefly celebrating the victory, Rahm was told he needed to review the video. Once he saw the clip, he quickly accepted the penalty and Slugger White, the PGA Tour's VP of Rules and Competition, said the 25-year-old Spaniard handled the situation well. Of course, it helps when it doesn't affect the ultimate outcome.
"I didn't see it. You know, I promised open honesty and I'm a loyal person, and I don't want to win by cheating," Rahm told reporters at Muirfield Village. "And it kind of happened a couple years ago [2017 Irish Open], I basically told the officials to make the decision they wanted, I just explained my side and I wasn't given any penalty. And today I see it, and the ball did move. It's as simple as that.
"The Rules of Golf are clear. Had I seen it, I would have said something. But you have to zoom in the camera to be able to see something, and I have rough, I'm looking at my landing spot. I'm not really thinking of looking at the golf ball. I'm one of those where I'm looking down but my awareness is not on the ball."
With the penalty, Rahm's amazing birdie 2 became a bizarre bogey 4. And his winning margin was cut from five shots to three.
"I want everybody to hear it: It did move. It is a penalty," Rahm added. "As hard it is to say for how great of a shot it was—as hard as it is to say that, I won't finish double digits under par. But it did move, so I'll accept the penalty, and it still doesn't change the outcome of the tournament. So I'm going to stay with that."
White said intent didn't matter in this case with regards to assessing the penalty.
"When he put the club down behind the ball, it moved ever so slightly to the left, so it changed positions," White said. "He accepted it like a gentleman and the man that he is, and we just went on with it."
Penalty or not, it was a sensational shot. Seriously, look at this thing of beauty:
And it came just at the right time after Rahm had let an eight-shot lead at the turn be cut to three by playing partner Ryan Palmer, who finished runner-up.
"As unfortunate as it is to have this happen, it was a great shot, serious," said Rahm, who picked up his fourth PGA Tour title to go with six victories on the European Tour. "What it goes to show is you never know what's going to happen. So I'm glad I grinded those last two up-and-downs because had I missed both of them, plus the penalty stroke, maybe Ryan finishes strong, I would be in a playoff, and I'm glad I finished it off good."
Sadly for Rahm, the shot of his career (so far) will have an asterisk by it. The good news? He's got a lot more time to produce more highlights.