News
Jon Rahm doesn't let a little controversy keep him from running away with the Irish Open title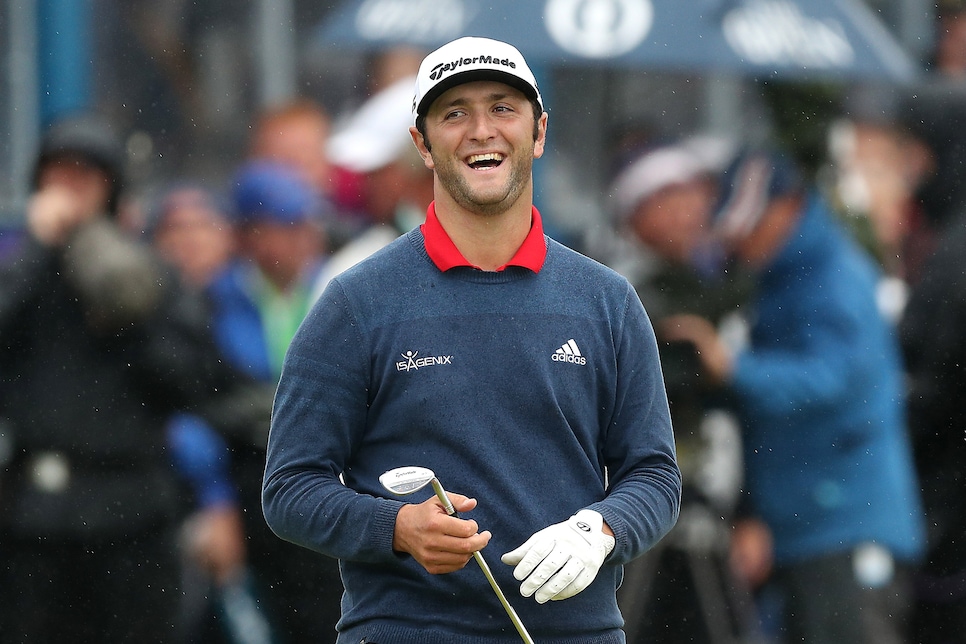 In slightly more than a year as a professional golfer, we'll learned this much about Jon Rahm: He isn't perfect. The 22-year-old Spaniard's temper can run hot on the golf course, particularly in the rare instances when his homemade swing is ailing him. And he should be more careful when marking his golf ball on the green, something he will no doubt be reminded of for some time to come.
But when he has everything working—as he did at the Dubai Duty Free Irish Open—it's hard to find a more talented golfer in the world. A final-round 65 gave Rahm a tournament-record 24-under 264 total and a six-stroke victory over Richie Ramsey and Matthew Southgate at Portstewart Golf Club in Northern Ireland. It was the first of what most believe will be many wins on the European Tour for Rahm, and the latest in impressive finishes since he turned pro in July 2016 and rocketed up the World Ranking to jump inside the top 10.
Short term, Rahm's triumph will lose some of its luster thanks to a rules question on the soggy sixth green Sunday. Playing alongside Daniel Im in the final pairing, Rahm saw his birdie putt on the par 3 come to rest on almost the same exact spot as Im's on the green, roughly 18 inches from the hole. Rather than place his mark on top of Im's, Rahm put his mark to the right of his ball. He then moved the mark a putter head to the right to make sure it was not in Im's putting line. After Im made his putt, video showed that Rahm moved the mark back the one clubhead length to the left but he appeared to place his ball in front of the mark, rather than to the side, before making his par.
European Tour officials says that after the incident they received several inquires about the matter. They reviewed the video footage, and then chief referee Andy McFee approached Rahm on the 13th hole to discuss the matter with him and Im. Subsequent, the tour ruled that there was no violation and no penalty should be applied for playing from a wrong spot.
"I moved my marker so it was not in the way of Daniel's and put it back, and when I replaced my ball I thought it was in the same exact spot what I had picked it up," Rahm said afterward. "I really thought I had put it back on the same spot, and that was it for me. I didn't doubt myself twice."
Several observers on social media weren't entirely satisfied with the outcome, particularly considering the four-stroke penalty that Lexi Thompson incurred after it was determined she made a bad mark at the ANA Inspiration, costing her a major championship title. Yet Rahm's circumstances differed in two critical areas: 1) his issue was addressed in real time, not a day after it happened and after he had already signed for a score; 2) a new Decision to the Rules of Golf implemented by the USGA and R&A in the wake of Thompson's error.
After the Thompson incident, the rules-making bodies jointly announced a new decision where when a player determines a position in situations that include the nearest point of relief or replacing a lifted ball, he or she should not be held to "the degree of precision that can sometimes be provided by video technology." According to the key language, "so long as the player does what can reasonably be expected under the circumstances to make an accurate determination, the player's reasonable judgment will be accepted, even if later shown to be inaccurate by the use of video evidence."
In Rahm's case, McFee determined that he had used his "reasonable judgment" in putting his ball back.
"I told him, listen, if it's a penalty stroke, let me know now, I'll accept it," Rahm said. "This is what I did. I did it. If it's not on the right spot, if it's a penalty stroke, let me know. He told me there's been a change in the rules. There's some room for—there's some margins left on the rule now and it was left to interpretation. And that was the decision."
Knowing he would not be penalized, Rahm went on to make his second eagle of the round on the 14th hole, chipping in from near the green, to give him plenty of cushion to sustain a bogey-birdie-bogey finish.
In the long run for Rahm, his overall performance will eventually overshadow the rules question. For the week, Rahm finished eighth in driving distance (301 yard average) and fourth for the week in greens in regulation, hitting 81.9 percent. He also averaged just 28.25 putts per round while posting scores of 65-67-67-65 included four Eagles and 23 birdies.
Most impressively, Rahm played aggressively on Sunday, despite adverse weather conditions and the rules issue to deal with. He kicked started the round with a holed out for eagle from 150 yards on the par-4 fourth, then made four straight birdies on Nos. 7-10 to put the tournament out of reach.
"I've been saying, I haven't played my best golf and today, for 15 holes, I played the best golf I can ever play on the golf course with the weather that we had," Rahm said. "Obviously the bonus of holing out on four was great."
It was Rahm's second professional win, the first coming in the PGA Tour's Farmers Insurance Open in January. He has also had six top-five finishes in 2017, including second-place showings at the WGC-Dell Match Play and Dean & Deluca Invitational and a T-3 showing at the WGC-Mexico Championship. He's expected to rise into the top 10 in the World Ranking after the win, and is looking forward to playing in the Open Championship at Royal Birkdale later this month.
Indeed, his performance in majors is the one area that hasn't worked out for Rahm in 2017, as he entered the Masters and U.S. Open as a favorite only to finished T-27 and miss the cut. But for now, Rahm is thinking positive.
"Man, this is a nice feeling," he said.
That doesn't sound like somebody who's going to let talk of a bad mark bother him.