The Grind
Jon Rahm's prescient—and scary—quote, Tiger Woods' touching fan interaction and the greatest honeymoon of all time
Welcome to another edition of The Grind, where we promise to give a better effort than NBA All-Stars playing defense. Heck, I think 18-year-old me could have gone for 20 points in that one. Anyway, the PGA Tour kind of staged its own version of an All-Star Game last week at a historic venue and with a star-studded field that included the return of arguably the biggest sports star on the planet. And unlike the NBA's "game," golf's showcase lived up to the hype. That being said, I'd love to see the tour put on some sort of skills contest sometime. Maybe the tour has a Mac McClung out there waiting to be discovered. Anyway, there's plenty of actual golf stuff to talk about so time to get some shots off.
Jon Rahm: The Spaniard continued his Tiger-like stretch of golf—and this time he did it in front of Tiger himself.
That had to feel pretty darn good. As did his two highlight-reel birdies on the back nine, first, this long putt from off the green at 14:
Talk about clutch. And the guy can do it all, as evidenced by his five wins in his last nine worldwide starts. That's just preposterous stuff right now from Rahm, who re-took the top spot in the Official World Golf Ranking. Now if he can just stay there for another 12 YEARS he'll catch Tiger's record. Speaking of … let's talk about the other guy wearing red at Riviera on Sunday.
Tiger Woods: We shouldn't have been surprised—after all, the dude easily made the cut at the 2022 Masters in his return from his 2021 car accident—but Tiger never ceases to amaze. And nothing was more stunning than this 47-year-old (who looked like 97 going up and down Riviera's steep steps) routinely outdriving playing partners like Rory McIlroy and Justin Thomas.
For the tournament, Woods was 24th in driving distance with a 306.3-yard average. He hit a 364-yard drive and consistently registered ball speeds in the high 170s (breaking 180 a few times) when the tour average is 172. How is this possible?! Well, Woods said he's been working a lot on his core and it sure looked like it on Sunday when he briefly flashed his abs while adjusting his pants. Anyway, the rest of his game was pretty impressive as well as he hung around the top 25 for much of the weekend before finishing T-45. I mean, how cool was that Saturday 67?! He's (kind of) back!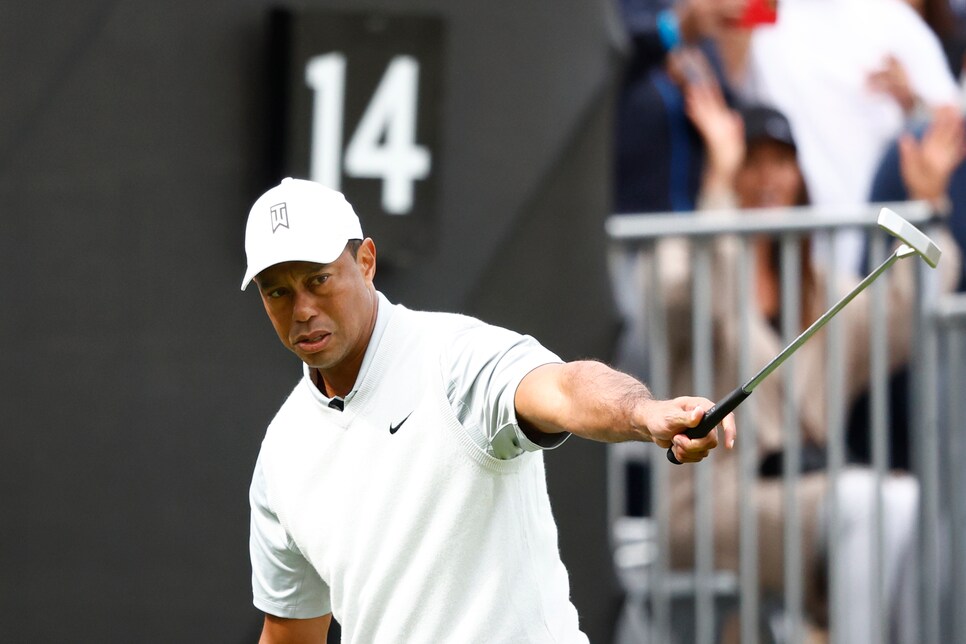 After Sunday's round, Woods couldn't help but lament that his winless streak at Riviera continued. Still, golf fans are just happy that he still has any sort of streak going, and we hope to see him again soon. Just maybe not in an event where Jon Rahm is playing.
Bernhard Langer: It was just a matter of time for a man who doesn't seem to adhere to the laws of time. The 65-year-old won the Chubb Classic for his 45th career PGA Tour Champions title to tie Hale Irwin's once seemingly insurmountable senior circuit record.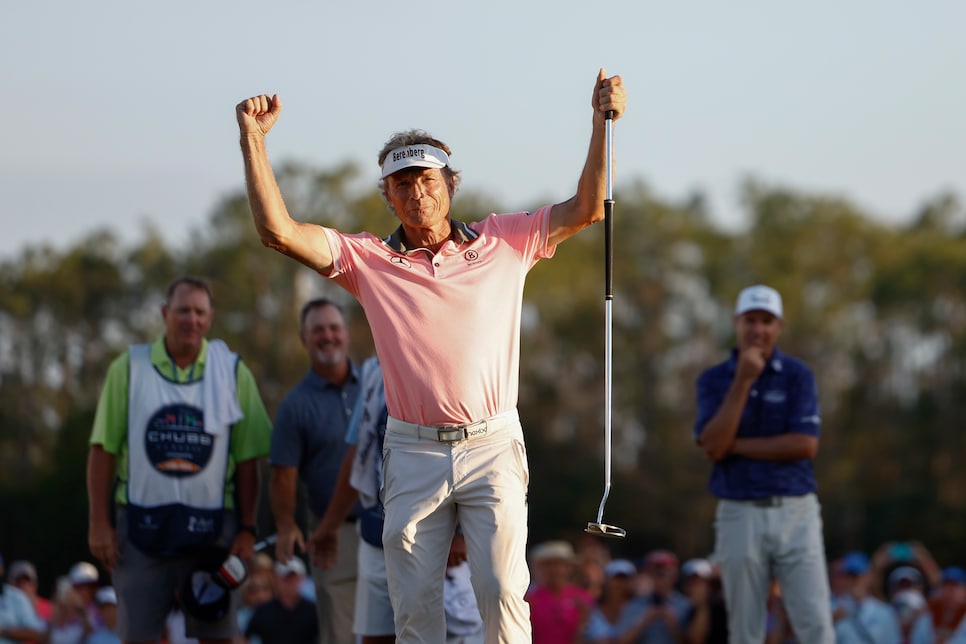 That's 45 wins after turning 50, including a dozen victories since turning 60. Incredible. I need this dude's secret. Oh, right. He simply eats healthy and works out a lot. Wish I could do it, but I can't. Good for you, Bernhard.
Lydia Ko: Yeah, yeah, Lydia won another Ladies European Tour title, but we're more impressed by her recent honeymoon to New Zealand. According to Ko, she played eight(!) rounds of golf with her new husband (which has to be some kind of record) and even made a hole-in-one! I couldn't even get in one round of golf on my honeymoon.
Well played, Lydia. Literally. And way to keep your game sharp. It's no wonder she won her first start as a married woman.
Tiger's 'joke': I don't want to make this a bigger thing than it already is, but I also don't want to be accused of going too easy on the GOAT. So let me just say that it was a bad look for Tiger, and he deserved the backlash that came with it. I'm also stunned that someone who has always been so careful protecting his image would pull such a stunt in public. Apparently, more than his golf game is rusty from lack of reps. Anyway, he apologized so let's all move on.
Max Homa losing: Jon Rahm is awesome and watching Jon Rahm win is awesome. But it was tough seeing this guy come so close to winning a tournament (again) that he wants as much as any in the world. Just look at the emotion that poured out of him after!
Can you imagine anyone not pulling for this guy? Even Kelley Rahm may have been rooting for him. Anyway, Max had to settle for his first career runner-up (to go with six wins) and $2.18 million. Not a bad consolation prize, at least.
Jon Rahm's luck: Golf Twitter went nuts (and rightfully so) over Rahm being allowed a free drop for a temporary immovable object after hitting a tee shot into a parking lot on Saturday, but nothing tops the break he got on Friday evening when he banked a shot of a grandstand on 17 that resulted in a near kick-in eagle:
That's just not fair. Are the golf gods not aware how good this guy is right now? He doesn't need any help!
The PGA Tour heads east for the Florida Swing, which starts at the Honda Classic, AKA that one that nearly all of the the top guys won't play in even though it's basically played in their backyard. Not that it was always this way:
Look, an unfortunate reality is if we're going to get back-to-back weeks of designated events like the last two—and the next two after this—we're going to have some clunkers, too. And in not-so-surprising news, Honda is ending its 42-year-sponsorship following this event. Away from the PGA Tour, LIV Golf gets its second season underway at Mayakoba. Smart timing by Greg Norman because that field might actually be stronger.
Random tournament fact: This was the pre-pandemic event in which Paul Azinger was criticized for calling out Tommy Fleetwood's lack of a PGA Tour win while in contention. Fleetwood hit one in the water late to lose, and he's still stuck on zero PGA Tour titles. But maybe that will change this week! Nope, never mind. He's not playing either.
RANDOM PROP BETS OF THE WEEK
—LIV will draw better ratings than Riviera: 1 MILLION-to-1 odds
—Sungjae Im will win this week: 9-to-1 odds (Actual odds, favorite!)
—I wouldn't still be married if I played golf eight times on my honeymoon: LOCK
Min Woo Lee had a hilarious reaction to spotting himself in an episode of Netflix's "Full Swing":
By the way, he's in the field at the Honda and listed at 30-to-1 odds. Might have to put a few bucks on him just because of this.
CLUB PRO GUY TWEET(S) OF THE WEEK
This thread breaking down three levels of golfers by handicap is pure genius:
I'm really going to have to put in some #work this year to get into that second category, or the "sweet spot" as CPG says.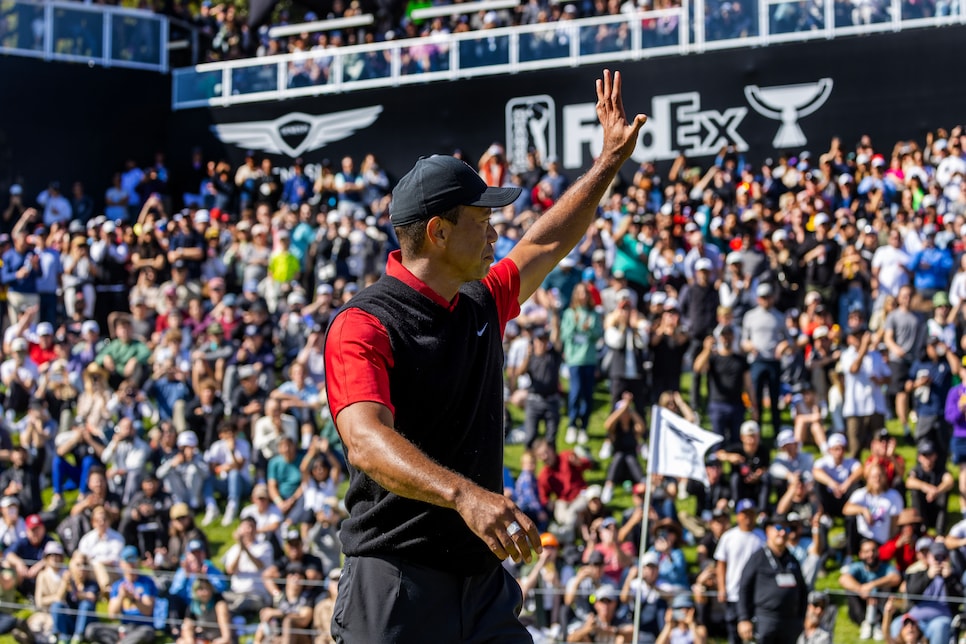 Also, what a shot of Max Homa's near pitch-in on the final hole: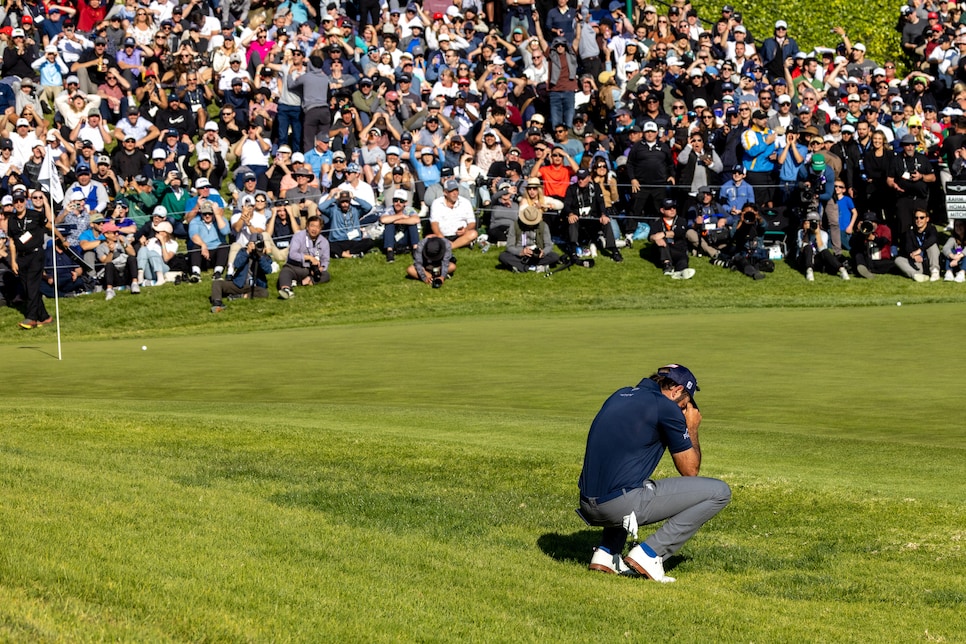 Don't feel too bad, Max. There's a 0.0-percent chance Rahm was going to three-putt there anyway.
AMATEUR PHOTO OF THE WEEK
Happy to report that Rob Lowe is a Tiger guy. A BIG Tiger guy:
I'd expect nothing less from the great Sam Seaborn.
VIRAL VIDEO(S) OF THE WEEK
We've got a couple incredible fan interactions with Tiger, which were a rarity in the old days. First, Woods making this young girl's week/year/life by literally checking off her "Bucket List":
Awww. Golf.com's Nick Piastowski did a great job telling Madelyn's story, which hits even more as a father of a daughter who had heart surgery. And, on a much lighter note, look what a simple nod from the GOAT can do to a group of older fans:
AMATEUR VIRAL VIDEO OF THE WEEK (YOU-LOVE-TO-SEE-IT DIVISION)
Congrats to Matt Rando (incredible name) on making his first hole-in-one and keeping it real about his score:
And congrats to me for being a good enough guy to congratulate yet another golfer who beat me to making a hole-in-one. Matt already has one despite playing golf for only two years, and yet I'm stuck on zero in three decades. Tough.
AMATEUR VIRAL VIDEO OF THE WEEK (YOU-HATE-TO-SEE-IT DIVISION)
This dude was absolutely cooking at Cypress Point until he got to its most famous hole:
Golf is truly the sickest sport ever. Anyway, good for Casey for sharing that. And for not taking a mulligan.
THIS WEEK IN PUBLIC DISPLAYS OF AFFECTION
The official World No. 1 golfer with the unofficial co-World No. 1 cutest kids of a golfer: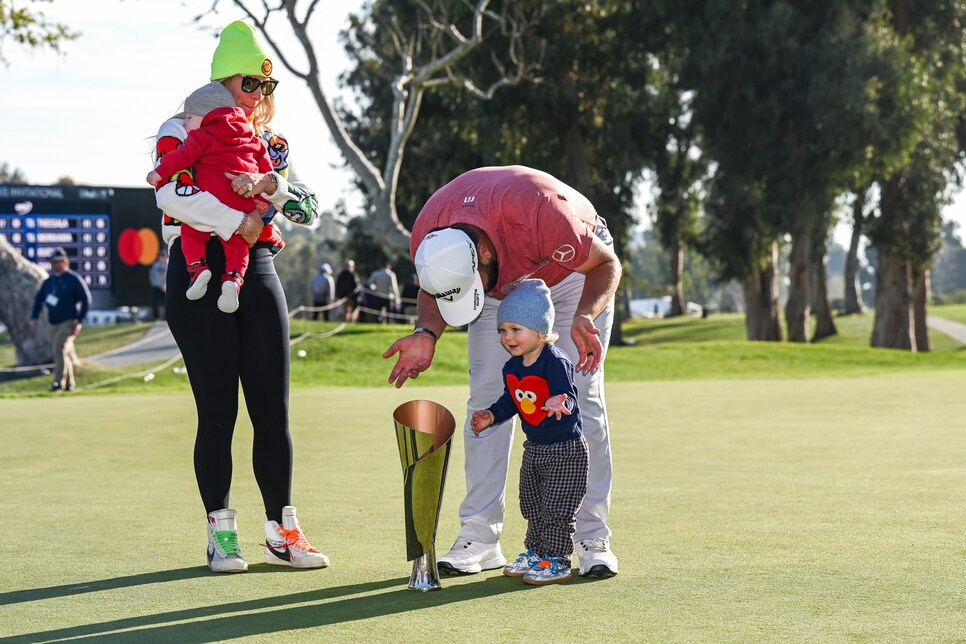 I'd love to think Rahm is teaching little Kepa the "Jordan shrug" there. Also, great to see Kepa is a big Elmo fan. I was complaining about "Cocomelon" last week, but as far as kids TV content goes, you can't beat "Sesame Street."
Actually, it's a throwback quote, but it partly explains what we saw last week. As pointed out by CBS Sports' Patrick McDonald on Sunday, Jon Rahm said this four months ago at the CJ Cup in South Carolina:
"Yeah, I mean, my ball-striking is so good that my putting's never going to be really that high up there statistically, and if it were, if I kept this ball-striking level and my short game and putting was top-20 on the PGA Tour, well, we'd be looking at a season where I'm winning eight times and that's just very hard to do."
Wow. Apparently, Rahm knew what he was talking about because he's well on his way to those eight wins.
LIV Golf officially added Thomas Pieters, Dean Burmester, Sebastian Munoz, Brendan Steele and Danny Lee. Not bad, but also not exactly the "seven top-20 players" Greg Norman said LIV was targeting this offseason. … Robert MacIntyre made a hole-in-one with a 4-iron from 265 yards at a practice round at the Hero Indian Open. These guys are good. … Ryan Fox's trip home to New Zealand included him breaking a course record. While using borrowed clubs. These guys are really gooD. … And, finally, the Masters is bringing back its "Taste of the Masters" hosting kit for this year's tournament and look at all you get for $175: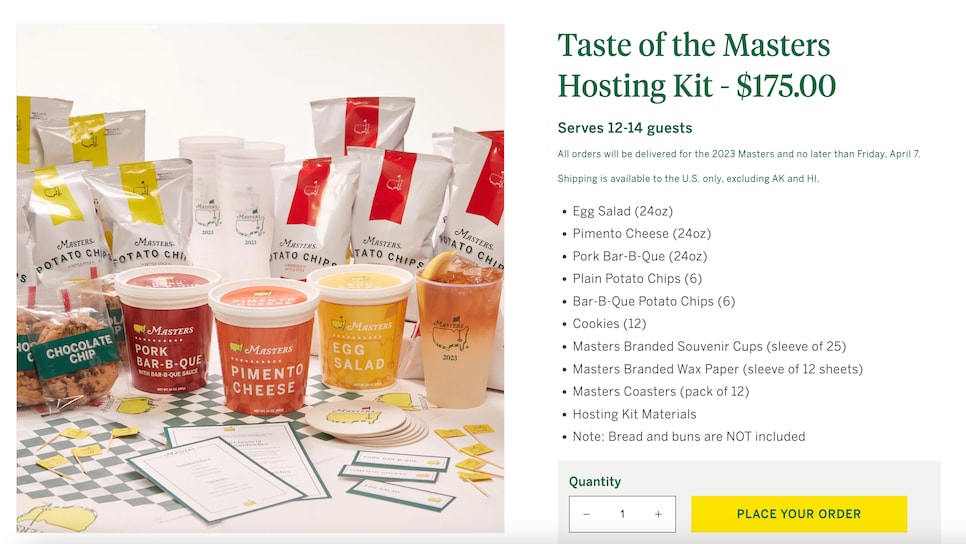 Not a bad deal. And good to see supply-chain issues are better in our country this year.
RANDOM QUESTIONS TO PONDER
Will the Georgia Peach ice cream sandwich be back at Augusta this year?
Will we see Tiger Woods play again before the Masters?
Will there ever be a "West Wing" reboot?