Chubb Classic
Bernhard Langer equals Hale Irwin's PGA Tour Champions record with 45th career victory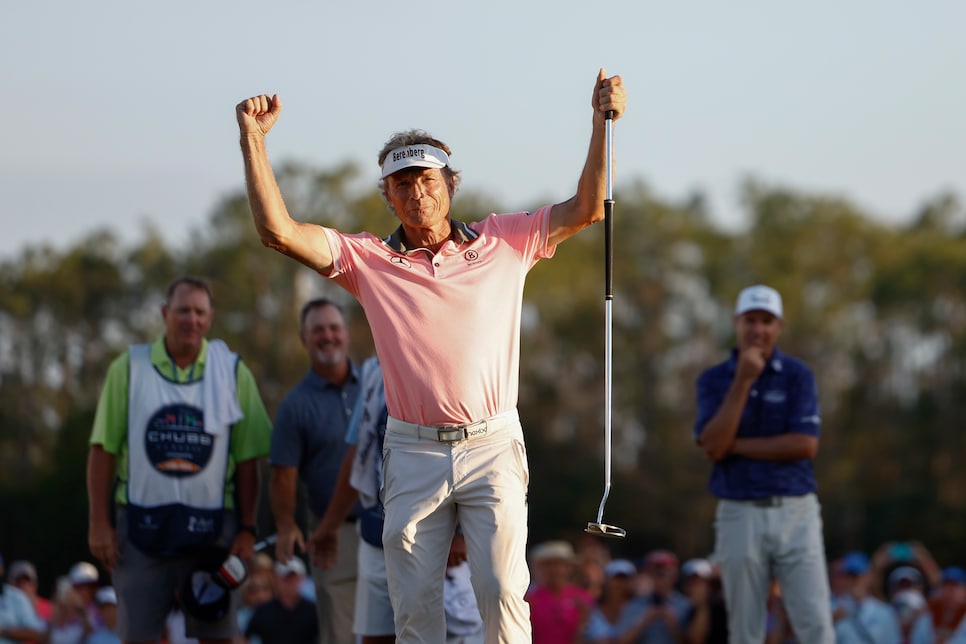 Bernhard Langer's timeless brilliance has carried him to the pinnacle of PGA Tour Champions history, recording his 45th senior victory on Sunday and tying a record he now shares with another member of the World Golf Hall of Fame, Hale Irwin.
Langer, 65, birdied five of his last seven holes to shoot his age, giving him a three-stroke victory in the Chubb Classic at Tiburon Golf Club in Naples, Fla., the third event of the 2023 schedule.
"There's been a lot of talk about catching Hale for the last few years, and there's a lot of pressure, especially today when you get this close," Langer said. "Then you have thoughts running through your mind, and you're going, wow, you're this close, you don't want to lose it now. But that's the wrong stuff to think. You've got to just focus on one shot at a time."
Langer, a Christian, took comfort from a Bible verse from Proverbs 3, one he wrote down and carried with him all day Sunday, "to encourage me," he said. "It says, 'I will trust in the Lord with all my heart and not lean on my own understanding. In all my ways I will acknowledge him, and he will make my path straight,' and my path was pretty straight today and this whole week. I drove it very well, hit a lot of fairways, a lot of greens, and fortunately did better than anybody else."
He staved off a host of challengers on the back nine, including Padraig Harrington, Steve Stricker and Steven Alker. He completed 54 holes in 17-under-par 199, while Stricker and Harrington tied for second. It was the second year in a row Langer won the Chubb Classic and the third time in his storied career.
Not only did he shoot his age on Sunday, but in the first round on Friday, he bettered his age with a 64, the seventh time in his senior career that he has done so.
"It's very gratifying," he said, "and I know there's only certain courses I think where I can win. There are some courses where I have a hard time because of lack of distance. Let's face it, I'm not hitting it as far as these 50 or 52-year-olds, and there are some courses where the bombers have such a big advantage and I have a hard time. But on a golf course like this that's very tight and not too long, I have a chance."
Langer, who has won two or more tournaments every year for a decade, would seem to be almost a cinch, given that this one came so early in the senior season, to surpass Irwin on the all-time victory list at some point this year.