The Loop
The best back-to-back putts in golf history, the worst Tiger Woods swing ever, and some absolutely genius marketing
Welcome to another edition of The Grind where we will never underestimate Dustin Johnson again. After watching Johnson's approach on the final hole of regulation come to rest nearly 40 feet away, admittedly, I thought it was safe to go out and join my daughter in the park. Whoops. And after hearing about his incredible tying birdie putt—DJ actually fist-pumped, talk about historic!—from everyone including my mother, I was unable to get home in time to see Jon Rahm's even more ridiculous winning putt.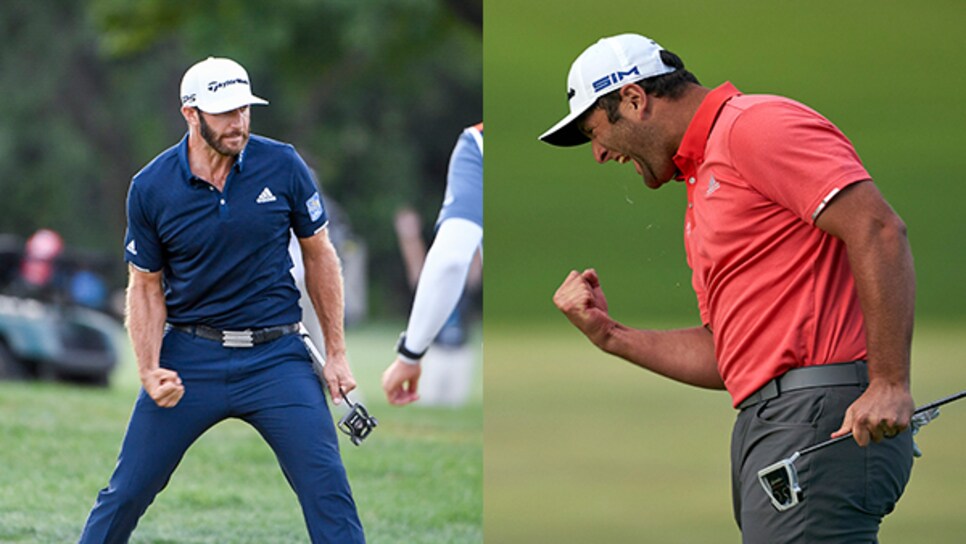 Only the best back-to-back putts in golf history totaling 110 feet, no big deal. What was that saying again? Oh, right. These guys are good. Anyway, I've taken a break from trying to be Father of the Year to talk some golf. Let's get to it.
Jon Rahm: Can we call him the co-World No. 1? The recent No. 1 nearly moved back to the top spot by beating the current top dog, but it's pretty close right now. How good was that finish?! And how about this guy's knack for knocking in 60-footers to win golf tournaments?!
I can't believe this dude is still only 25. It seems like he's been around for a decade already. Also, the harder the course, the better this young Spaniard seems to play as evidenced by wins at Muirfield Village and Olympia Fields since the restart. That bodes well as we near the U.S. Open at Winged Foot next month. And he spotted everyone a shot by picking up his ball on the green without marking it on Saturday. Hey! I did that once, too! Not surprisingly, though, I did not win the tournament.
Dustin Johnson: For a moment on Sunday, it looked like this was going to be another DJ runaway as he grabbed a three-shot lead. And if not for Rahm making a final-round charge, it probably would have been. Look, you can't win every week, although Johnson almost won back-to-back at tournaments that couldn't have played any differently. In a way, this four-under performance was equally as impressive as the 30-under romp the week before. Again, Winged Foot beckons.
Phil Mickelson: We mentioned Mickelson's impressive opening 61 on the PGA Tour Champions last week, but not the fact that he wound up going wire to wire and tying the 54-hole scoring record on the senior circuit.
Golf fans got a taste of how good Phil could be as a TV analyst during the PGA Championship, but he's still arguably the most fun golfer to watch on the planet. Just watch—and listen—to him swinging out of his shoes to hit BOMBS:
The man is grunting now! Gotta love the effort. These other geezers had no chance:
This parlay: As predictable as Phil's senior win was, picking winners in pro golf is pretty tough these days. Unless you're this mysterious gambler genius who correctly nailed the winners of this week's events on the PGA Tour, European Tour, and Korn Ferry Tour. And PARLAYED them into 3,000-to-1 odds on about a $7 wager:
Sophia Popov's future LPGA status: The feel-good, real-life Cinderella golf story of the year went through a disappointing twist in the plot when it was discovered that Popov, despite winning the Women's British Open, wouldn't receive the five-year tour exemption that major champs usually get, but would have to settle for a two-year one instead. The reason? She wasn't an LPGA member at the time of her victory, having missed out on her card by one shot at Q School last year. Even more absurd? Popov is not in the field at next week's ANA Inspiration, the second major of the season. Golf prides itself on adhering to strict rules, but not making an exception—especially during such a crazy year—seems ridiculous.
Tiger Woods' 2020: Coming off a fantastic fall in which he won the Zozo Championship for a record-tying 82nd PGA Tour title and then was hands down the best player at the Presidents Cup while also captaining Team USA, expectations for 2020 were high. But following a T-9 at Torrey Pines to start the year, Woods went T-40, T-37, T-58, and T-51. Those poor announcers and cameramen working for PGA Tour Live had some early weekend wake-up calls. Speaking of which. . .
This Tiger swing: Um. . .
OK, so that's clearly a drill, but. . . still pretty shocking to see a 15-time major champ take a backswing like that and then lay the sod over one like a 30-handicapper. Let's hope his practice sessions go a bit better the next couple weeks before the second major of the year.
The PGA Tour heads to East Lake for the Tour Championship, AKA that event where 30 golfers play for an amount equal to the GDP of a mid-sized country. The winner this week will walk away with $15 MILLION and finishing DFL is worth $400,000.
Random tournament fact: This is the second consecutive year that both Tiger Woods and Phil Mickelson failed to qualify for the event. However, that won't stop us from watching this classic clip again:
RANDOM PROP BETS OF THE WEEK
—Jon Rahm will pick up his ball without marking this week: 15 MILLION-to-1 odds
—Dustin Johnson will win this week: 2-to-1 odds (Actual odds)
—Jon Rahm will win this week without his two-shot headstart: 5-to-1 odds
—Whoever wins this week won't be flying commercial back home: LOCK
Adam Long handled being bumped from the Tour Championship by Billy Horschel pretty well:
And Joel Dahmen handled being bumped from a weekend tee time with Tiger Woods by Cameron Smith with a bit of humor as well:
At least, we think Joel was joking. . .
This camera angle of Viktor Hovland hitting driver off the deck was positively mesmerizing:
Again, these guys are good.
THIS WEEK IN TOUR PRO PUBLIC DISPLAYS OF AFFECTION
Luke Donald and his wife Diane played some tennis:
Make him move around the court, Diane! He doesn't want to get those Jordans dirty.
THIS WEEK IN TOUR PRO PUBLIC DISPLAYS OF ADVERTISING
First, Ian Poulter chipped a golf ball through one of his beloved Ferraris:
Then, Jon Rahm and Dustin Johnson played with mini BMWs to determine the playoff order:
That's genius marketing right there.
"I'm going to play in many more Tour Championships and it's only going to be the birth of your first child once. That trumps anything else."—Rory McIlroy saying the right thing (as usual) about the upcoming birth of his baby daughter.
Patriot Golf Day, which supports the families of fallen or wounded veterans, is this weekend (Sept. 4-7). Play golf, donate, and support a great cause. . . . In recent weeks, the PGA Tour has announced partnerships with FanDuel, PointsBet and BetMGM. At this rate, there will be an official sportsbook for betting on each player. . . . Congrats to Austin Ernst on earning her first LPGA Tour win in more than six years by shooting 20 under (for three rounds) at the Walmart NW Arkansas Championship. Prices aren't the only things low at Walmart these days. Sorry, that was bad. Moving on. . . And finally, congrats to Golf Digest's Christopher Powers (and his lovely bride, Erika) on tying the knot and making a spectacular golf-course entrance to their wedding: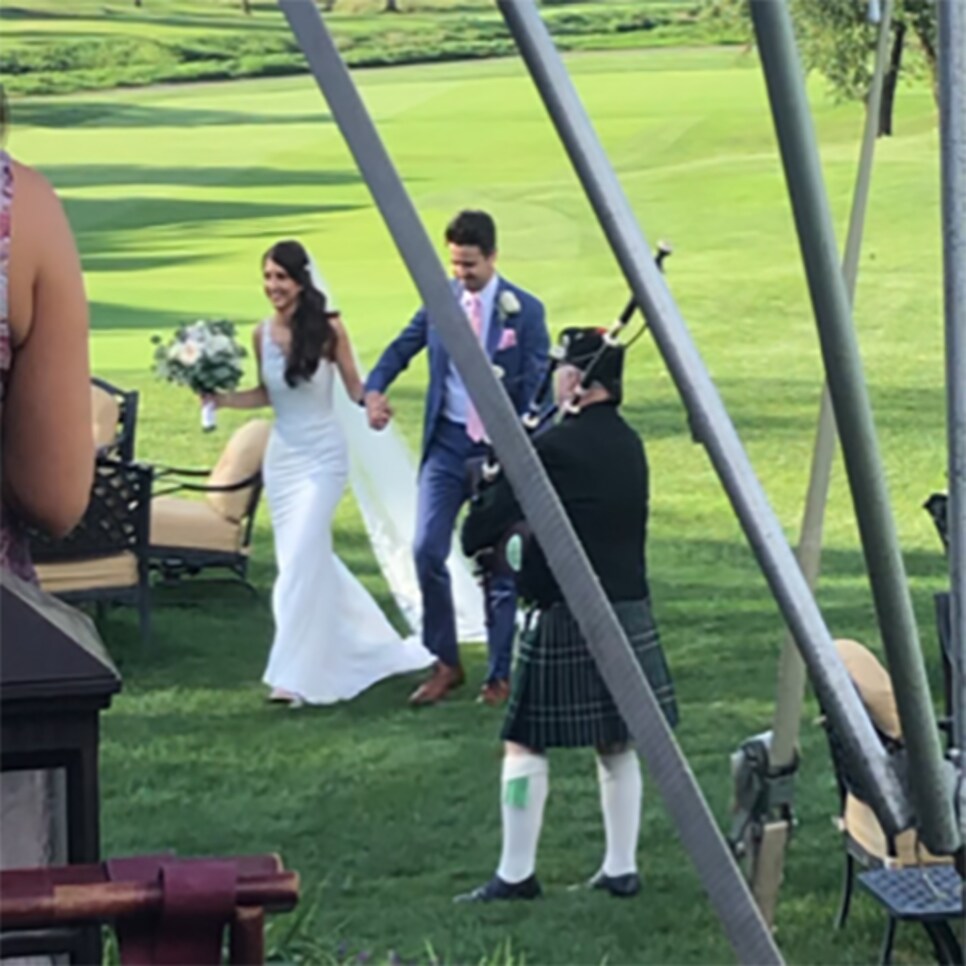 That's also the first time I've ever heard bagpipes playing anything other than "Scotland the Brave" or "Amazing Grace." Well done all around.
RANDOM QUESTIONS TO PONDER
What will Rory and Erica name their baby?
Was that the most emotion DJ has ever shown?
Why didn't I bet on Phil to win his senior tour debut?