News
Austin Ernst wins birdie-fest at LPGA Walmart NW Arkansas Championship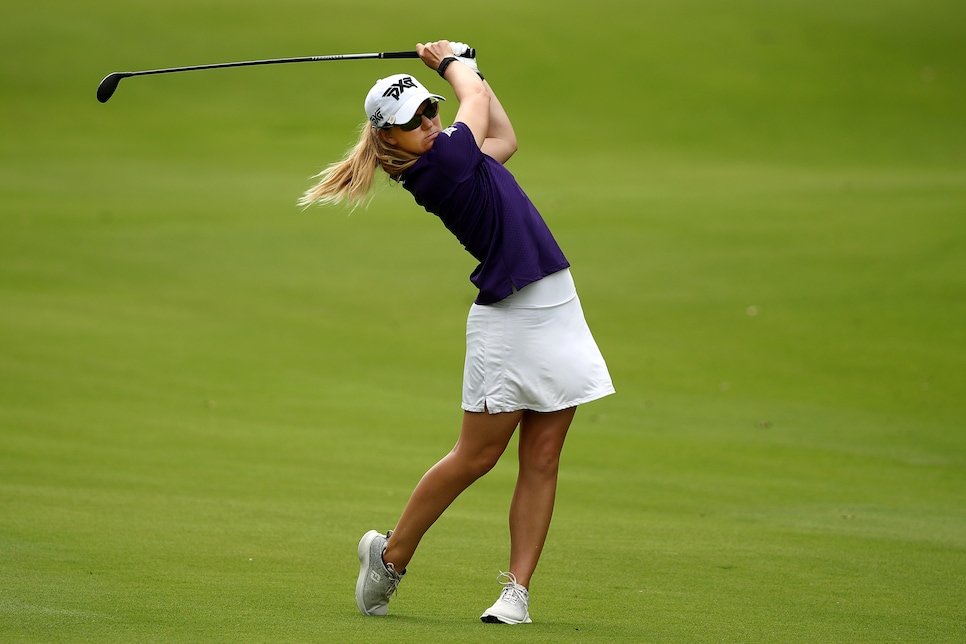 ROGERS, ARKANSAS - AUGUST 30: Austin Ernst plays a shot on the second hole during the final round of the LPGA Walmart NW Arkansas Championship at Pinnacle Country Club on August 30, 2020 in Rogers, Arkansas. (Photo by Marianna Massey/Getty Images)
Marianna Massey
On Saturday night at the Walmart NW Arkansas Championship, Anna Nordqvist looked poised to secure her first win since 2017. The two-time major winner had a three-shot lead over Sei Young Kim, and Austin Ernst, Nelly Korda and Jenny Shin sat four shots behind.
But on Sunday, it was Ernst, who'd been waiting even longer for her next win, hoisting the trophy. With rounds of 65-65-63, the 28-year-old from South Carolina won the 54-hole event at 20-under, two shots ahead of Nordqvist.
Ernst, the 2011 NCAA champ, left LSU after two years and joined the LPGA Tour in 2013. She won her first LPGA tournament quickly, the 2014 Cambia Portland Classic. And she's been waiting since for her next victory, 144 tournaments to be exact.
"It was very frustrating," Ernst said. "I had finished second I think every year from 2015 to 2018. Every single season. So, it was frustrating to get so close and not get a win when I knew that I could win."
Though Ernst had to come from four shots back, she was never intimidated while at Pinnacle Country Club in Rogers, Ark. "I'm trying to birdie every hole out there," Ernst said Saturday night. "I know that you can birdie every hole out there, too."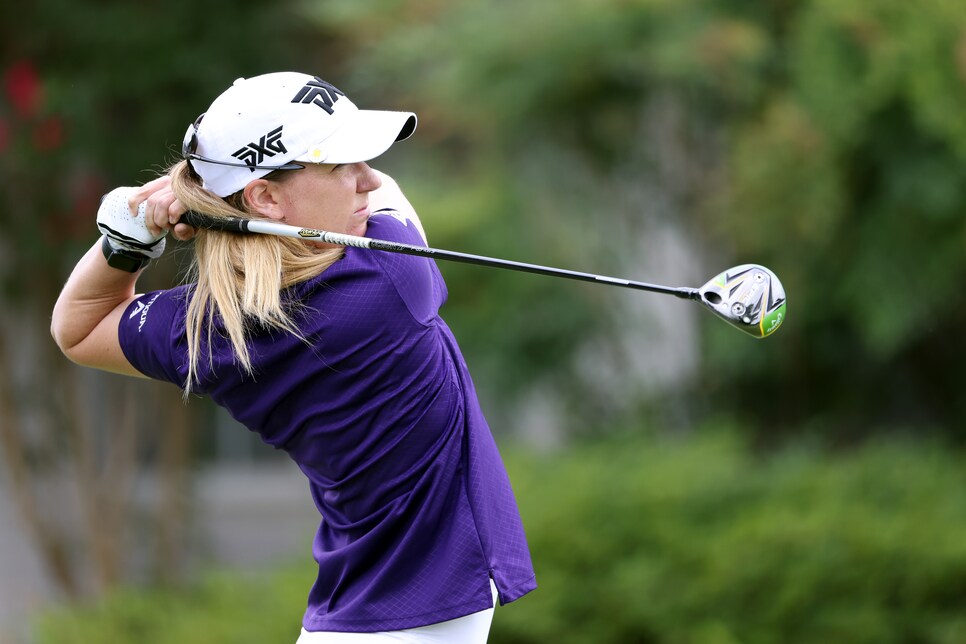 ROGERS, ARKANSAS - AUGUST 30: Austin Ernst hits her first shot on the 2nd hole during the final round of the Walmart NW Arkansas Championship at Pinnacle County Club on August 30, 2020 in Rogers, Arkansas. (Photo by Jamie Squire/Getty Images)
Jamie Squire
She's not wrong. Throughout the tournament, there were only three holes she didn't birdie. She hit every fairway on Sunday and made 10 birdies en route to her 63.
Ernst credits the long break as being crucial to getting her game into winning shape. She took the first part of the LPGA Tour's five and a half month break completely off, citing burnout. Once she felt that she wanted to practice again, she got to work on her putting with the help of her coach, who's also her father. They changed her putter from a blade to a mallet, switched the grip to a SuperStroke and went from conventional to cross-handed.
"[The pause in competition] gave me a great break to come back rejuvenated and have something that I want to work on," Ernst said. "I had kind of lost my confidence last year, and to take that break and to take that time where I got to just kind of decompress away from golf, which I've never really been able to do."
Quietly, Ernst had a strong performance at the AIG Women's British Open the week prior, finishing fifth. Being close to the lead, she was on TV more than usual and her dad noticed a little issue with her stance.
"He noticed that I was a little bit more upright and my hands were a little behind the ball last week," Ernst said. "So, the quick adjustment this week was, okay, feel like your hands are just forward of the ball and bend from the waist just slightly more. So that little adjustment seemed like the ball started on line more and the contact was more consistent."
She had to wait a long time for her second win, longer than she expected. But now that it's here, she's more ready for subsequent wins than she was back in 2014.
"It's a little bit of a weight off my shoulders to get this win, but I also think it's going to be more of a springboard than maybe in '14," Ernst said. "Obviously I played good golf after that, but I never got that second win. I think now having two wins seems so much more solid than just having one. You can almost -- people might say it's a fluke if they won once."
There's nothing fluky about a top-five finish at a major followed by a win.