The Loop
Johnny Miller's tears, Tiger Woods' red sweater, and a WAG's special bond with Burt Reynolds
Welcome to another edition of The Grind, where we're taking Johnny Miller's Monday tears as a sign that, sadly, he really is planning on leaving the TV booth soon. How else do you explain him choking up over Keegan Bradley winning the BMW Championship? Then again, it was an emotionally charged final round thanks in part to Tiger Woods turning back the clock with both his play and his wardrobe. How could you not have spine-tingling flashbacks with Big Cat wearing this big red sweater?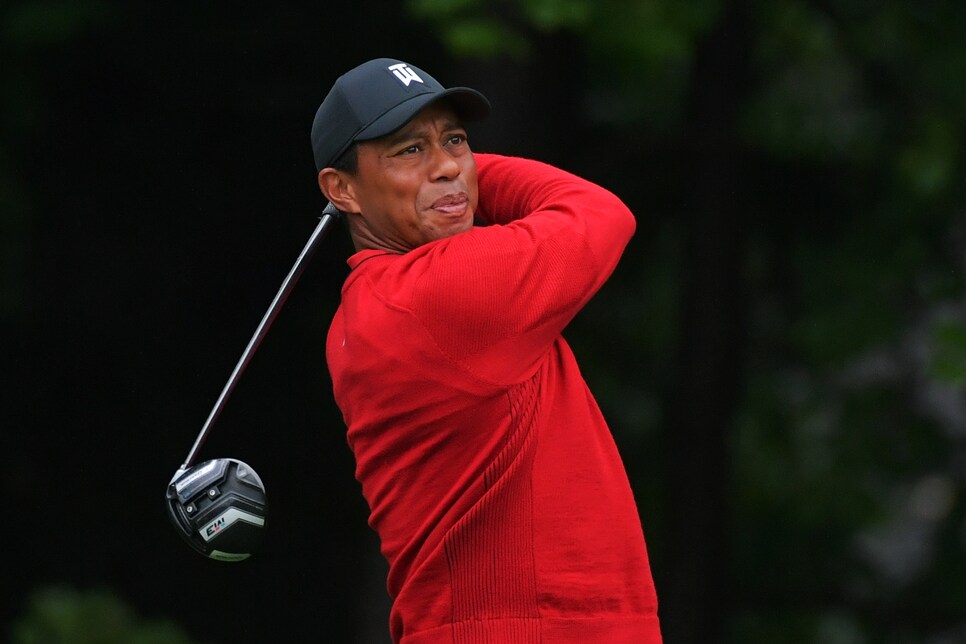 Simply glorious. Why doesn't he wear that thing more? The black sweater covering up everything but the (blade) collar of his final-round red shirt isn't intimidating enough. Anyway, the red sweater wasn't quite enough to get that elusive first win, but Bradley — and Johnny — sure were pleased with the outcome. Here's what else has us talking/crying.
Keegan Bradley: What if I told you a golfer whose last PGA Tour victory came at the WGC-Bridgestone Invitational more than five years ago would win? But that it wouldn't be Tiger Woods? Golf if one crazy sport. At long last Keegan Bradley is back in the winner's circle after his playoff victory at the BMW Championship.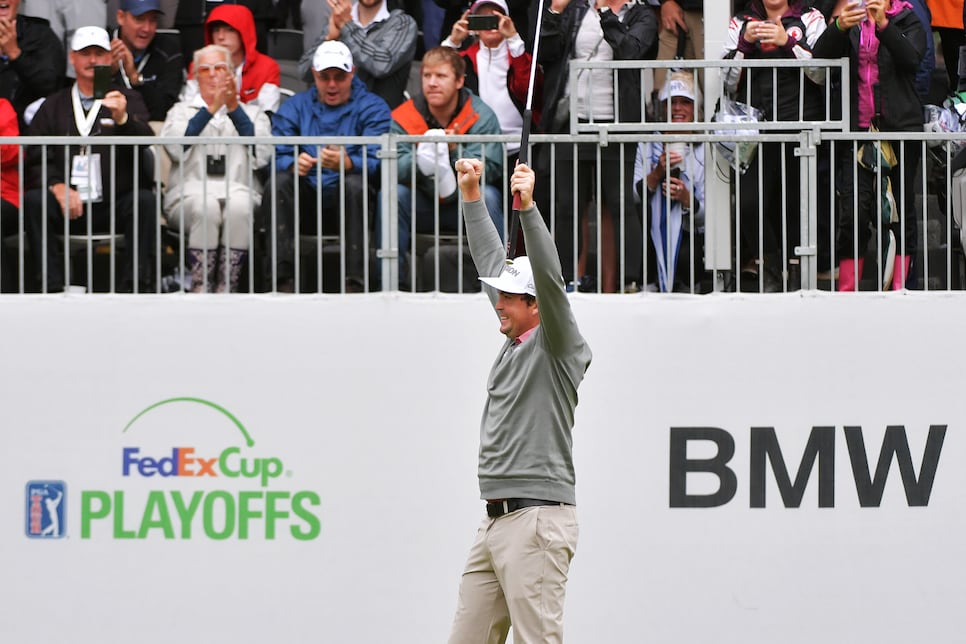 It had been more than six long years since Bradley's last win and in the meantime, he's gotten married and had a kid. And did that lead to one sweet celebration:
OK, now I'm starting to tear up. . .
Justin Rose: The Brit blew a chance for a third PGA Tour title of the season with bogeys on the 18th hole in both regulation and the playoff, but he still walked away in good spirits. That's because, A) He always loses with class; and B) He's the World No. 1 for the first time. Rose is just the 22nd golfer to hold the top spot in the Official World Golf Ranking since its inception in 1986:
That's a pretty solid consolation prize.
Tony Finau: What has this guy done while faced with all the pressure of playing for the last Ryder Cup spot? Shoot 15 consecutive rounds in the 60s. That's all. And on Monday, his consistently stellar play was rewarded with Jim Furyk's final captain's pick.
And that's definitely the first time someone has celebrated making a Ryder Cup team like that. Well done and well deserved, Tony.
Tiger Woods' throwback sweater: Again, this thing is beautiful.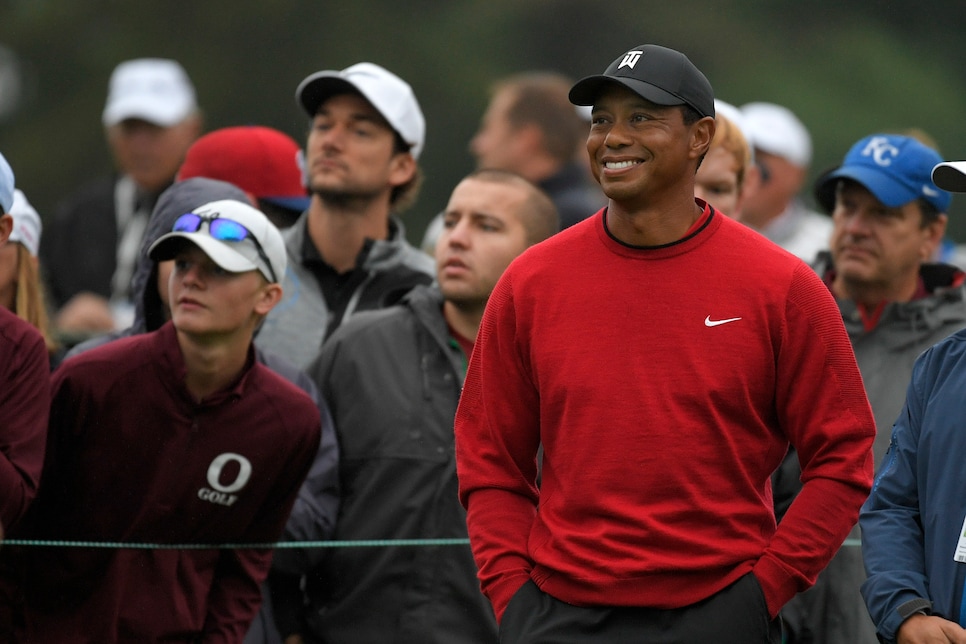 And am I crazy, or did it take at least 10 years off Tiger? He looks fantastic.
Tiger Woods' throwback putter: Unfortunately, another old reliable for Woods didn't prove to be quite as reliable. Tiger turned back to his trusted Scotty Cameron putter — his third putter switch in as many weeks — and saw immediate results with that opening 62 in which he was on "59 (58?) Watch" through 10 holes. However, he struggled on Aronimink's greens the rest of the way and wound up finishing 31st in the 70-man field in strokes gained putting (he was second in strokes gained tee to green). Tiger, are you sure that's the right Scotty?
Jordan Spieth's 2018: The three-time major champ completed an unexpected first winless season as a pro with a T-54 that left him on the wrong side of the bubble for the FedEx Cup finale next week. And no one was more surprised about Spieth not qualifying for the Tour Championship than Spieth, whose incorrect assumption he'd play at East Lake wound up violating a PGA Tour rule because he didn't reach a minimum number of starts. Ouch.
Matthew Fitzpatrick's timing: After being left off the European Ryder Cup team, the young star promptly went out and successfully defended his title at the Omega European Masters. Just a hunch, but he'll probably be back on future Euro squads. In the meantime, he flashed some impressive masonry skills.
Although, I'm not sure how that will help Europe at Whistling Straits in 2020. . .
The PGA Tour takes a (rare) week off before the Tour Championship. Instead, the golf world's attention turns to the Web.com Tour for its finale, the European Tour for the KLM Dutch Open, and the LPGA for the Evian, AKA that "fifth major" that's actually a major.
Random tournament fact: Tiger Woods' Tour Championship appearance means he's automatically in next year's U.S. Open and won't need any special exemption from the USGA now that more than 10 years have elapsed since he won the event.
RANDOM PROP BETS OF THE WEEK
— Tiger Woods wouldn't have played in the 2019 U.S. Open: 1 MILLION-to-1 odds
— Johnny Miller will cry while watching a Shark Tank re-run this week: Even odds
— Nike is going to sell a few of those red sweaters this fall: LOCK
Marc Leishman answers, well, tries to answer a bizarre question:
And Rory McIlroy calls European Ryder Cup captain Thomas Bjorn and asks for cryotherapy chambers for the entire team:
Rory struggles with holing birdie putts, but he has no problem keeping a straight face during a prank call. Impressive.
VIRAL VIDEO OF THE WEEK (TRICK-SHOT DIVISION)
Presenting the "Samurai Swing":
Also known as the Webb Simpson follow-through.
THIS WEEK IN DUSTIN JOHNSON-PAULINA GRETZKY PUBLIC DISPLAYS OF AFFECTION
Well, this is awkward. I'd love to post some DJ-PG PDA, but there was none this past week. In fact, as people noticed over the weekend, there's none on Paulina's Instagram account. . . She has (gulp) scrubbed all Dustin-related photos off her page. . .
And I had to go to Dustin Johnson's Instagram account to find one of golf's most famous couple:
Say it ain't so, guys. I'm not sure The Grind will never be the same without you two together. Maybe this is the real reason Johnny Miller was so emotional.
"Yeah, a lot has happened to me over these six years. The belly putter was a tougher transition than I thought, and I kind of fell off the radar there for a little while. It's tough to go from being on Ryder Cup teams, being on Presidents Cup teams to not even — outside the top 100 in the world. That was difficult. . . . To be back here and win this tournament is just incredible." — Keegan Bradley. Happy for Keegan. Hopefully, he won't have to hear any trash-talk from his buddy Michael Jordan for awhile. . .
THIS WEEK IN PHIL BEING PHIL
Come for Phil Mickelson talking about how robotic frozen yogurt machines are going to "disrupt the entire retail food market chain." Stay for, well, stay for that as well. This is fantastic:
THIS WEEK IN PROS ARE JUST LIKE US
Seriously, what the hell happened here?!
However, we are all about Kevin Na not walking in, but boldly running in putts. Like this:
For a fifth time this year, Rory McIlroy played in the final group in the final round. And for the fifth time, he backed up on the leader board. Not good. . . . In more positive news, a North Dakota golf course has begun using drones to deliver food to golfers. I feel badly for beverage cart people out there, but this is what happens when you only hang out in the shade by the 18th hole all day. . . . Golf writer Jason Sobel caddied for Brendan Steele during Monday's final round and Steele shot 68 to move up a few spots. This might be the biggest blow yet to the "caddies really matter" argument. . . . And finally, apparently, Brooks Koepka's girlfriend, Jena Sims, was in a movie with Burt Reynolds (RIP):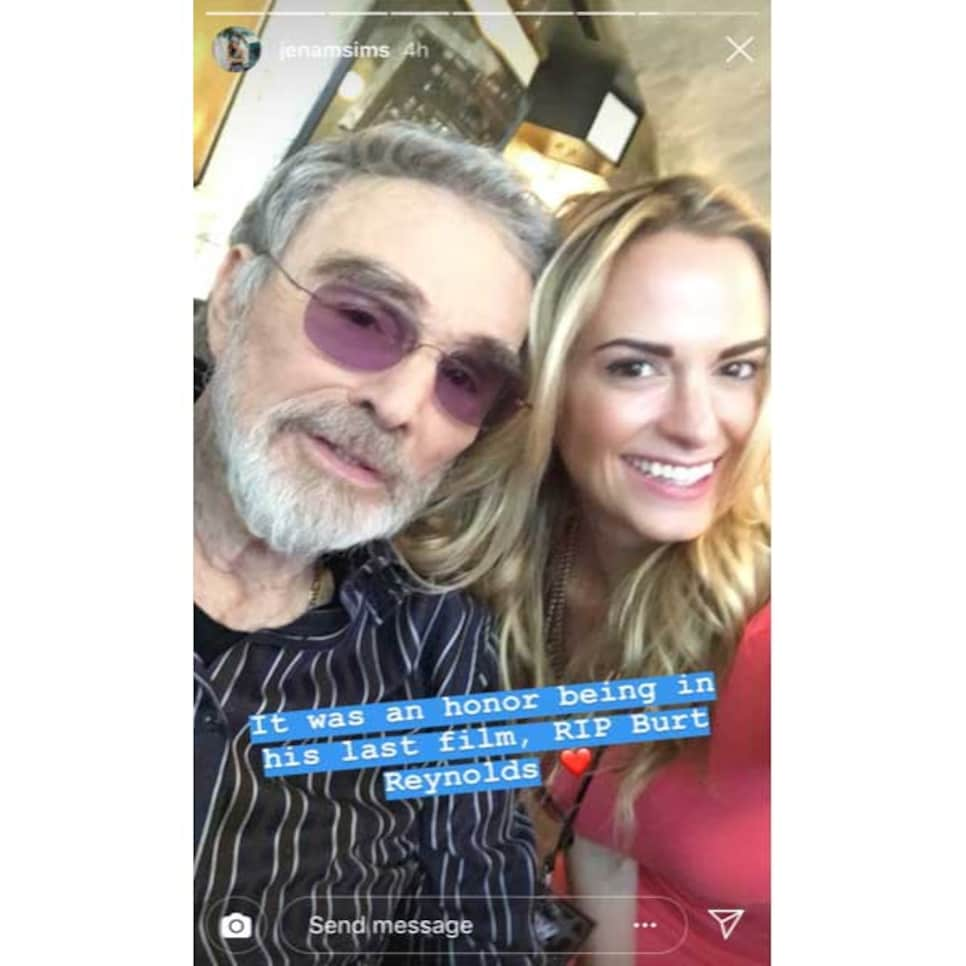 They'll always have The Last Movie Star. What a great cast.
RANDOM QUESTIONS TO PONDER
Which putter will Tiger bring to the Tour Championship?
Can you believe golf didn't have the most controversial U.S. Open of 2018?
Does anyone have a copy of The Last Movie Star I can borrow?