News
For Rory McIlroy, another final-group pairing turns into another missed opportunity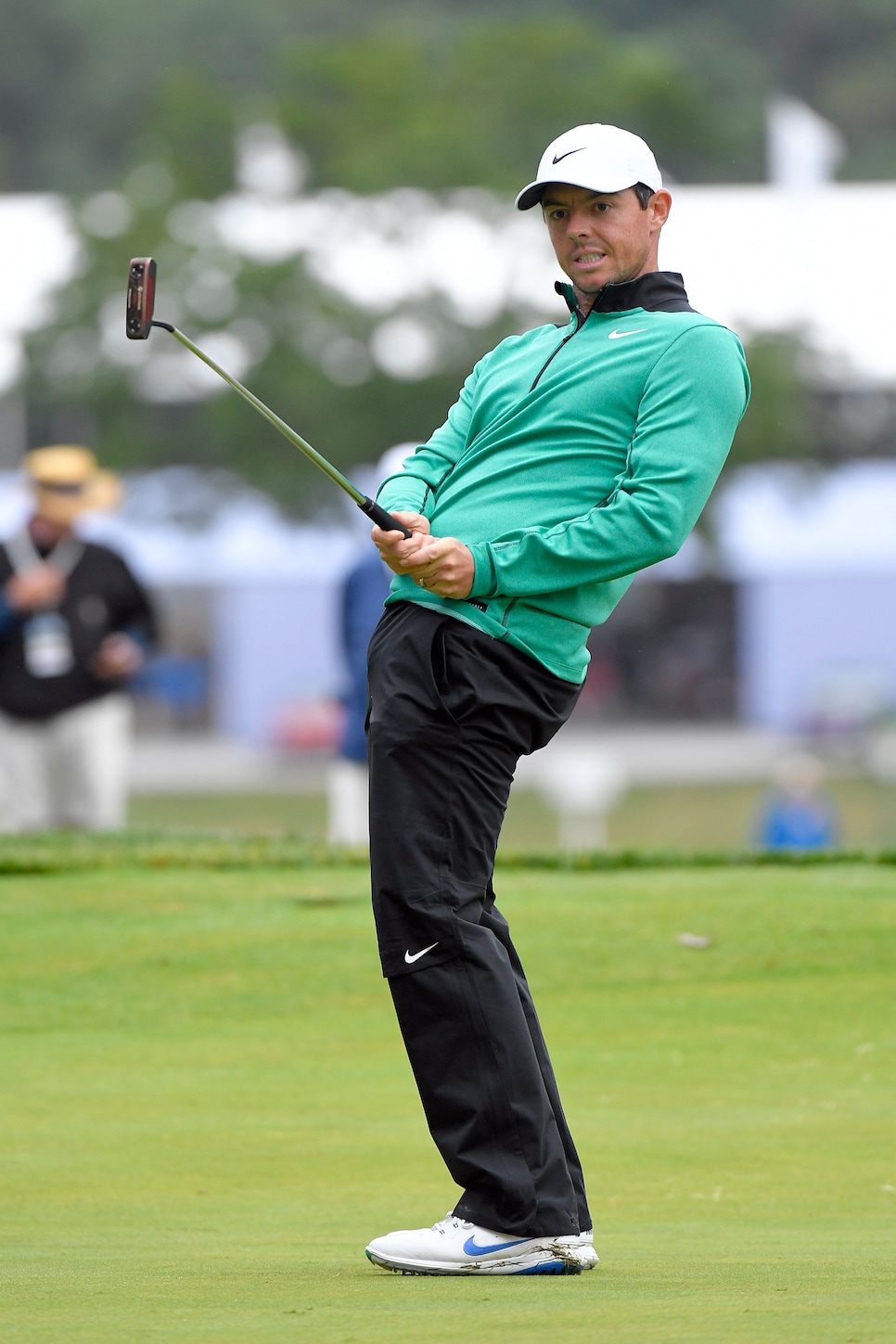 Photo By: Stan Badz/PGA Tour
Rory McIlroy and David Feherty were having dinner in Philadelphia on Wednesday night on the eve of the BMW Championship at Aronomink Golf Club. The mood was light, stories and one-liners flying back and forth. Almost casually, Feherty said, "So, how are you feeling about your game? Pretty good I would think?"
McIlroy smiled and, as he always does, whether the setting is public or private, answered the question honestly. "My game is good," he said. "I think it's actually very good." Then, almost sheepishly he added, "I shot 27 on the front nine today."
Feherty laughed. "Twenty-seven? I'd say that's pretty good."
McIlroy nodded and continued. "I've really played well all year if you think about it. I've had so many chances to win—should have won a lot more. My problem's been playing in the last group. I've just not played well in those situations. If I ever get that figured out, I could be dangerous."
He's still trying to figure it out. On Monday at Aronimink, the final group blues struck McIlroy again. This time it was in a threesome brought about because of the weather that wiped out Sunday's play and forced the PGA Tour to send the players out early Monday in the hope that they could get the round in before the rains came again.
McIlroy, trailing Justin Rose by a stroke, was paired with Rose and Xander Schauffele. Rose shot 67 and lost in a playoff with Keegan Bradley—who shot 64. Schauffele also shot 67 to tie for third with Billy Horschel—who, like Bradley, shot 64 on the final day.
After rounds of 62-69-63, McIlroy shot a respectable two-under-par 68, which was absolutely the highest score he could possibly have shot given the way he hit the ball. The Northern Irishman simply couldn't make a putt. Only two players who finished in the top 11—Tommy Fleetwood and Rickie Fowler (who has had his own share of Sunday struggles this year)—shot a higher score than McIlroy. They both shot 69.
Monday was the fifth time this year McIlroy has played the final round of a tournament in the last group and the fifth time he had gone backwards by the time he holed out on 18. The most notable of those lost Sundays (and one Monday) was at Augusta National in April, where he began the final round of the Masters three shots behind Patrick Reed in second place—and in the final pairing. He picked up a shot on Reed on the first hole when Reed made bogey and McIlroy made par from jail. He could have been tied for the lead after two holes if he'd made a five-foot eagle putt on No. 2. But he missed, and then bogeyed No. 3, allowing Reed to take a deep breath.
"If he makes the putt on two, we're tied and it's a brand new ballgame," Reed said later. "But he missed, and I still had the lead and that gave me a chance to take a deep breath." McIlroy ended up shooting 74 that day—the highest score by three shots among those who finished in the top 16. He made one birdie in the final 14 holes and dropped to a frustrating tie for fifth in his bid to wrap up the career Grand Slam.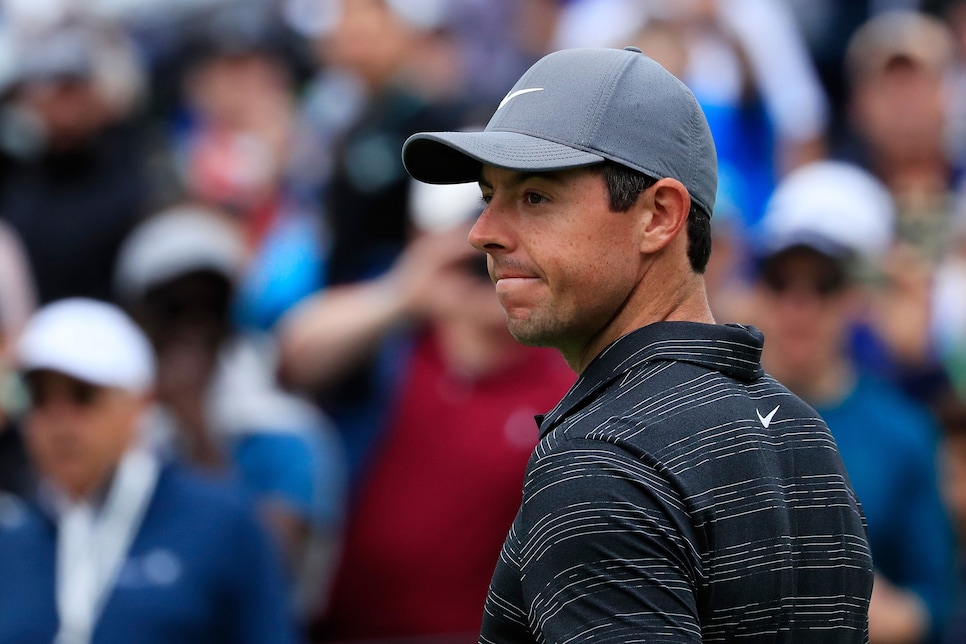 Cliff Hawkins/Getty Images
While Augusta was undoubtedly the most frustrating of McIlroy's Sundays, it wasn't the only one in which he couldn't close. It began early in the year when he went into the final round in Dubai trailing Haotong Li by a shot—played well to shoot 69 and finished a shot behind Li—after leading with nine holes to go. A bogey at 11 and a bogey at 16 opened the door for Li, who birdied four of the last six holes to hold McIlroy off.
McIroy's only win of the year came at the Arnold Palmer Invitational, where he shot a sterling eight-under-par 64 on the last day at Bay Hill to win by three shots. Coincidence or not, McIlroy was in the second-to-last pairing that day.
McIlroy was also in the last pairing at Wentworth for the final round of the European PGA Championship, starting off tied for the lead with Francesco Molinari. Molinari shot 68; McIlroy 70—the only player in the top seven who didn't break 70 that day. McIlroy finished second, again.
Then, at Firestone in early August, playing a golf course he loves and where he has won in the past, McIroy was again in the last twosome on Sunday. This time it was with Justin Thomas, who shot 69 to win the tournament by four shots—over Kyle Stanley, who closed with a 65. MciIroy shot 74, five shots higher than anyone else who finished in the top nine.
On Monday in Philadelphia, McIlroy hit the ball superbly, but had 32 putts for the day, far too many on a soft golf course where everyone was playing lift, clean and place and firing at flags. He parred the first nine holes—the same nine holes where he made eight birdies on Wednesday en route to his 27.
"I'm not sure what the problem is," McIlroy said Wednesday, almost calling his shot as it turned out. "I don't feel nervous. It isn't as if I haven't won out of the last group in the past. It isn't as if I haven't been under pressure in the past. It just seems it's one thing or another.
"At Augusta I didn't feel very good warming up. Hit a terrible tee shot on No. 1, but got out of there with a par. I birdied two, even with the missed eagle putt, made a bad bogey at three but then birdied four—which should have been huge. But then I hit a really awful drive at the fifth and I remember thinking, 'oh boy, that swing's not very good.' It didn't go well after that."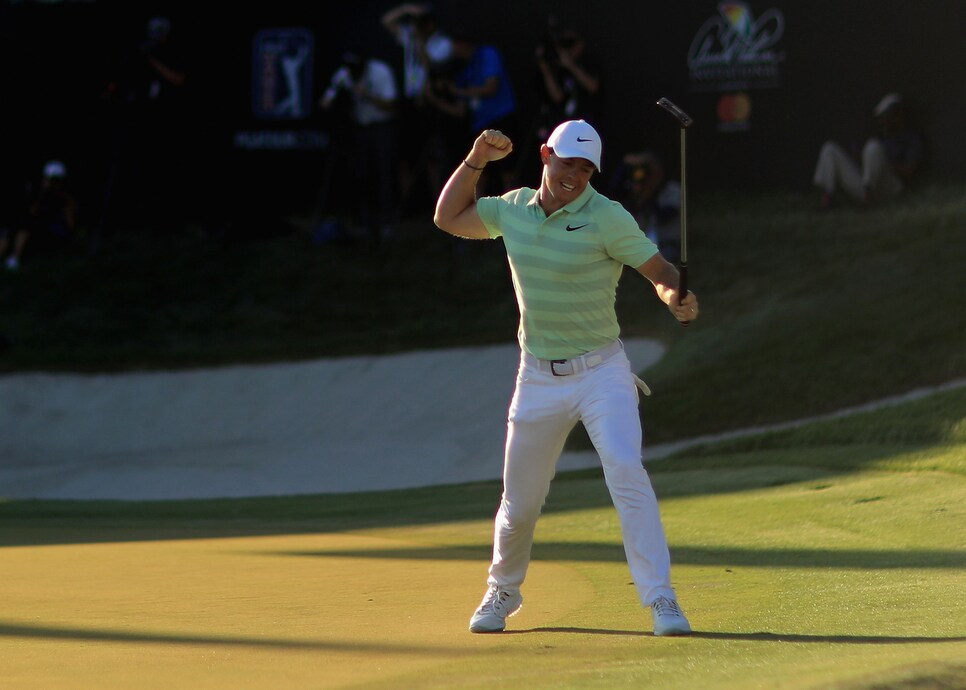 Mike Ehrmann/Getty Images
There are two ways to look at Mcilroy's year. He has a win and had legitimate chances at two of the four majors: the Masters and the Open Championship, where he finished T-2—but didn't play in the final group on Sunday. He came away from the week at Carnoustie with mixed emotions.
"On the one hand I finished second when I didn't feel as if I had my best stuff," he said. "So that was good. But when I looked back I realized that if I had played well—not even out of my mind, but well—I could have, almost should have, won. That made it very disappointing."
McIlroy is 29. He has played a lot of very good golf in 2018. He's been healthy and in contention often and has one very satisfying victory. But he's let a bevy of chances slip away in the final round, and he's keenly aware of it. He wants very badly to help Europe win back the Ryder Cup later this month and knows he'll have to play his best golf in order to help make that happen.
McIlroy's response to something a reporter said at Akron in August sums up concisely how he feels right now. The reporter started a question by saying, "Rory, you're still young … "
"Young-ISH," Mcilroy broke in with a smile.
The message was clear: It's been four years since he won a major. The time for feeling good about finishing second or third or fifth or eighth has passed. It's time to win again—from the last group especially—soon, if not sooner.