Johnny Miller's perfect goodbye, DJ & Paulina's triumphant Instagram return, and the greatest year of golf ever played
You are using an unsupported version of Internet Explorer. Please upgrade to Internet Explorer 11 or use a different web browser.
Welcome to another edition of The Grind, where we've never received a more exciting, yet devastating phone call than when JOHNNY MILLER popped up on caller ID. I had reached out to Miller minutes before to ask about a report he was finally hanging up his headset, and my phone buzzing could only mean one thing: (Gulp) It was true. Throughout my life as a sports fan I've gone through crush-like phases on announcers with guys like Gus Johnson, Chris Berman, and Dick Vitale (I swear those last two were really cool when I was growing up), but Johnny Miller has been there since the beginning of my golf-watching existence. And I've never wavered in my affinity for listening to him.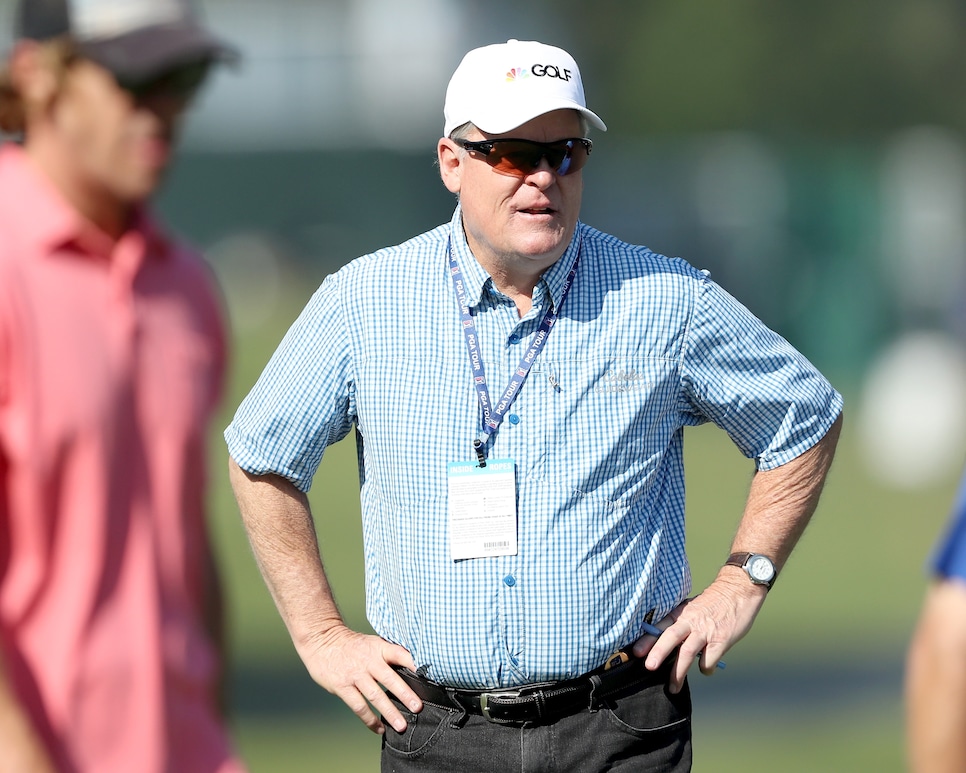 Marc Leishman: How confident was Leishman that he'd win on the PGA Tour before the year was out? He recently booked a flight to Maui in January in anticipation of playing in the winners-only event to kick off 2019. And now he's in following a magnificent 26-under-par performance in Malaysia to win the CIMB Classic by five shots and pick up PGA Tour title No. 4. Enjoy Hawaii, Marc.
Eddie Pepperell: This Englishman entered the year as the most entertaining follow on Golf Twitter. He'll end it as one of the top 50 players in the world. A British Masters victory gave Pepperell a second European Tour title of the season (and of his career) to vault him to a career-best of 33rd in the Official World Golf Ranking. And he owes tournament host with the most Justin Rose a bit of the credit:
Bernhard Langer: It had been a quiet few months for this machine, but Bernhard is back in a big way following a six-shot romp at the SAS Championship. According to Golf Channel's Justin Ray, there have been five Champions Tour wins by five shots or more in the past five seasons and Langer has all of them, including an absurd 13-shot victory at the 2014 Senior British Open. He's 61 and he's now within seven wins of Hale Irwin's senior tour mark. In other words, he'll probably pass Irwin next year.
Jimmie James: Our Max Adler has the incredible story of this 59-year-old who played every Golf Digest Top 100 course in ONE year. It makes sense that a former oil logistics guy could pull this off, but what an accomplishment. Check out this legend teeing off at Bandon Dunes: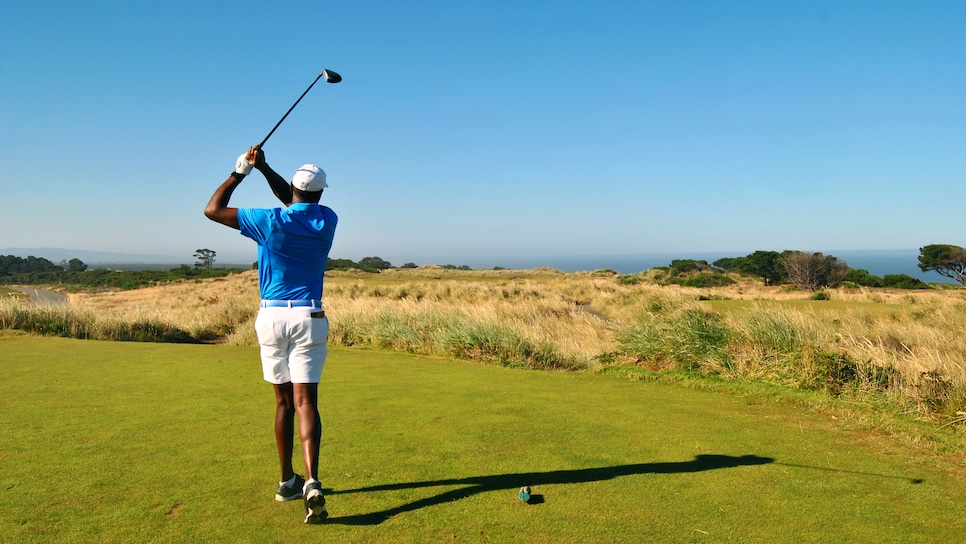 James just pulled off arguably the greatest year in golf history and he's now the envy of golfers all across the country. Is it too late to induct Jimmie James into next year's World Golf Hall of Fame class? And is it too soon to start thinking about retirement golf projects?
Shubhankar Sharma on Sundays: We're still heavily invested in shares of Big Sharma, but getting over final-round jitters might be his final hurdle to becoming one of the game's best. For a second time this year, Sharma was a 54-hole leader at a PGA Tour event, and for the second time, he barely held on for a top-10 finish. But he's 22 and he'll get better. Plus, he no longer has to worry about Johnny Miller calling him a choker.
Stealing range balls: One man has actually been stealing and selling these things all over Connecticut for at least two decades. He is serial golf ball thief Joseph Kolenda and he faces an upcoming court date over the approximately 20,000 golf balls (Valued at about $10,000) he swiped from the driving range at Fairfield's Patterson Club. Connecticut courses, beware.
Johnny Miller retiring: Did he talk about pressure too much? Perhaps. Did he talk about winning the 1973 U.S. Open too much? Maybe. But Miller was the rare commentator who fans would tune in just to hear. Fellow Millerhead Riggs summed it up well:
By the way, we all should have totally seen this coming when Johnny cried in the booth after Keegan Bradley won the BMW Championship last month. He knew he was nearing the end. On the bright side, Johnny will be in the booth one last time at the Waste Management Phoenix Open (Super Bowl LIII weekend), and Paul Azinger (NBC's reported new hire) is a worthy replacement. But did Zinger ever shoot a final-round 63 at Oakmont? Didn't think so.
The PGA Tour heads to South Korea for the CJ Cup @ Nine Bridges, AKA that event introduced in 2017 that uses an @ symbol in the title. This is the middle of three events on the fall Asian Swing so get your DVRs ready if you want to watch.
Random tournament fact: The winner of the CJ Cup didn't receive a cup last year.
Yeah, Justin, we were confused too.
RANDOM PROP BETS OF THE WEEK
— My wife will ever let me try that Top 100 courses challenge: 1 MILLION-to-1 odds
— Someone in the field booked a flight to Maui in January for good luck: 10-to-1 odds
— It's going to get awfully dusty in the 18th tower in Phoenix on Super Bowl Sunday: LOCK
Here's Justin Leonard announcing his son's swim meet:
Well done, Justin. Unfortunately, it wasn't enough to sway NBC brass to give him Johnny's job, though.
Check out this brilliant video by Skratch in which an Asian Tour rookie Tom Johnson is pranked by being paired with a fake caddie to practice for an upcoming tournament. Hilarity ensues.
THIS WEEK IN CELEBRITY GOLFERS
It's cool to see that Rob Lowe and Chris Pratt are still good friends from their time on Parks and Recreation and that they enjoy playing golf together. But it's even cooler to see these two stars aspire to be on the cover of Golf Digest.
Well, ask and you shall receive, gentleman. Well, sort of.
Shoutout to Grind video editor Ben Walton for the photoshop and to Hally Leadbetter and Nicole Rae for the perfect Parks & Rec captions. That is literally one of the best things ever. OK, not literally, but still, it's pretty sweet.
THIS WEEK IN CELEBRITY OFFSPRING GOLFERS
Future NBA star LeBron James Jr., AKA Bronny, gripping and ripping it:
The Young King has a lot to live up to on the basketball court, but he's already got a better golf swing than pops.
VIRAL VIDEO OF THE WEEK (FAN DIVISION)
THIS WEEK IN DUSTIN JOHNSON-PAULINA GRETZKY PUBLIC DISPLAYS OF AFFECTION
They're back! On Instagram!
Apparently, Paris has nothing on Kid Rock when it comes to romance. Paulina didn't give DJ a re-gram and he's still scrubbed clean on her page, but this is a big step. Good to see.
THIS WEEK IN PEOPLE OTHER THAN ME MAKING A HOLE-IN-ONE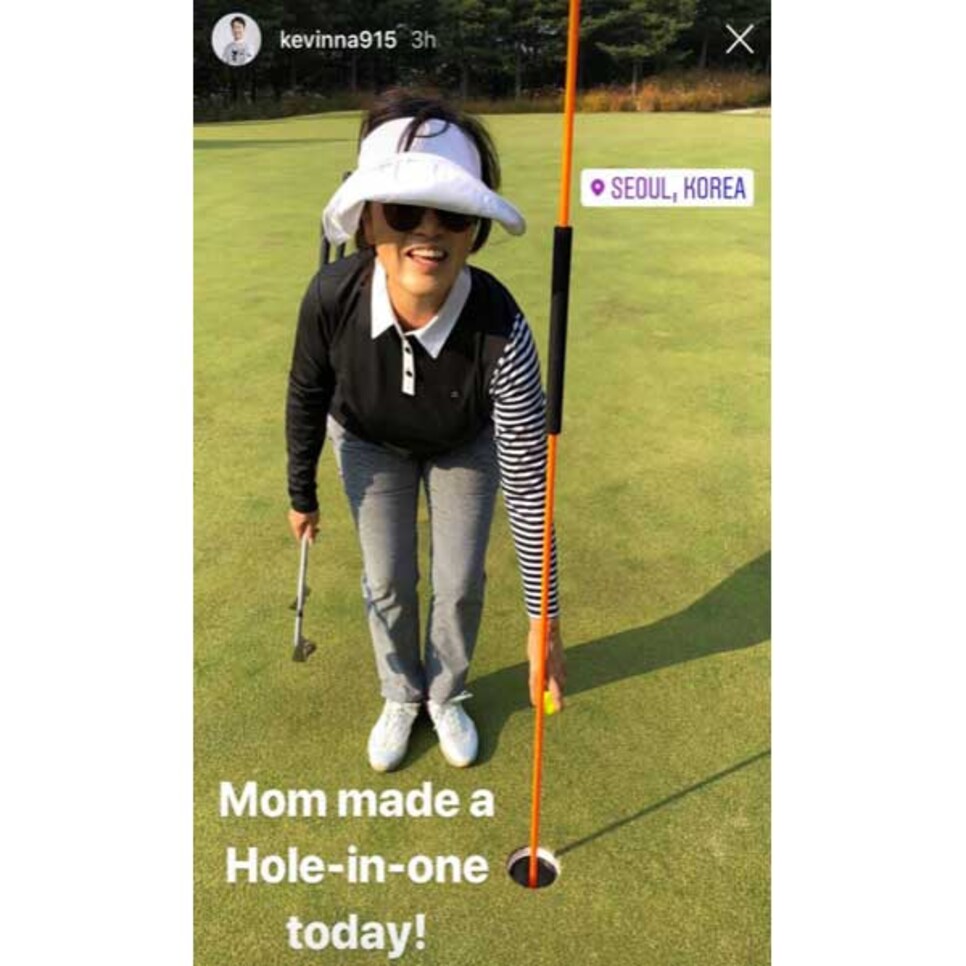 That's right. Kevin Na's MOM made one. Congrats to Mrs. Na, but. . . sigh. . .
"It was my idea," Johnny Miller said of choosing Phoenix for his final event. "I was not going to announce during the playoff events or the Ryder Cup because it would be selfish to do it and take away from those. I was always known as the 'Desert Fox.' My best golf besides that final round at Oakmont came in the desert, especially in 1975 when I won the Phoenix Open by 14 shots and the Tucson Open by 9 shots. I was playing at a level of golf those two weeks as good or better as I've ever seen anyone hit the ball." What a perfect Johnny quote to mark Johnny bowing out. #JohnnyMillerForever.
There will be no fans and no playing under the lights for THE MATCH between Tiger Woods and Phil Mickelson. Sadly, I'm getting less excited for this exhibition by the week. . . . A disgruntled Congressional Country Club member tattled on the course for removing too many trees. That person better watch out because like they say, snitches get stitches. . . . And finally, that first-ever Golf Digest basketball game I mentioned last week actually happened on the mean streets of NYC: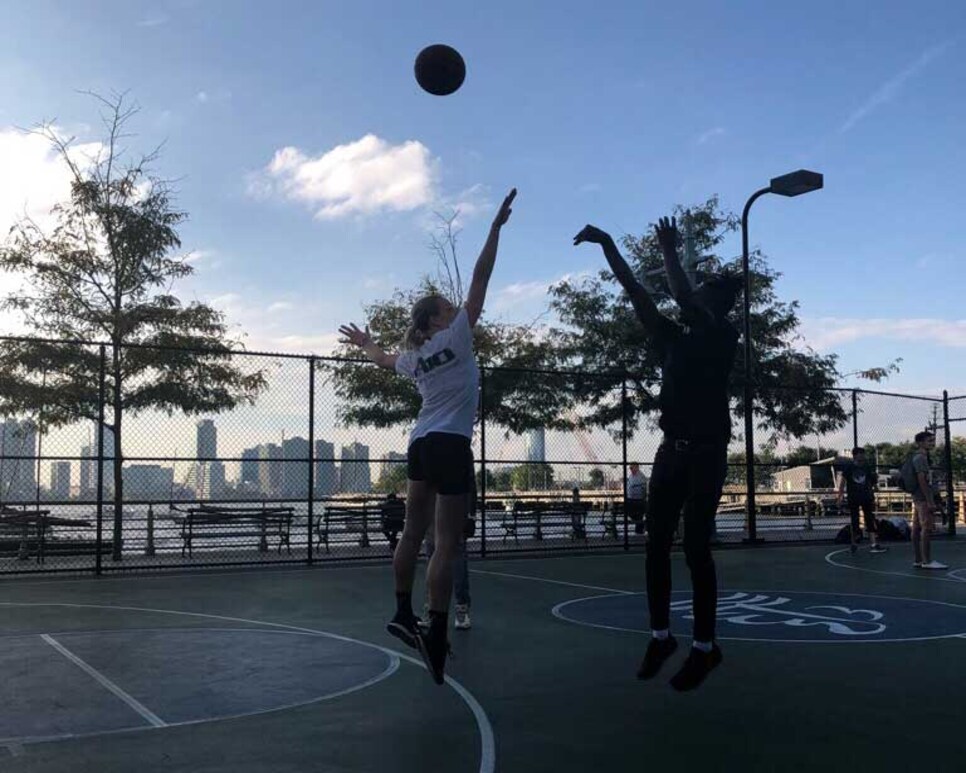 And there was only one season-ending injury! Sadly, I wish I was kidding, but torn achilles tendons are no joke. Hang in there, Meredith. On the bright side, some post-game bonding at a nearby bar (Happy to report there were no injuries there!) led to me requesting begging ordering a younger colleague who had never seen The Shawshank Redemption to watch the GOAT of movies. You're welcome, Claire, for me changing your life.
RANDOM QUESTIONS TO PONDER
Will another movie ever top The Shawshank Redemption?
Will another golf announcer ever top Johnny Miller?
Are we done with company basketball games?