News
John Daly can't make a charge, but another American does in Denmark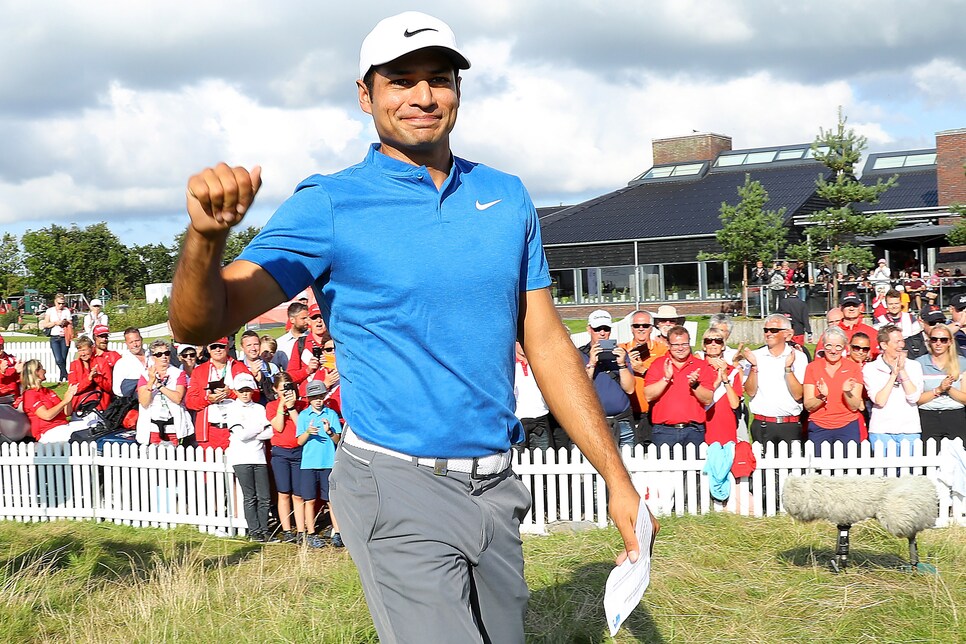 Warren Little/Getty Images
He's a bit different, is Julian Suri. The 26-year-old New Yorker knows his history—and is, despite Edmund Burke's long ago admonition, well on his way to repeating it. Following in the footsteps of former U.S. Amateur champion Peter Uihlein and current U.S. Open champion Brooks Koepka, Suri became the third American to win on both the Challenge Tour and the European Tour with his victory Sunday in the Made in Denmark tournament.
Starting the final round at the Himmerland Golf & Spa Resort two shots behind the overnight leader, Englishman David Horsey, Suri wiped out the deficit early, three birdies in succession from the second sending him into a lead he never fully relinquished. Horsey made a fight of it though. By the 12th the pair were tied, a state of affairs Suri changed at the 15th when his seventh birdie of the day took him to 19-under par for the week.
Still one ahead on the 18th tee, Suri made a safe par as Horsey—by then the only serious challenger—stumbled to a closing triple bogey that made the final margin of victory four shots. Three more Englishmen, Steve Webster, Chris Paisley and Ben Evans, tied for third on 13 under.
Former Open and PGA champion John Daly's bid to become the oldest-ever winner on the European Tour ended in failure. The 51-year-old closed with an even-par 71, two birdies and two bogeys after a thrilling Saturday 65, that left him a tie for 10th place.
"To have seven birdies and be bogey-free in the final round was really solid," said Suri, who played his college golf at Duke and was competing in only his seventh European Tour event. "I'm pretty proud of that. It was a blast out there. Especially in that atmosphere with the fans. It was really cool. Everybody is so enthusiastic out there, with such genuine appreciation for the game and spectacle. I just wanted to soak it up as much as I could.
"I feel like my game belongs at the top of the game. This is definitely something I've worked for and kind of expected for a long time. But to finally come out and do it, especially after the string of good finishes this summer, is really special."
It was a memorable week, too, for Thomas Bjorn, even if Denmark's most famous golfer finished no better than T-44. In what was his 500th European Tour event, Europe's Ryder Cup skipper was greeted on Day 1 by a sea of spectators wearing "Thomas Bjorn" masks as he approached the green at the short 16th. The avid Liverpool fan was then treated to a rendition of the football club's anthem, "You'll Never Walk Alone" (from the musical Carousel). Hey, you had to be there.
It was Suri's week though, a fact that will come as no surprise to the man himself. Not lacking in confidence, the former All-American has lofty ambitions that extend beyond victory in what is hardly the biggest event on the European Tour. Speaking before the Scottish Hydro Challenge in June (where he would miss the cut), Suri was bold in his claims.
"My ultimate goal is to be top of the world rankings," he said. "People say I might have locked up my card for next year on the European Tour. And that's fine. But there are still a few months to go this year. And what gets me going is putting pressure on myself. I have big expectations. My aim is to be in the top-100 on the rankings by the end of the year.    "To do that, I have to prepare well and give myself the best chance of winning tournaments every week. Two years from now, I'd like to be in the top-10 and giving myself the chance to win majors. I feel like the ceiling of my game is at that level. I don't see why I can't."   Quite. And on the evidence of this week, he's well on his way.