Local Knowledge
Joe LaCava shares his funniest memory from the aftermath of Tiger Woods' 2019 Masters victory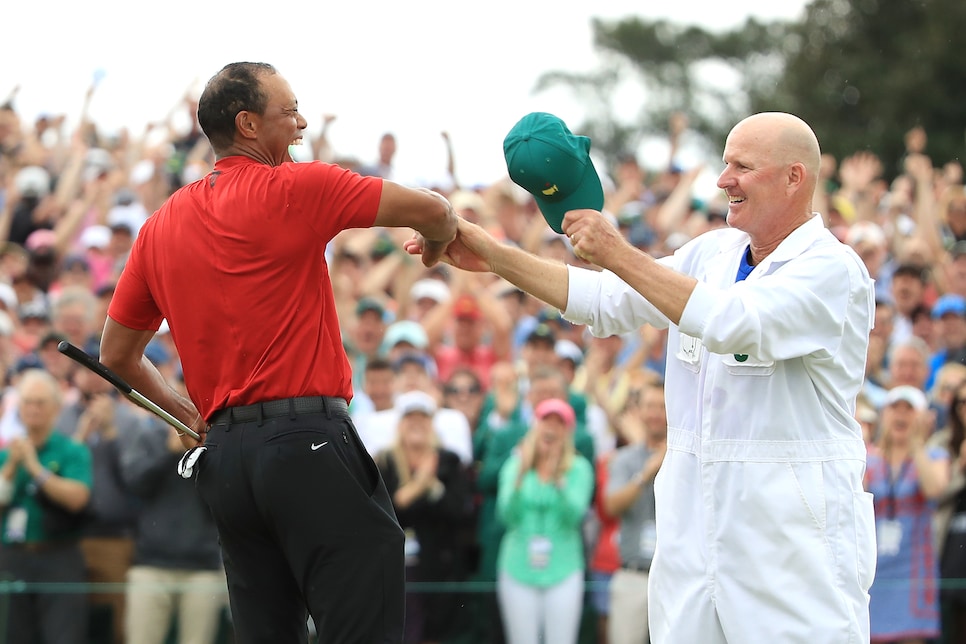 Cameras followed Tiger Woods' ever step in the aftermath of his surreal 2019 Masters victory. CBS announcer Jim Nantz, to his credit, stayed silent for roughly two minutes and let the moment speak for itself: adoring fans serenading a most unlikely hero after perhaps his most epic triumph.
Woods headed to Butler Cabin for the annual (and slightly awkward) green jacket ceremony, said a few words, and then the cameras shut off. What, then, do the next few hours look like? What happens directly after a player wins the Masters?
His caddie, Joe LaCava, remembered a hilarious anecdote from the aftermath of Woods' victory on this week's Local Knowledge episode. After the Masters champion finishes his media obligations, he attends a dinner/gathering with the Augusta National membership to say some words, answer a few questions and mingle among the powerbrokers. LaCava didn't attend the first time he looped for a Masters winner, in 1992 with Fred Couples, but was invited to partake after Tiger's miraculous day. Only problem: he, uh, didn't have the right clothes.
"I remember going into the members'—I don't know what you would call it, but the area where they would have dinner—and there's probably a couple hundred people in there. And half of them have a green jacket on, and half of them have nice dresses on. And there's one table of Tiger's crew.
"And I remember thinking to myself, there's 200 people in there, and 199 are dressed in golf stuff and everything else. And I've got a sweaty Saquon Barkley t-shirt on and long shorts...I smell, I'm sweaty, and I literally have a non-collared Saquon Barkley t-shirt on. And it's blue, so obviously I stick out like a sore thumb because everyone's got green and yellow on and I've got a blue t-shirt."
The episode takes you on the wild ride of the moments and days directly after a life-changing victory. Your tour guides: two-time Masters winner Bubba Watson, 2008 Masters champion Trevor Immelman and Mr. Joey "T-shirt" LaCava himself.