Man of the People
Masters 2022: Tiger Woods' caddie wore a hockey T-shirt under his Masters jumpsuit and the hockey world loved it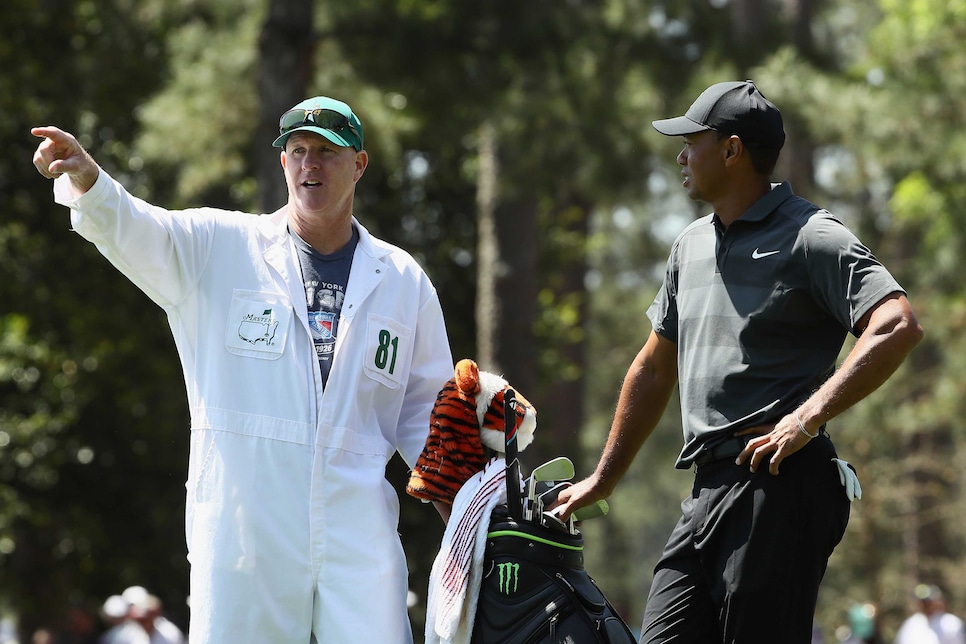 Editor's Note: We first "reported" on Joe LaCava's affiliation for New York Rangers attire when he wore a Rangers T-shirt under his jumpsuit in 2018.At least compared to 2018, when the Rangers were in the midst of rebuilding, they are a likely playoff team, so LaCava can wear the colors with pride. LaCava is also fond of the New York Giants, and a Saquon Barkley T-shirt in particular, which caused him a unique problem in 2019, as he relayed recently to Dan Rapaport.
Joe LaCava, caddie to Tiger Woods, is a long-suffering New York Rangers fan, so even he could appreciate the irony: the most prominent appearance his team will make this spring won't be in a hockey game, but on a T-shirt LaCava wore in the first round of the 2018 Masters.
Did LaCava think about that when he got dressed Thursday morning?
"Nah, I just have a bunch of T-shirts and I like it because it keeps me cool ," LaCava said while standing outside the Augusta National clubhouse.
"I don't know why I wore it," he cracked. "I should just give up on them."
The Rangers will miss the playoffs for the first time since 2010, but LaCava knows he couldn't shake them if he tried. His connection to the team goes back to his roots in Newtown, Conn., when he had tickets in Madison Square Garden's old blue seats. And on a day when Woods' Masters return was the focal point of the sports world, even the Rangers' Twitter account relished seeing their logo in the middle of it all.
A few hundred feet away Woods was being asked to discussed his opening 73, but here LaCava was pressed to say whether his boss knew anything about hockey.
"He knows a little. I mean, he knows how the Rangers are doing and who's leading the divisions, stuff like that," he said "But as soon as the (L.A.) Kings are in the Stanley Cup Finals, he becomes this big Kings fan."
It turns out Woods' day was kind of like the Rangers' season: high expectations to start, a disastrous middle stretch, but with enough encouraging flashes down the stretch to offer hope for the future (full disclosure: the author of this story is also a long-suffering Rangers fan). For Woods, that would be Friday's second round. For the Rangers, who unloaded a number of veterans in the interest of acquiring prospects, it will be next season.
"I like what they did," LaCava said. "I mean, it's hard to see some guys go, but you have to give something up in order to get something."