From The Magazine
Why the next major at Winged Foot should be played on this 'Dream 18' combination of the West and East courses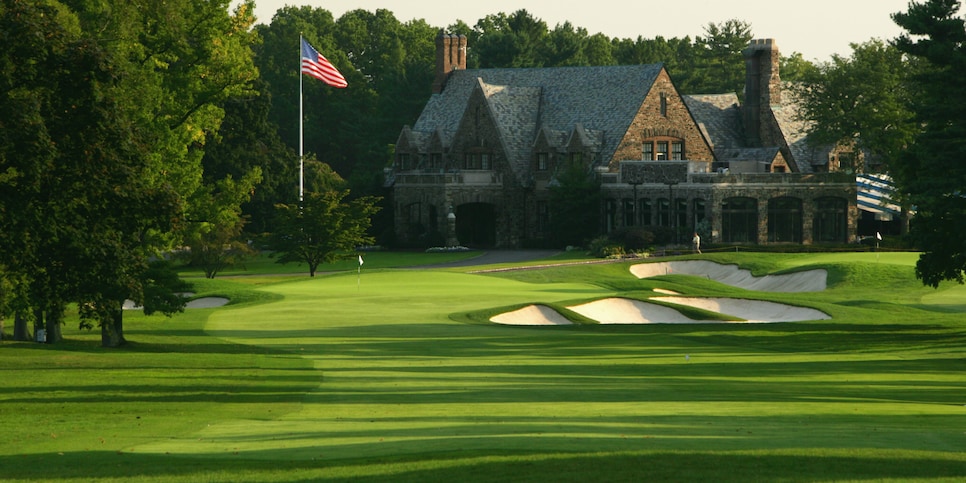 The ninth hole on West course becomes the 18th hole for Jim Nantz's composite "Dream 18" at Winged Foot.
David Cannon
My love affair with Winged Foot began in 1974 when my dad, the late Jim Nantz Jr., surprised me early Father's Day morning with news we were leaving immediately from our New Jersey home to attend the final round of the U.S. Open. Within two hours, my heroes—Palmer, Player, Nicklaus and Weiskopf—were in front of us, larger than life. Another legend was born that day when Hale Irwin, who was so close to us Nantz boys in the gallery I could make out the emblem on his shirt, struck that 2-iron to the heart of the 72nd green to seal the victory. As the championship concluded, I watched the ABC Sports announcers—Jim McKay, Chris Schenkel, Dave Marr, Frank Gifford and Keith Jackson—climb down from their towers. They were giants to me and as heroic as the players. Indelible as those images were, it was Winged Foot in all its major-championship glory that left the biggest impression on me. In 1997, I was blessed to become a member there, and although I've downgraded to nonresident status, Winged Foot remains a treasure for this Californian. So much so that, with some trepidation, I'm going to offer a suggestion to my fellow members.
When Winged Foot hosts the U.S. Open next time around, I'd love to see a full representation of its two courses. I'm talking a composite of the famous and familiar West Course, and the lesser known but equally (some say surpassingly) magnificent East Course. On the surface it sounds like a radical idea, but I've long believed that a combination of the two would result in a design that is formidable, beautiful, sensible and unique in major-championship golf.
First, a quick summation of the two courses, both designed by A.W. Tillinghast. The West Course has staged five U.S. Opens—the one set for Sept. 17-20 will be its sixth—and a PGA Championship. It has history and grandeur. It is known for being a brute; Irwin's winning score of 287 in 1974 was seven over par. Its fearsomeness was immortalized in Dick Schaap's classic, Massacre at Winged Foot. It is a course with big shoulders, a straightforward, no-letup test that punishes even the greatest players. It plays to a championship par of 70.
The East Course is more varied and visually appealing. Most members believe it is the more interesting of the two. It has history as well, a pair of U.S. Women's Opens and a U.S. Senior Open. Like the West, it's a test. Susie Maxwell Berning's winning score at the 1972 U.S. Women's Open was 11 over par, and Roberto De Vicenzo totaled one over in winning the 1980 U.S. Senior Open.
Both courses have long resided among America's 100 Greatest Courses as ranked by Golf Digest. So how do we combine them in a manner that makes sense logistically and allows for infrastructure, while maintaining the flow of a great course? And actually preserve—and even improve upon—the respective greatness of the holes on each course? Sure, there will be some spectacular holes omitted because of necessary routing purposes, but the sum of this composite is far greater than the singularity of the West, making Winged Foot down the road the most balanced site in the USGA's rota.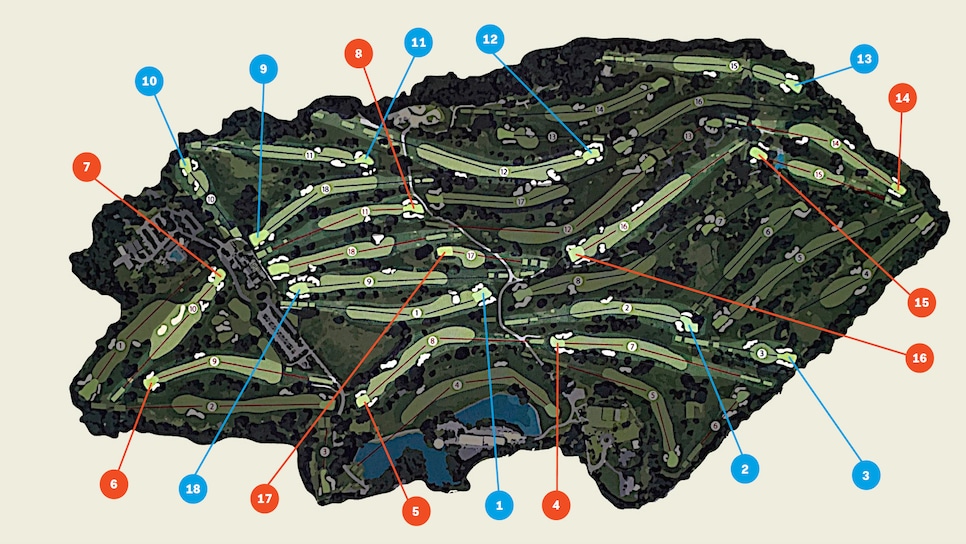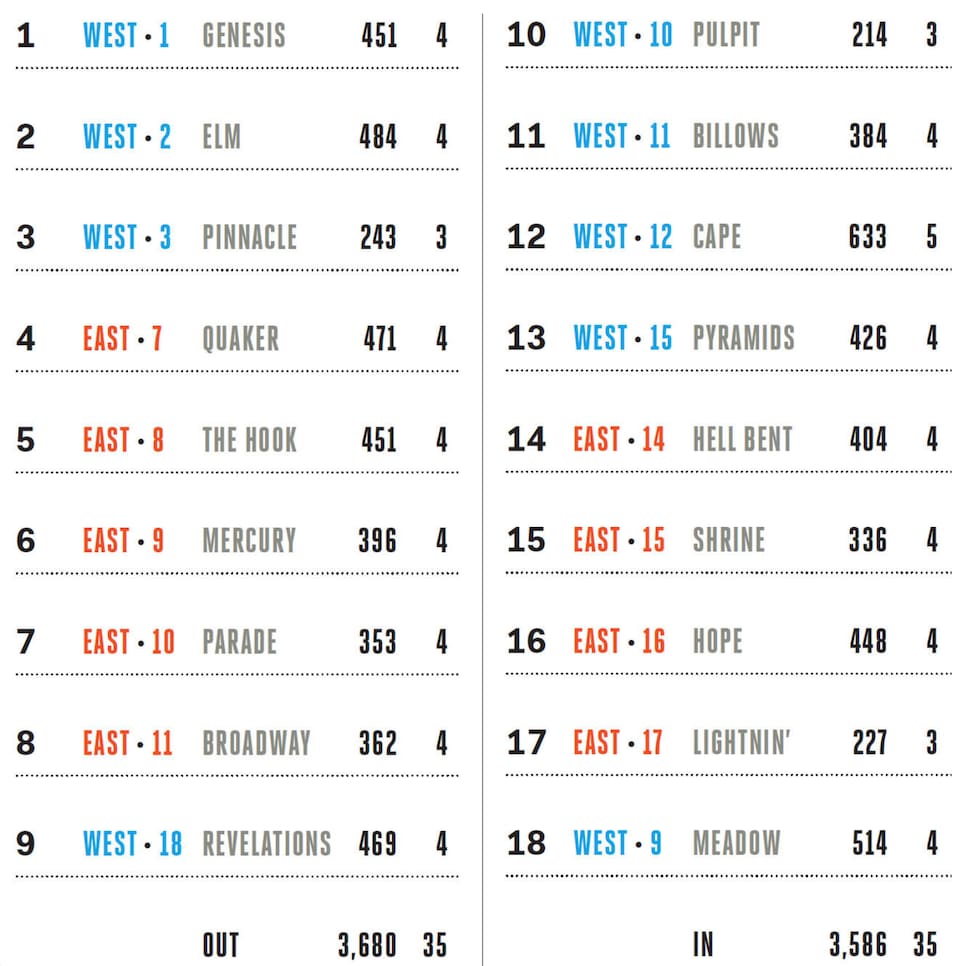 We begin on the West Course with holes Nos. 1 to 3. The first is where Nicklaus putted off the green to begin the '74 U.S. Open, and the third is a treacherous par 3 where Billy Casper laid up all four rounds—and scored 3s every time—in winning the 1959 U.S. Open. For the fourth hole, we switch over to the East Course and use its No. 7, a demanding par 4. The East "detour" continues with Nos. 8, 9, 10 and 11. The East Course's 10th hole is spectacular, a short par 4 with a beautiful clubhouse backdrop. The par-4 11th might actually be drivable by the Godzillas of golf, and continues a setup trend instituted by the USGA's Mike Davis and embraced by fans. The front nine of our composite course concludes with the West's 18th hole, made famous by Bobby Jones in 1929 and Fuzzy Zoeller's towel-waving "surrender" in 1984. That hole is an absolute must, not just for history but because the backdrop is dominated by Winged Foot's iconic clubhouse, designed by Clifford Wendehack.
The back nine commences with the devilish par-3 10th, probably the signature hole on the West. It continues with Nos. 11 and 12 West. No. 12 West measures 633 yards, and it's a monster. It's our only par 5, but do we really need more than that? It's offset by two drivable but dangerous par 4s, where the gambles we see will exceed the routine, go-for-it-in-two "risks" we typically see on par 5s plopped down out of habit.
We now make the only unnatural walk from one hole to the next, and it's hardly an inconvenience. We cut downhill across the dormant No. 14 West to No. 15 West, a classic par 4 with perhaps the most menacing of all putting surfaces at The Foot. We've completed 13 holes overall. We then return to the East Course and its par-4 14th, which provides numerical symmetry, as it also is No. 14 on our championship layout. It's the first of four consecutive superb holes on the East, and we now get to see the best players in the world tackle them. The risk-reward par-4 15th could be turned into a drivable par 4 with perhaps the greatest table-top green in golf.
Into the home stretch we go, beginning with the East Course's super-strong, uphill, par-4 16th that could be pushed back to test the beasts of today's power game. Next comes the par-3 17th. At 200-plus yards and devoid of bunkers, it nevertheless rates in my opinion as the best hole among the 36 at Winged Foot. The oblique, tiny green must be hit or the player's ball plunges into thick rough some 15 feet below the small putting surface.
The finishing hole, No. 9 West, best personifies the difficulty of Winged Foot. In September it will stretch to 565 yards and play as a par 5. For my dream Open design we would trim away 51 yards and return it to the long slog of a par 4 it was in the final round of the 2006 U.S. Open, when only 30 percent of the field hit the green in regulation.
I can't emphasize enough how important our new 18th hole is. The diabolical green, elusive amid U.S. Open pressure, makes for a killer finish. I like to believe that Tillinghast set up his dual golf courses with this dream finishing hole in mind. Fittingly, it would provide the most breathtaking setting of a closing hole and clubhouse this side of St. Andrews.
To sum up, we have nine holes from the East Course and nine from the West. Our composite plays to a par of 35-35–70. We've kept the best of the West (Nos. 1, 9, 10, 12 and 18) in play and introduced the world to the East's exceptional holes in Nos. 7, 10, 15, 16 and 17.
That's my plan for the ultimate presentation of Winged Foot's brilliance. It's a course with its integrity and awesome hole credentials kept intact. Its stunning beauty would be elevated even further, with even more diversity in what architecture buffs refer to as "shot values."
I hope the members like the idea. And I can hope that A. "W." Tillinghast isn't offended that James "W." Nantz has an idea to showcase his historic masterpieces for the world to see.