The View from Pebble Beach
Jim Nantz gives context to a fast-paced 18 months of golf: 'It might be the greatest stretch of golf I've ever seen'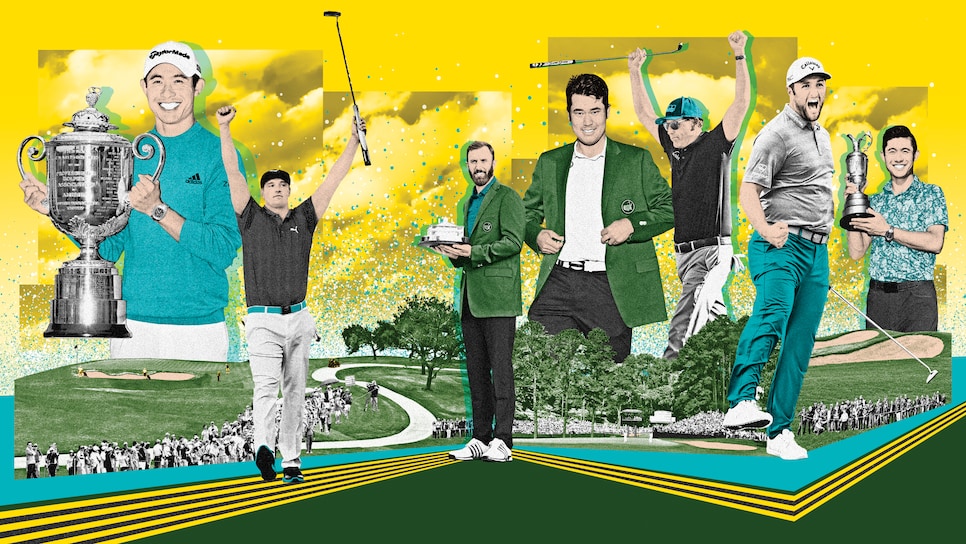 Illustration by Ryan Olbrysh
In August 2020, amid that difficult period when golf was played without fans and the world was at a low ebb because of COVID-19, I had a revelation about the ensuing 11 months I couldn't keep to myself. On the eve of the PGA Championship at Harding Park, during a CBS media conference call, I proclaimed, "We are about to enter the greatest stretch of golf in major-championship history." Part of my reasoning came down to just math—because of postponements and rescheduling, an unprecedented seven majors would be contested in less than a year, this coming after a stretch when no majors were played in 13 months.
At least one prominent golf writer thought the prediction hyperbolic, but what followed delivered on my promise, and in an age when we are slow to savor recent history and quick to move from one headline to the next, it's a good time to reflect on what pro golf has given us.
It began with Collin Morikawa, then in his second season, capturing his first major with his PGA Championship victory at Harding Park. Less than six weeks later came the U.S. Open at Winged Foot, won by Bryson DeChambeau. The victory, his first in a major, emboldened DeChambeau to transform himself—and the way the game is played—even further. The 2020 season wrapped with Dustin Johnson's victory at the Masters in November. DJ's record 20-under-par performance at Augusta National might not be broken in our lifetime, and by winning his second major, he laid the perception of him as an underachiever to rest forever.
The stretch not only continued into 2021, it got better. Hideki Matsuyama's win at the Masters was crucial for golf globally and lifted his home country of Japan, which always was golf-mad but without a men's major until now. The sight of Hideki's caddie, Shota Hayafuji, bowing respectfully to the Augusta National course at the conclusion of the tournament was one of the "shots" of the year. The PGA Championship at Kiawah followed and went to ageless Phil Mickelson, who at 50 became the oldest winner of a major and enriched his legacy. Next came the U.S. Open at Torrey Pines and the gutsy performance by Jon Rahm, who at this writing is the No. 1-ranked player in the game and is assured of greatness. Then came Morikawa again, at 24, calmly pocketing his second major, the Open Championship at Royal St. George's.
It was an unbroken streak of quality major champions who produced titles consecutively over the course of two calendar years, albeit in condensed fashion. Only two streaks in golf history remotely compare. In 1962, Arnold Palmer won the Masters and Open Championship, Jack Nicklaus won the U.S. Open and Gary Player won the PGA Championship. That fed into the 1963 season in which Nicklaus won the Masters in April. Five wins by superstars in five straight majors —rare indeed. The stretch encompassing 1971 and '72 was even better. It began with Lee Trevino capturing the 1971 U.S. Open at Merion and the Open Championship at Royal Birkdale. In 1972, Nicklaus won the Masters and U.S. Open, followed by Trevino winning the Open Championship at Muirfield. The PGA Championship that year was won by Player, another all-time great. Three legends producing wins in six consecutive majors—wow.
Those streaks helped transform Arnie, Jack, Gary and Lee into major sports superstars and did much to elevate the game commercially. But I think the current streak is even better and has deeper meaning. Collin, Bryson, Jon and Hideki are a bellwether for the future and will be at the core of the pro game for a generation. Phil and Dustin, meanwhile, are ideal representatives of the recent past and might not be finished yet. This streak will age well because it came at a time when golf sorely needed something wonderful to happen. The early effects of COVID-19 were dire, and the performances of these players had a carryover effect onto the population. As we learned from Tiger Woods' past domination, brilliant players inspire us all to play more. Golf is in a boom period at the business and grassroots level, courses at capacity with everyday players. The streak has had a lot to do with that.
The best part about this streak of majors is that it's not over. Four of the six players involved in the streak performed brilliantly at a thrilling Ryder Cup, and another member of the winning U.S. team, Patrick Cantlay, provided a cherry on top by winning the Tour Championship and the FedEx Cup. I count Cantlay's performances and Xander Schauffele's conquest of an Olympic gold medal as parenthetical but important parts of the streak.
What will happen in 2022? I expect the streak to continue, especially in the majors. Pro golf is in a protracted bull market that will further eclipse the "Bear" markets Nicklaus presided over 50 years ago. Come April, don't be surprised when one of the principals in the current streak is helped into a green jacket.