News
Masters 2020: Jim Nantz on his visits with Tiger Woods over 25 years at Augusta National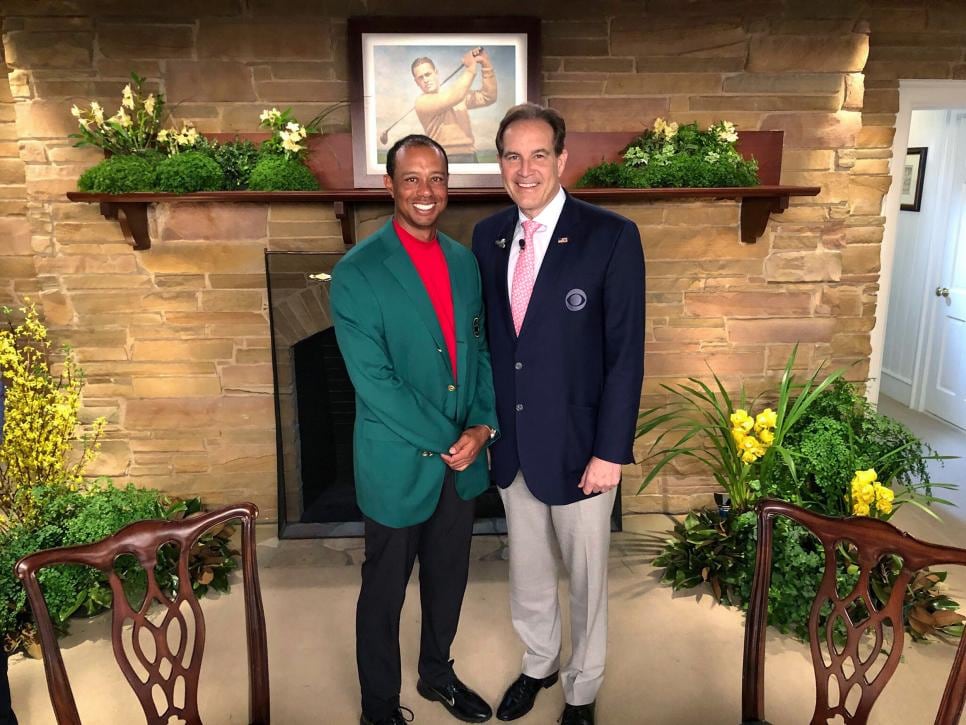 Lost in the talk of this autumn Masters played with no patrons is the important milestone in 2020. When defending champion Tiger Woods was introduced on the first tee on Thursday, it marked the 25th anniversary of his first appearance at Augusta, in 1995. I've been fortunate to visit with him numerous times over the years, frequently in Butler Cabin when Tiger had just won one of his five green jackets or was presenting a jacket to his successor.
To evidence his changing thoughts and perspectives, I revisited those interviews and selected some of our more revealing exchanges.
People say you can help young African-Americans who want to take up the game. What do you say to that?
I always try to not only help out African-Americans but minorities in general, or kids. Because you try to help everyone; don't limit yourself to just one race. Just try to help everyone you can, and if you can do that, that's wonderful. That's what it's all about.
You are the first African-American to win the Masters and the first Asian-American. What does all this mean to you?
It means a lot. Because obviously I was the first, but I wasn't the pioneer. Charlie Sifford, Lee Elder, Teddy Rhodes, those guys are the ones who paved the way for me to be here. I thank them because if it wasn't for them, I may not have had the chance to ever play golf.
Were they in your thoughts today?
Oh, yeah. All night I was thinking about them and what they've done for me and for the game of golf. When I was coming up 18, I said a little prayer. I said thanks—thanks to those guys. Because those guys are the ones who did it.
You have an incredibly keen sense of history. Where does the Tiger slam rank in the history of this game?
It will probably go down as one of the top moments in our sport. I'm very proud of the accomplishments I've been able to have in my short career. I've been very lucky. I've had some good breaks, I've had some good things happen to me, and I've had some wonderful people supporting me and encouraging me to accomplish the things I've been able to accomplish.
You birdied the final hole—your mom and dad were back there waiting for
you. What did that mean to have them there?
To see Mom and Dad there, it's pretty special. Probably wasn't as special as it was in '97 because of dad's heart surgery in '97. Nonetheless, without those two people, there is no way I would have been able to succeed and have the accomplishments I've been able to have.
We've been talking today about the journey to the green jacket, how it's a childhood dream. Tell us where it all started for you.
I guess my first recollection of Augusta was the putt that Jack hit on 17 in '86. I believe I was [10] at the time. That was such a monumental feat that he did. I didn't appreciate it at the time; I thought it was so cool how he put his arm up and walked it in. From then on, I was glued to the tournament every time come April.
You now have a fourth green jacket on the way. You join Arnold with four, Jack has six, and now you're in that territory with those giants. This one, in your mind right now, what are you thinking?
My mom and I talked about this today, that if I was lucky enough to win, we wanted to dedicate this to my father. He's here [in Augusta]. He's just not healthy enough to come out here today and enjoy this. So this one's for you, Pop.
Tiger, welcome back to Butler Cabin. That reaction coming off the 18th green, the Tiger chant and the release of all that emotion. What was going on in your head at that time?
To have my kids there, it's come full circle. My dad was here in '97, and now I'm the dad with two kids there. It's overwhelming. What is it—22 years, I think?—between wins. That's a long time. It's unreal for me to experience this. My mom was here; she was there in '97 as well, and so I just couldn't be more happy or more excited. I'm kind of at a loss for words, really.