Courses
How Jim Nantz built the coolest back-yard par 3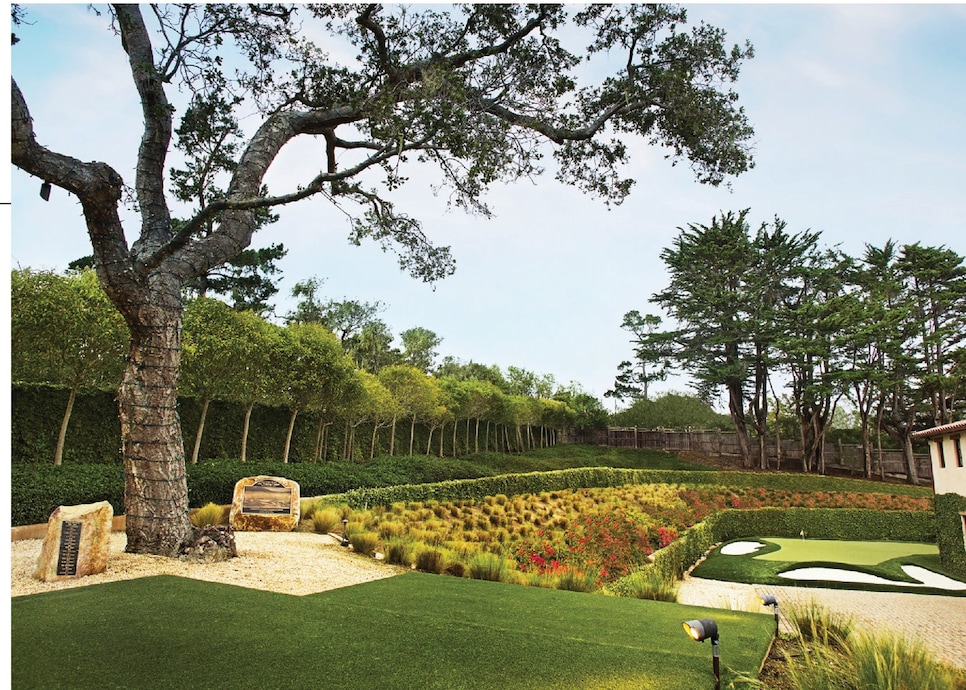 The replica of Pebble's seventh hole is built 50 percent to scale.
I'm asked periodically what career path I would have pursued had my broadcasting gig not panned out. It's a hard question, because I've been working in television since I was a 20-year-old junior at the University of Houston. But I do know that my "other" dream job as a kid growing up in Colts Neck, N.J., involved golf course architecture.
That passion behind my alternate career choice was reinforced in the summer of 2014, when I gazed out at my somewhat ordinary back yard and imagined a golf hole there. Not just any hole, but a replica of the famed par-3 seventh hole at Pebble Beach, which we admire every day from our house.
The fact it was the seventh hole at Pebble played no small role in pulling it off. In 2012, my wife, Courtney, and I were married on the tee there. It was one of the great moments of our lives, and what better anniversary gift could I present to her than a replica of our wedding chapel? And these days our little ones, Finley and Jameson, use the putting surface as their outdoor playground.
It was an eight-month build-out, working with a talented local crew that mercifully adjusted to my chaotic schedule. We inched along gradually, with the goal of getting the hole precisely 50 percent to scale. Sculpting the bunkers was key and turned out to be more challenging than anticipated. The shaping of the green also had to be faithful to the real deal. Pebble Beach's gifted superintendent, Chris Dalhamer, provided a topography blueprint, accurate to the inch, that enabled us to duplicate every ridge, nose and shoulder of the original. Friends Sir Nick Faldo and Doug Mackenzie consulted on some of the nuances that made it match up visually. Even the tee is pretty authentic, with a two-level teeing ground separated by a stone wall. The finished product plays 53 yards to the center of the green, exactly half the distance from the tips at Pebble, with a vertical drop that is in keeping with the original (above).
The final touch was a sound system that plays almost subliminally in the background. The featured song being—what else?—Dave Loggins' "Augusta," which visitors instantly recognize as the soothing piano undercurrent I narrate over during Masters broadcasts.
The hole debuted on Feb. 1, 2015, only days before the AT&T Pebble Beach ProAm. On Saturday of tournament week, Brandt and Mandy Snedeker joined us for dinner. Brandt was playing well, and he predicted he not only would win the "Crosby" for the second time but that he would mark the occasion by making a celebratory ace on my back-yard hole. Brandt indeed won the event the next day with a final-round 67 and wasted no time coming over to the house to celebrate. On about his 10th attempt, he jarred one—a tour victory followed by the first ace ever made on the historic "new" seventh. That is one of 16 aces on the little gem. Each player has his name memorialized on a plaque mounted on what I call the Rock of Fame. The homeowner—and occasional ace-maker—has left his name off the rock.
At the outset, I wanted to avoid the hole becoming public, for fear of it seeming a little over the top. But a few years ago, Sir Nick raked a reduced-compression ball in front of him with floodlights blaring and a clutch of guests urging him on. Nick knocked the shot in, and after raising his arms in that triumphant way of his, instantly posted the video on social media before I could intervene. The "secret," such as it was, was out.
So many cool moments have followed. Phil Mickelson made an ace the week before last summer's U.S. Open, generating over one million views. It seldom happens on the first try, of course, but Mark Immelman made it on swing No. 1. So did a young man from the LSU golf team, Blake Caldwell. David Feherty made an ace with comedic, deadpan ease. So did my NFL broadcast partner, Tony Romo, after a small bucket. Billy Horschel dunked one to win a competition against some other pros. Ian Poulter missed the cut last June, but before he left town, he stopped by to take a few swings. His last shot of an otherwise dreary week was a hole-in-one.
I'm proud to say that many of the game's most iconic players have taken their best shots. Names you know: Couples, Irwin, Love, Wadkins, O'Meara, Woodland, Rahm, Furyk, Kuchar, DeChambeau, Pepper, just to name a few. Their names are not etched on the Rock of Fame. Nor is that of Jack Nicklaus, who has hit balls on several occasions. Each time I've stood by, pulling for a hole-out by Jack. It hasn't happened yet.
And then there's Arnold Palmer. The King took two swings during a visit to the house in the final year of his life. The second one settled less than two feet from the cup, and the wink and smile on Arnold's face is an image I'll carry with me forever. It turned out to be the last golf shot he ever struck at Pebble Beach.