News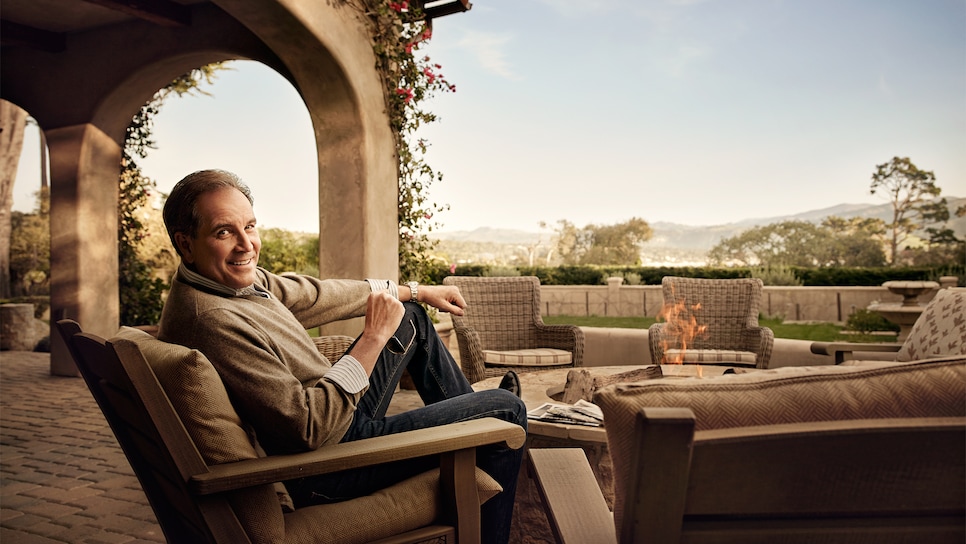 "Hello, friends." I've had fun with that expression to satisfy the cynics, but it comes from the heart, and I don't apologize for it. Like my dad—for whom I designed the expression during the 2002 PGA Championship, when he was suffering from Alzheimer's disease—I've never met a stranger. I've heard it said that the average person is lucky to have only a handful of true friends in their lifetime. Well, I sincerely feel I've got millions. John Wooden once told me, "I would rather believe in people and be disappointed some of the time than never believe and be disappointed all the time." That pretty much sums up my outlook on people and life.
On the other hand, there's a little Jack Nicholson in "Five Easy Pieces" in me. I'm a breakfast guy: three eggs scrambled, with bacon and wheat toast, burnt. The problem is, it never came back burnt. For years it would arrive limp and tan, which brought breakfast to a standstill when I sent the toast back. It was costing me 10 minutes a day, which, multiplied by six days a week, is four hours a month. That's 48 hours—two full days—per year. My friends, time is currency. My wife, Courtney, got tired of hearing me complain about it. She found a photograph on the Internet of a kitchen toaster ejecting two slices of burnt toast. She minimized it, printed it out and had it laminated. She insisted I put it in my wallet. When I order, I present the photo to my server. I get some strange looks, but I can assure you, the toast now arrives black and scary, just the way I like it.
After I shot 70 in Utah one day, my pals talked me into entering the U.S. Amateur Public Links. Good call, until the late Hot Rod Hundley, the former Lakers great and fellow announcer for the Utah Jazz back then, insisted on caddieing for me. After an early couple of bogeys, Hot Rod, in his full-on, hyper way, started getting on me. "What was that? Let's go! Get with it! You'll never shoot 70 playing like that!" You can't talk to a golfer that way. I fell apart, shot a million and felt terrible that I'd disappointed Rod. Telling my buddies what I shot—and I'm not revealing it here—was no fun, either. That was the end of formal competition for me.
'The idea is to let yourself be pulled into the story.'
It wasn't the end of putting my game on display publicly, however. That didn't happen until a few years later, at the pro-am of the 1999 Byron Nelson. At a banquet early in the week, I mentioned to Byron that I was playing alongside Fred Couples in the pro-am. "I'll come out and watch you hit your first shot," he said. I thought—hoped—that Byron would forget about it. A ton of people were there when I went to the tee. Making it worse, the first-tee announcer gives a ridiculously long introduction that included the phrase, "Jim Nantz, the man who taught Fred Couples how to play golf." After I pegged my ball, I notice a commotion near the tee. I glance, and the gallery is parting like Moses parting the Red Sea. Here comes Byron, who, after arriving, leans on his cane and watches me, rapt. My mind left my body. My first swing was like a trick shot, the bottom of the driver nicking the ball just enough to make it fall off the tee. After surgically removing the tee so as not to disturb the ball, I take my 3-wood and hit the ball three feet. I glance at Byron, and he's looking around, confused, as though it might be some kind of joke. And it was a joke. After nubbing my third shot down the fairway, I stood next to one of my buddies, Tommy Spencer, and said, "After this is over, I'm announcing my retirement. I will never do this again."
Speaking of Byron, did you know he probably was the closest witness to Gene Sarazen's double eagle at the 15th in the 1935 Masters? Byron told me he had driven into the right rough on the 17th hole, and Sarazen's drive was extreme right at 15. The holes are parallel to each other. They were within steps of one another and got into a "Do you want to go; no, you hit" discussion. Byron said he wasn't looking when Gene swung—he was busy inspecting his own shot—but turned just in time to see it go in the hole. Kind of a neat bit of trivia there.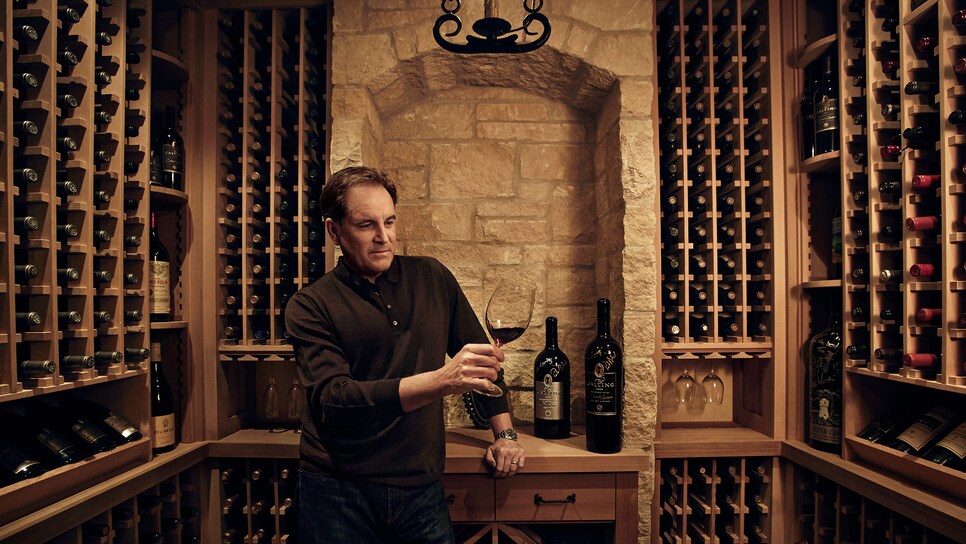 I've played a great deal of golf with Arnold Palmer, including a memorable round at Augusta National in May of 2010. Arnold, a dedicated walker, was ailing from something that day and needed a cart. It was busy, and we teed off with two guests on No. 10. Arnold hits a good drive but hits his second short and right. His pitch goes to the back of the green. From there he three-putts. He made 6. As he was coming out of his knee bend from retrieving his ball from the cup, one of the guests, brandishing a scorecard, said, "What did you make, Arnold?" Arnold gave me a quick, telling glance that said, Help me out here. As we walked to the 11th tee, I suggested to the other guest that he ride with Arnold for a while. Then, to the fellow who had the scorecard, I said quietly, "Just my two cents, but I've played a lot of golf with Arnold, and we never keep score. At this stage of Arnold's life, any round—especially here, today—is so much more enjoyable when it isn't being recorded for posterity." The man understood, and we never saw the scorecard and pencil again.
The storyline heading into Augusta is the Big Three: Jordan, Rory and Jason. I respect the credentials and understand the need to label—that's our culture. But I don't go along with it. What if Rickie Fowler wins? Or Justin Thomas, a phenomenal talent whose game is perfectly suited for Augusta? And what about the most compelling idea of all, Bubba Watson winning his third green jacket? If that happens, Bubba passes the likes of Tom Watson and Seve Ballesteros, with only Jack, Tiger and Arnold ahead of him. Bubba is playing well and is on the brink of something historic, yet he's been subdued by the mania surrounding the Big Three. It's incredible how we can look past a guy like that. The post-Tiger era and the digital age has turned out to be amazing, surprising, and with the well of young talent out there, a little surreal. What I know for sure is, it's about more than those three guys.
Phil Mickelson will win the 2019 U.S. Open at Pebble Beach. I'm so confident of that, I wish I could transplant that belief into Phil's mind so he also believes it's a foregone conclusion. He then could play the next three U.S. Opens believing he already has one under his belt. Freed of that burden, he then could win a championship between now and Pebble in 2019 and finish his career with at least two. See how my mind works?
Bryson Dechambeau, the reigning U.S. Amateur champion, came by my house recently. Casey Reamer, the head pro at Cypress Point and a mentor to Bryson, asked if I would speak to him about the history of the Masters. It was an amazing two hours. He asked every question imaginable about every significant player in Masters history, with an emphasis on tales of amateurs such as Billy Joe Patton, Frank Stranahan, Ken Venturi and Charlie Coe. I have DVDs of all the recent Masters, and Bryson asked to borrow them, not for entertainment so much as to study hole locations, how putts break, where players were laying up on the par 5s. This young man is obsessed with winning the Masters as an amateur. His mind works in a unique, scientific way. It all reminded me of Bert Yancey and how he constructed clay models of the greens at Augusta and studied them. It wouldn't surprise me at all to see this young man contend.
The Big Three and the rest have enormous influence, but Bryson is the one who has the capacity to utterly change golf. If he were to win the Masters, think of the impact it would have on the equipment industry. [DeChambeau's irons all are roughly 6-iron length.] His dedication to The Golfing Machine could alter our approach to instruction. It's hard to fathom how four days in Augusta would shift the landscape of the game so radically, but it would be Tiger-like. And it would be a fulfillment of Bobby Jones' dream of glory going to the amateur.
'That 1956 Masters is the Holy Grail of TV golf broadcasts, and I'm hoping that it shows up in some warehouse or archive.'
Nick Faldo pointed out to me what makes the Masters different from the other majors. He said that every shot he hit there was a summation of every shot he played his whole career. As fans, we sense that. We very rarely see quick, careless swings at the Masters. Poor shots, yes, but never lax ones. Only the Masters brings that out. Nick's observation resonated with me because that's how I want to call the Masters. I want it to be a full reflection of all of my abilities.
Before and after every Masters, I take time to reflect. On Wednesday of Masters week, at around 2 p.m., I quietly slip out and walk slowly down to Amen Corner.
I linger there, gazing at the pines and the setting. I feel the ground with my feet. I absorb the spirit of it all. Five days later, on Monday, when it's ended, I drive over to Augusta National, get a cup of coffee and watch some groups tee off No. 1. I'll look down the 18th fairway. I kind of tie a bow on everything, then head for my car and the drive to Hilton Head.
Last stop: The golf shop. Like everyone else, I take home a few trinkets to give out as gifts through the year. There are these miniature Masters-themed golf clubs that make the perfect baby gift. The best item of all is these 3-D Christmas-tree ornaments that are shiny little replicas of the Augusta National clubhouse. I've never given a holiday gift that is more appreciated.
The amount of travel I do—I was gone 245 days last year, flying NetJets when I'm in Denver and west, commercial for everything east of that—would be too much if my family didn't travel with me for everything from the Final Four on. My wife, Courtney; daughter, Finley [2]; and son, Jameson [two months come Masters week], go with me, and so does my oldest daughter, Caroline, when she's on break as a student at USC. I'd point out we do it alone except when my mother-in-law comes along. Courtney is a buzz saw on these things. Here's a stat for you: Finley flew to her first Masters at 23 days old, and by her 19th month had made 100 flights. A neat side benefit: She rarely gets those kid sicknesses. She's built a terrific immune system.
When I joined the CBS golf team in 1986, Frank Chirkinian, the legendary producer and director, tough-loved me practically to death. He yelled at me frequently, and during commercials he would get laughs from the veterans at my expense. One of my first AT&Ts, he assigned me to interview celebrities at the 17th hole. I was 26 years old and had no clue what to ask Burt Lancaster, George C. Scott and Vic Damone. I walked into the trailer and said, "Mr. Chirkinian, I don't think I'm the right guy to be interviewing these celebrities. What should I ask them?"
Venturi, Summerall and the whole crew are in there. Frank said, "Come here, son." He got out of his chair, walked over and pointed out a tiny window. "See that lake out there?" he said, pointing at the Pacific Ocean. "Next time you come in and ask me a silly-ass question like that, I'm going to throw you in that lake. Now get the hell out of my office, go down to the 17th hole and talk to those people." They all roared. I slinked out of there.
During the AT&T in 2014, I put on a dinner in the basement of The Sardine Factory on Cannery Row in Monterey. Phil Mickelson was still traveling with the claret jug, and we filled it with a nice pinot noir from my line of wines, The Calling. When the Cup got to Nick Faldo, who has won three of those cups, he paused and said, "I've never done this before." He laughed, shrugged and took a couple of swigs like everyone else. He was giddy, the exact opposite of the Nick we knew in the early 1990s. His changeover from a complete golfer—an obsessed one—into a complete person, is the most incredible personal transformation I've ever witnessed.
CBS has done every Masters since 1956, and we've had great success tracking down tape and kinescopes of the original broadcasts for the "Jim Nantz Remembers Augusta" that we do every year. But there is one Masters that is missing: 1956. We know they had cameras set up greenside at No. 15, then, of course, they showed the last three holes. The situation is similar to the lost tape of the first Super Bowl, in 1967. That 1956 Masters is the Holy Grail of TV golf broadcasts, and I'm hoping that it shows up in some warehouse or archive. If you come across it, give me a call.
The key word with my Masters special is "Remembers." My father passed away due to Alzheimer's disease, and many things I do are nods to him. The Nantz National Alzheimer Center at Houston Methodist, which already is making inroads to finding treatments that will lead to a cure, is an homage to my dad.
During the 2014 PGA Championship at Valhalla, Gary McCord asked me, "Have you noticed something amiss with Peter? He doesn't seem himself." He was referring to our CBS colleague Peter Oosterhuis. "No, not at all," I said. Gary said, "Well, keep an eye on him during dinner tonight, and let's talk tomorrow." I watched and listened to Peter closely and didn't pick up on anything. That, after being close to my father throughout his struggle with Alzheimer's. Soon after that, it become more apparent that Peter was struggling. Alzheimer's is such an insidious disease. I'm using every tool at my disposal to fund the research necessary to help Peter. In fact, he's being treated by a team of doctors at the Nantz Center.
Have I planned an exclamation for the end of a tournament in advance? It depends. When Tiger carried a nine-shot lead into the final round in 1997 and it was clear he was going to win, I imagined his final putt being played 50 years down the road. There had to be a line that summarized that for posterity. That's how "A win for the ages!" came about, and I did plan it starting on Saturday night. When a sportswriter rather cynically asked if I planned it out, I said, "You bet your life I did. When you saw Tiger was going to win, did you not think of your lead paragraph hours in advance? Or did you wait until the last putt fell before you started to consider it?" I mean, come on.
'Bryson [DeChambeau] is the one who has the capacity to utterly change golf.'
The idea is to let yourself be pulled into the story. "The human drama of athletic competition," as one of my heroes, Jim McKay, referred to it on his "Wide World of Sports" opener—is why we do what we do. But Greg Norman's loss in 1996 was the rare instance where I had to divest myself emotionally. It was so painful that I actually needed to be a little clinical describing it, because it wasn't all tragedy. On the other side, it was a huge victory for Nick Faldo. But it was largely about Greg Norman, and what impressed me about Greg was that he followed through on his commitment to play the following week. Not only that, he invited a group of us onto his boat for dinner that Wednesday night. It was a lesson on how to take a defeat graciously.
The greens at Augusta are so harrowing, watching a player get on a roll there can make him seem invincible. Jordan Spieth, Ben Crenshaw, Tiger Woods and Phil Mickelson can make you believe it's impossible to putt any better. But I always knew better. One of my college roomies at Houston was a guy named John Horne from Plainview, Texas. This man was magic with the putter. The roll, the way the ball came off the putterface, the way he'd center-cut everything, regardless of length, was unlike anything I've seen before or since. John's long game wasn't accurate, but when it comes to the greatest putter ever, I've got to go with the man from Plainview.
Senior British Open at Sunningdale, 2015. They're playing a pro-am, and I decide, after a 16-year hiatus, to make my return to public competitive golf. To come out of retirement, as it were. On the eve of the event the old terror returns, because I see Ivor Robson at the dinner, and my worst nightmare is that he's going to introduce everyone on the first tee. My partner is Jeff Maggert, whose calm demeanor is like a balm. With people in attendance, I get on the first tee and boom one out there. I then hit my second to the par 5 on the green. It went well. I chased away a lot of demons that day. I'm not entertaining the idea of putting my game on display more.
So who will win the Masters? Let's see. Phil won in 2004. He won two years later, in 2006. Four later, in 2010, he won again. Now it's 2016, six years later. Two ... four ... six. If the Nantz Law of Mathematical Progression follows, 2016 will again be Phil's year.
In 2036, for the 100th playing of the Masters, we'll see Phil Mickelson serve as honorary starter alongside another retired golfer, Tiger Woods. Competing that year will be a 20-year-old sensation who will become the youngest player ever to don the green jacket. In Butler Cabin, as this historic and wonderful Masters concludes, I will say, "Congratulations, Jameson. And good-bye, friends."