CFB MVP
Jim Harbaugh triggers an entire state with one quote, wins the college football weekend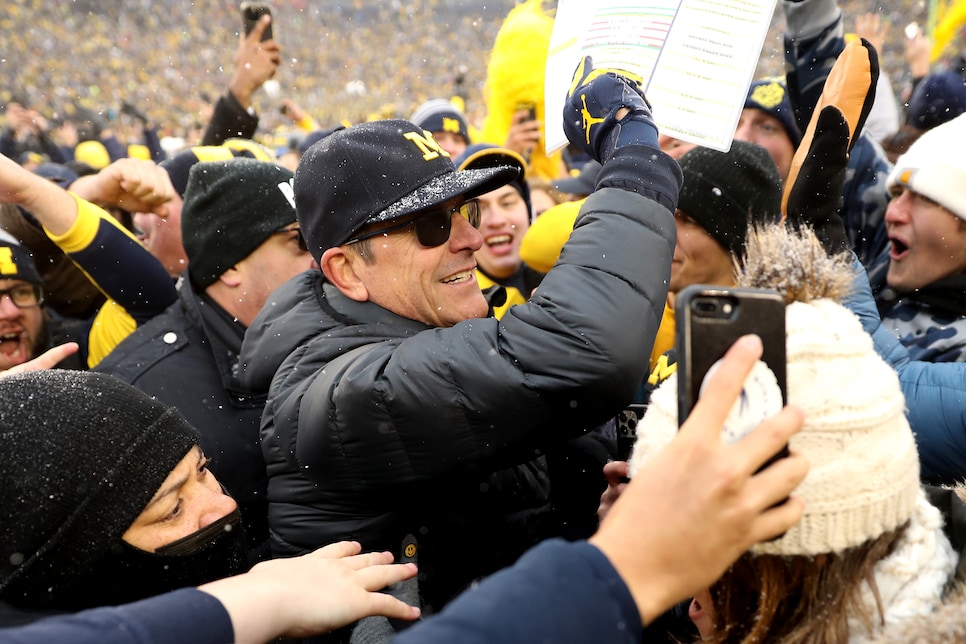 When little brother finally wins one, little brother tends to chirp and chirp loudly. It's a tale as old as time.
A version of that tale played out on Saturday in Ann Arbor, where Michigan head coach Jim Harbaugh finally slayed the dragon that is Ohio State, his team dominating the Buckeyes 42-27 at the Big House. For most of the game, the Wolverines were in complete control, eventually bullying the Buckeyes off the field in a similar manner to how the Buckeyes had bullied them for the previous decade.
Naturally, the Michigan faithful are sounding off, which is what you do after years and years of getting noogied to death by someone bigger and better than you. The money quote came from Harbaugh, who easily won the college football weekend by pissing off all of Ohio and creating one of the more legendary out-of-context quote graphics in social media history:
As you can see, some folks ran with the "he's taking a shot at Ryan Day!" narrative, the implication being Day took over a machine created by Urban Meyer and thus "was born on third base." In reality, Harbaugh was asked if any of the pre-game chatter from Ohio State players motivated his team, which it obviously did. That's where the quote came in, and at no point was Ryan Day's named mentioned:
First - absolutely love the fact he goes "let's move on with humble hearts," then promptly drops the third-base quote. Just couldn't help himself. Second - he's obviously talking about the Buckeyes as a whole, and, we repeat, does not mention Ryan Day at all, nor did whoever asked the question. It's a great line that could mean any number of things and likely pissed off the entire state of Ohio, which is why it's hilarious. It's extremely good and healthy for the rivalry and college football in general.
The harsh reality now is that this win guarantees them nothing but a spot in the Big Ten Championship game next Saturday. To reach the college football playoff—the ultimate goal—the Wolverines need to beat Iowa in Indianapolis, which will be no small feat coming off such an emotionally-draining win. Not to bring any negative energy into this, but it would be VERY Michigan for Harbaugh's team to slip up against a frisky Iowa squad and essentially blow the entire season.
Honestly, though, would Michigan fans be that angry if it played out that way? Ultimately, this Ohio State victory has made the Harbaugh era worth it, and even if they reach the playoff they'll likely have to go through Alabama and/or Georgia, which is asking a ton of a team we left for dead this time a year ago after another blowout loss to Ohio State. Just getting to the Big Ten title game and possibly the playoff would be a massive win for Michigan and Harbaugh, and hopefully a sign of more great things to come in Ann Arbor. College football is simply better when Michigan is a factor.
If there's a better text to receive as a football coach, we've yet to come across it. Everything coming up Harbaugh.
(In this section, we'll dole out helmet stickers for those who *almost* won the weekend.)
Five Helmet Stickers: Coach O for going out on top
At a lot of schools, a 51-20 record over six years is cause for celebration. But at LSU, that seemingly strong stretch of seasons was not good enough for head coach Ed Orgeron to stick around long-term. Sure, there were external, off-the-field factors at play here, too, but lesser head coaches have overcome much more high-profile controversies. The good news is Coach O seems at peace with moving on, and who wouldn't be after winning their final game at home on a miracle last-minute touchdown:
Can't ask for much more. In a brilliant move, Coach O is quite literally saying "peace out," allowing offensive line coach Brad Davis to coach the Tigers in their bowl game. Orgeron has much, much better plans, like going to Destin, Fla., with his girlfriend:
An absolute masterclass in going out on top. Ultimately, he'll be remembered as a legendary coach in LSU history, which he couldn't have drawn up much better in his dreams. Now, one more time for the people in the back:
Four Helmet Stickers: Lane Kiffin the Twitter troll
If you're noticing a theme, head coaches had themselves a weekend, which is always the case with so much at stake on Rivalry Weekend. Kiffin's weekend got started very early with a leave-no-doubt victory over rival Mississippi State in the Egg Bowl on Thanksgiving night, securing the first 10-win regular season in program history at Ole Miss. Because his name is Lane Kiffin, his name was immediately linked to every big-time open job in the sport this weekend. LSU, Oklahoma, USC (kidding, maybe), etc. Kiffin being the master Twitter troll he is decided to have a little fun with the rumors:
Brilliant. Of course, Kiffin at least appears to be going nowhere, and conducted a number of recruiting trips post-Egg Bowl that he also tweeted about. We'd love to believe he's at Ole Miss to stay, but he's said that about literally every other job he's ever had.
Three Helmet Stickers: Lincoln Riley, truth-teller
Coaching carousel SZN is also notorious for being liar liar pants on fire SZN. Lincoln Riley said to hell with that following his team's loss to Oklahoma State Saturday night:
Facts only. As we came to find out, Riley took the head coach job at USC, which is very much not LSU. If anything, the Trojans are getting an honest man at the helm.
Two Helmet Stickers: Nick Saban for ... enjoying a win?
So often after a victory, Alabama head coach Nick Saban appears unsatisfied. There are things to correct, plays the Crimson Tide should have made, adjustments the coaching staff failed to employ. His fanbase does nothing to quell his concerns, and the media "rat poison" in the ensuing week following a close win or a disappointing win only riles him up more. Finally, all of that came to a head last week ahead of the Iron Bowl, leading to this incredible rant about how the Alabama faithful don't appreciate the success they've had for well over a decade now:
This rant almost proved prophetic, as the Crimson Tide needed multiple overtimes to take down hated rival Auburn in Jordan-Hare Stadium. Normally, that'd be cause for some sort of "QUIT ASKIN!"-type of postgame interview from Saban. Instead, he was noticeably jolly, a sign he took his own advice and actually enjoyed a hard-fought win:
This has to be the happiest he's ever looked following a two-point win that took a handful of miracles late in the game. Of course, he's been on the other side of that numerous times against Auburn, so this one had to feel like such a relief. The celebration didn't stop there, either:
Pretty wild to see. Almost have to wonder if he knows this team ain't clipping Georgia so he might as well enjoy the good times while they last.
One Helmet Sticker: Rivlary Week couples
That side eye at the 14-second mark is legitimately terrifying. Prayers up for the UNC fan, who ended up watching his Heels lose in stunning fashion in Raleigh on Friday night and probably still had to sleep on the couch anyway.
A bunch of half stickers below...
This was such an insane week that we couldn't get to it all, so we'll run through it quickly below because a lot of different folks deserve some shine. Rivalry Week is undefeated when it comes to content.
Ole Miss' kicker going full Ed Reed:
Gus Malzahn coaching from a propped-up desk with a broken leg:
Washington State fans storming Washington's field. COCKY:
Minnesota playing "Jump Around" after beating Wisconsin. REALLY cocky:
Whoever thought this would work:
The worst onside kick in football history:
And finally, this Chip and Joanna Gaines conspiracy theorist/Texas A&M fan:
That's enough college football Twitter for today and possibly the rest of eternity.