Going Down Swinging
Jerry Stackhouse got so pissed at the refs that a cop had to hold him back after his ejection
Normally, when a basketball coach really loses his sh-t on a referee, it's all for show. You take the tech, get your money's worth, have a couple of assistants "hold me back" and move on with the game. That was not the case on Wednesday night at VCU, where Vanderbilt head coach and former NBA All-Star Jerry Stackhouse legitimately had to be held back by multiple people, including a cop, after a brutal call.
With just over eight minutes to play and Vandy trailing by five, senior power forward Liam Robbins got fed in the post and slammed a two-handed dunk home to cut the VCU lead to three. Immediately after, Robbins put his hand on the top of his head in celebration, which is some new thing the kids are doing these days when they dunk "on someone's head" (get it?). The celly lasted all of 0.2 seconds and, while unnecessary, didn't seem all that aggressive in the moment.
Well, one ref felt differently, hitting Robbins with an unbelievably soft technical foul and making his mark on the game as overzealous college basketball officials LOVE to do:
Stackhouse was understandably irate, but CBS Sports Network went to commercial and missed his reaction to the nonsensical call live. When they returned from commercial, though, viewers came to find out that Stackhouse lost his sh-t so aggressively that he also earned a technical and was eventually ejected. He began throwing around hard "F--- YOU"'s, pointing at the ref who made the call and even getting directly in the guy's ear. It got so bad that Stackhouse had to be restrained by four people, one of whom was a cop that travels with the team. This, my friends, is how you go down swinging:
Never has a reaction to an awful tech and subsequent ejection been more warranted. College basketball referees are, bar none, the absolute worst of the worst. If you think MLB umpires like Angel Hernandez and Joe West are bad, or the National Flag League is bad on Sundays, those guys are saints compared to CBB zebras. They have made the sport infinitely worse over the last five or six years, and they make no apologies for it. Just look at the smugness of this guy: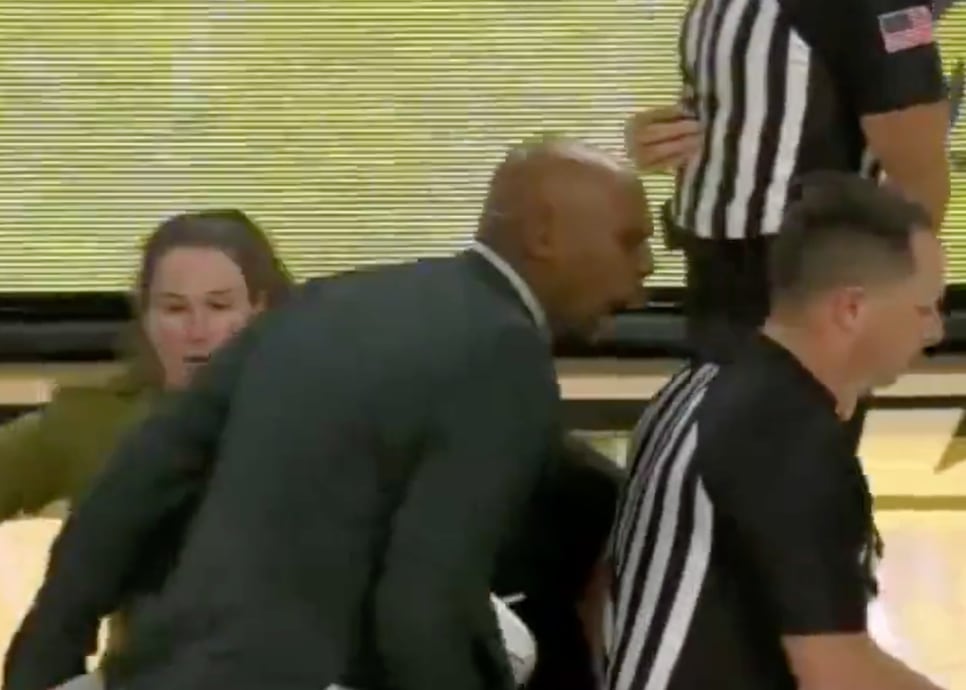 Can't even look Stackhouse in the eye. Even when everyone knows they are wrong, CBB refs still act like they are always 100 percent in the right. Nut-low stuff. And by the way, this garbage led to SIX free throws for VCU, of which they made four. Final score: VCU 70, Vanderbilt 65. Or, to put it another way, VCU 66, Vanderbilt 65, Refs 4.