News
After splitting with his long-time coach, Jason Day has turned to. . . Tiger Woods?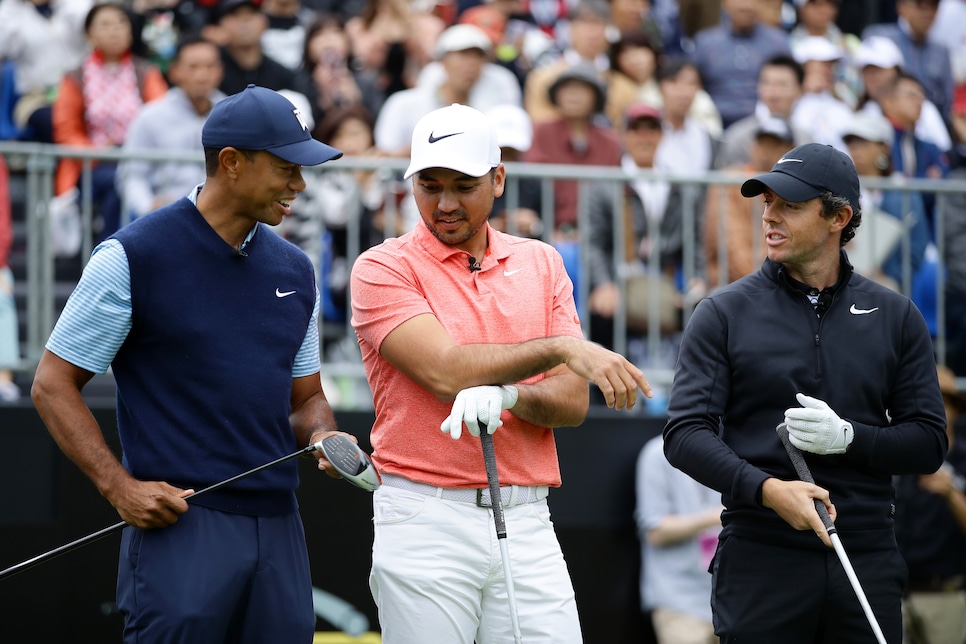 During a teleconference with several Australian golf writers on Tuesday (hat tip to our friends at Australian Golf Digest), the 12-time PGA Tour winner revealed he's been leaning on the 15-time major champ for advice of late—both concerning the golf swing and overcoming career obstacles.
"I have been talking to Tiger about his swing and what he's been through," Day said.
Day added he still thinks Woods "has the best swing out there, especially with his irons." In particular, the Aussie has talked to Tiger about playing with back problems.
"He's gone through some back issues (like me), and I think he's doing a lot of good things to try and alleviate his pain, obviously what he's going through right now in regards to his back," Day said.
Day has previously relied on Woods for advice, including during his run to World No. 1 in 2015. The 32-year-old won his lone major that year during a torrid stretch in which he won seven of 17 PGA Tour starts including the 2016 Players Championship.
Day's last tour win came more than two years ago at the 2018 Wells Fargo Championship, but he's been playing better of late. Prior to a missed cut at last week's Northern Trust, Day had recorded four consecutive top-seven finishes, including a T-4 at the PGA Championship. He enters this week's BMW Championship, the second of three playoff events, at No. 50 in the FedEx Cup standings, but says his goal remains to return to the top spot in the Official World Golf Ranking.
That Woods would answer such calls from one of his fellow competitors is certainly no surprise. Tiger has enjoyed taking younger players under his wing in recent years, in particular with his captaining at both the Ryder Cup and Presidents Cup. Here's what Woods said about their relationship when asked during Wednesday's pre-tournament press conference.
"Well, Jason and I have had a great relationship for a very long time, since he's been on tour, and yeah, we've talked about a number of things, and obviously one of the topics we do tend to talk about because we both have bad backs now and mine is a little bit more progressed than his, is trying to deal with it, trying to manage it, and the evolution of the swing," Woods said. "We can't do what we used to do, and how do you evolve that and still be effective. But also recovery from day-to-day. Recovery techniques have changed over the years, and lifting protocols have changed. So that's a lot to do with it, but yeah, the swing does evolve, it does change. You can only swing the club how the body allows you to do, and I know that firsthand from all my nine previous procedures that I've had done to my body. It's just one of those things that as we age we wear things out."
More than a decade younger, Day is looking to get out in front a bit of that aging process. But he's also not looking to do anything drastic.
"I just feel like I've asked questions and he's willing to answer them, and I'm trying to make changes right now in my swing," Day said. "I'm trying to make slow changes because I really don't want to mess with my playing feels."
Tossing the term "feels" around? Yep, he's definitely been talking to Tiger.