That's Gotta Hurt
Isiah Kiner-Filefa has been so bad even UCONN football announcers are roasting him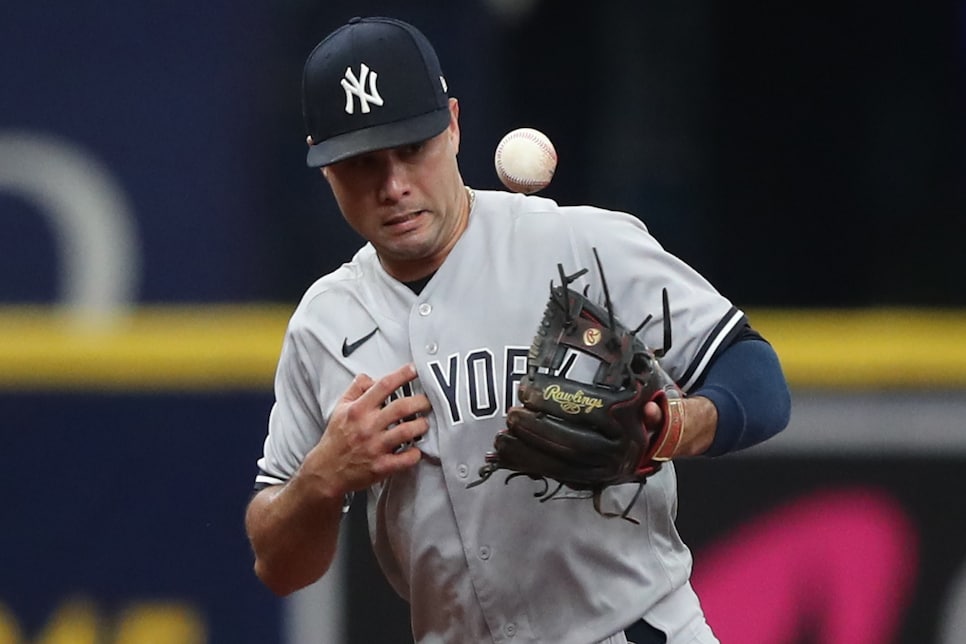 What happened to the New York Yankees? One of the best teams in baseball heading into the homestretch, the Pinstripes posted a dog-days collapse for the record books, going 10-18 in the month of August, the second-worst mark in the AL and the Yanks' single worst month since 1991. Part of it has been the offense grinding to halt, with Giancarlo Stanton's absence leaving a statuesque hole in the lineup for much of the month. Part of it has been the starting pitching, a plucky group of overachievers who have regressed to the mean following the All-Star break. Then there's been shortstop Isiah Kiner-Falefa, who has been a bigger liability than a backyard trampoline.
That was the scene on Sunday, as Kiner-Falefa continued his Crisco-gloved antics despite a Yankees win. Incredibly enough, it came less than 24 hours after the Kiner-Falefa kerfuffle reached such a boiling point that he could be heard getting roasted on the broadcast of UCONN-Central Connecticut State following a muffed punt. Sound up!
Hilarious stuff, especially for the beleaguered Sox fans of bumblef—k Connecticut, who have been waging a decades-long civil war with their Yankees counterparts just a few miles to the south. That said, the Kiner-Falefa haterade spewed during the most unwatchable college football game of the weekend seemed to have an unintended effect. Since then, the Yankees have rattled off two straight wins, stretching their AL East lead back out to five games. Bulletin board material? Karma? Pure coincidence? Who knows, but right now the Yankees will take whatever they can get.