An on-course education
The subtle, yet crucial reminder I got while playing with one of the best amateurs in the world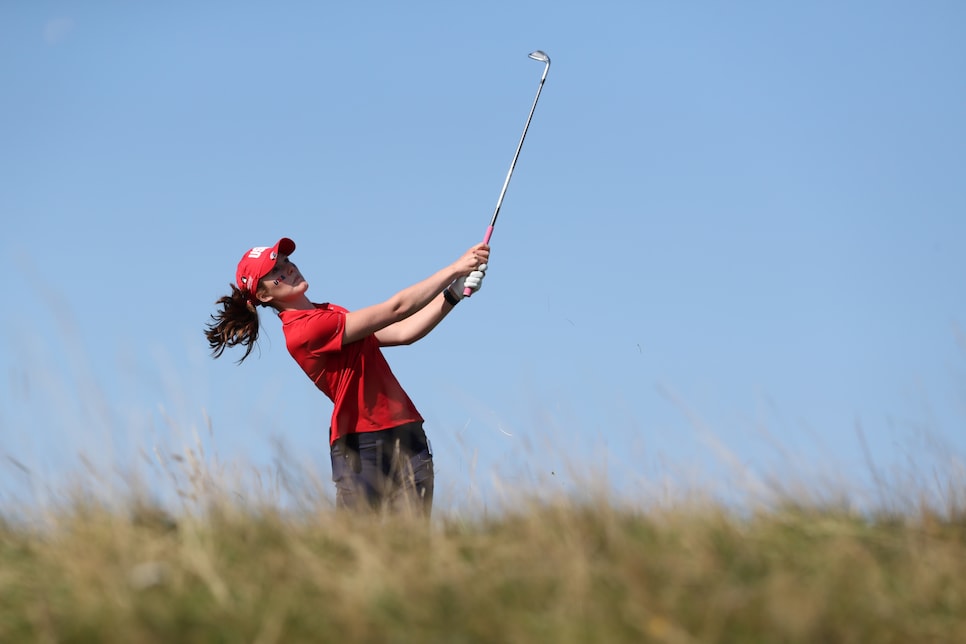 When you have a toddler, you're grateful for any round of golf you're able to sneak in. When that round of golf happens to be at Merion, ranked No. 6 on the list of America's 100 Greatest Golf Courses, you humbly thank the golf gods for smiling upon you. I was at Merion for the USGA's Media Day, where members of the press gathered to learn more about the upcoming Curtis Cup at Merion in June.
I was eager to check out the course, but didn't expect anything of my game. I played DIII college golf in New England, so I can usually get it around OK, but my expectations of my golf game are low. Media Day groupings are often low key. I figured I'd be with a few other golf writers who were also just happy to be away from the keyboard for an afternoon.
Group 1A, with Curtis Cup team member Emilia Migliaccio and her mom, Ulrika. Emilia played college golf at Wake Forest, where she has one more year of eligibility. She was a First Team All-American and individual ACC champion, and won gold at the Pan American Games. She's currently ranked No. 18 in the World Amateur Golf rankings and has been ranked as high as third. Ulrika is from Sweden and earned All-American status while playing college golf at the University of Arizona. You'll recognize one of her college teammates: Annika Sorenstam.
I immediately started asking where the range was.
Emilia and her mom are lovely people who were easy and fun to play with. We chatted about college golf and the golf media world while playing the course that held the 2013 U.S. Open. They put zero pressure on me, but when you're paired with a good player, you don't want to hold them up. I knew Emilia will compete at Merion in a month; the last thing I wanted was to distract her with some horrifying shots.
I wanted to play well and I had a great resource in my group. I watched Emilia.
Emilia is friendly, open and happy to chat on the golf course. But once she got about 10 steps from her ball, the chatter would stop. It wasn't abrupt or rude or anything like that, she'd just slip into a heightened level of focus. She'd look at the shot, consult her notes and her caddie, map out the plan and execute.
It was a subtle thing, but I noticed that I was often talking all the way up to my ball, sometimes even while I was pulling a club out of my bag. Once I was at the ball and the club was in my hands, I'd think about the shot ahead. But I like to pull the trigger pretty quickly, so the amount of time that I was actually focusing on what had to be done was a fraction of the amount of time I saw Emilia spend on her shots.
Thanks to Emilia, I realized that with my (brief and uneventful) competitive career far behind me, all of the social golf I've played has led to a detrimental habit. During our round together, I started building in an extra 15 seconds of quiet before most shots, instead of engaging in conversation right up to the ball. I felt better over the ball, more relaxed and confident. And while not every shot was great, I hit more good shots than I expected I could.
I followed Emilia's lead to find the balance of social, yet focused, golf. Just because you're playing socially doesn't mean you can't focus like a competitor for small moments before each shot. And just because you're playing with intent doesn't mean you can't be social. Emilia set an expert example of how to be fun to play with, without losing your competitive game in the process.