Curtis Cup
U.S. finalizes this year's Curtis Cup squad with final four picks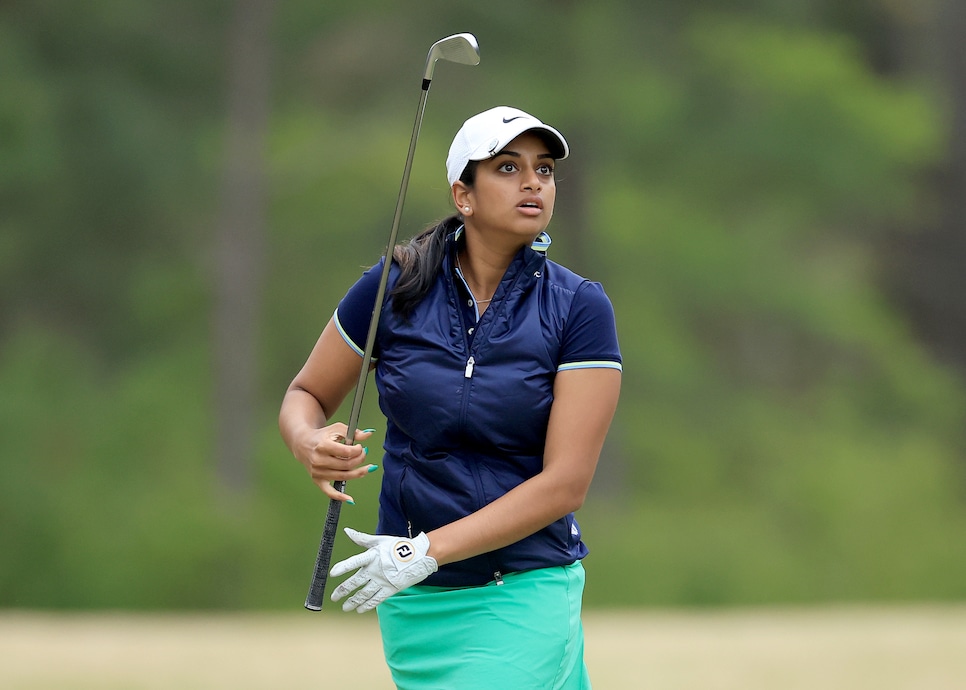 Megha Ganne is among the final four players named to the 2022 U.S. Curtis Cup squad.
David Cannon
It was only eight months ago that Megha Ganne watched from inside the ropes as an alternate as Team USA came back from an early deficit to capture the Curtis Cup against Great Britain & Ireland in Wales. Now, the 18-year-old from New Jersey who burst onto the national golf scene with a strong showing at last year's U.S. Women's Open will be wielding a club in the biggest team competition in women's amateur golf.
Ganne, a high school senior committed to Stanford, was among the final four players named to the U.S. squad on Friday. The others were USC freshman Amari Avery, 18; Duke graduate student Emilia Migliaccio, 22; and LSU junior Latanna Stone, 20. The 42nd edition of the matches is set to be played June 10-12 at Merion Golf Club in Ardmore, Pa. The competition comes only months after the last one because the 2020 edition was postponed to 2021 because of the COVID-19 pandemic.
"Especially after being there last year, seeing the experience and excitement first-hand, and cheering on the team, it was one of my top goals this year to make the team," Ganne said in a USGA press release. "I couldn't be more proud or excited to compete in a Curtis Cup."
Ganne, who is ranked 20th in the World Amateur Golf Rankings, captured the attention of U.S. team captain Sarah Ingram and golf fans when she shared the first-round lead in the 2021 U.S. Women's Open at The Olympic Club and ultimately finished tied for 14th as the low amateur.
Stone, ranked 28th in the WAGR, recently finished second in the Augusta National Women's Amateur and played on the winning Palmer Cup team in 2020. She holds the distinction of being the youngest-ever competitor in the U.S. Women's Amateur, competing in the 2012 event as a 10-year-old.
Avery, who just began her college career this spring at USC, finished T-4 at this year's ANWA and played last year in the U.S. Women's Open and LPGA Founders Cup. She is 24th in the WAGR.
Migliaccio, ranked 17th in the WAGR, played for the U.S. in Wales and went 2-2-0, including a win in singles. She decided to forgo a pro career and is returning to Wake Forest next fall for a fifth college season.
The women previously named to the U.S. team are Jensen Castle, Rachel Heck, Rachel Kuehn and Rose Zhang. The alternates are Brooke Seay and Anna Davis, who won this year's ANWA.