Augusta National Women's Amateur
Playoff loss can't ruin a mother-daughter Augusta experience like no other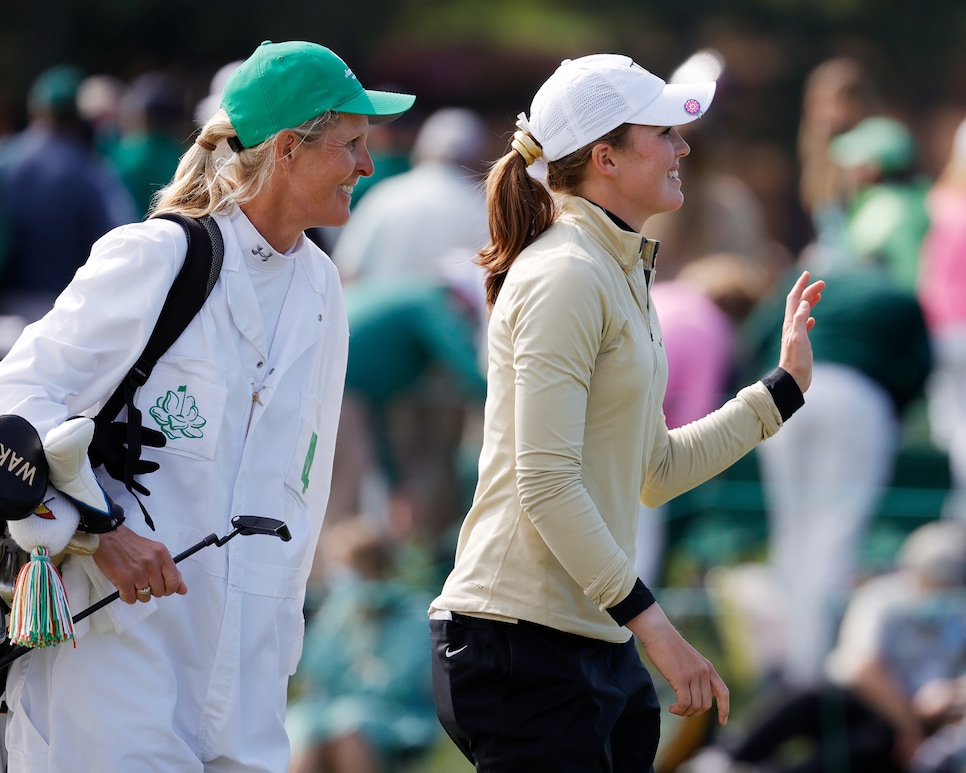 Emilia Migliaccio and her mom, Ulrika, walk off the 18th green after being defeated by Tsubasa Kajitani in a playoff in the Augusta National Women's Amateur.
Jared Tilton
AUGUSTA, Ga. — Emilia Migliaccio was truly feeling at peace. Weeks before she arrived to compete in the Augusta National Women's Amateur, the upcoming Wake Forest grad made the choice that she wouldn't pursue a pro playing career.
It was a decision not made easily—to forsake a path she'd been on for so many years. But in taking a summer job with Golf Channel's website, Migliaccio picked her own destiny and not one imposed on her by others.
The reward? A freer mind and, predictably, better golf.
"My golf has gotten a lot better. I think because of my decision not to turn pro, I was able to perform well," Migliaccio, 21, said on Saturday afternoon, after she'd lost on the first hole of a playoff to Japanese 17-year-old Tsubasa Kajitani.
Migliaccio came a fraction of an inch here or there on a couple of putts in the tournament from producing one of the better golf tales in recent memory. By remaining an amateur, she's taking the road less traveled compared to nearly everyone in the ANWA's 82-player field. Even better, she was competing with her mother, Ulrika, a former college player, wearing Augusta's white caddie coveralls and carrying the bag. "Our last rodeo," Ulrika MIgliaccio called it.
After Emilia Migliaccio shot two-under-par 70 on Saturday, and then waited in the clubhouse for an hour before learning her fate, the script took an unexpected turn. One by one, college rivals of Migliaccio's fell by the wayside with mistakes on Augusta's back nine, and then it was Kajitani who forced extra holes by shooting 72.
Then, when Migliaccio pushed her 5-iron approach to the right of the 18th green in the playoff and had her difficult third shot end up in the bunker, it was over. Kajitani won with a par, and Migliaccio gracefully accepted a very difficult defeat.
"It's hard to lose [with] a bogey," she said.
If tears eventually flowed, the smile never left Migliaccio's face in public. She appears happy and relieved that one part of her journey is over. Her decision wasn't going to change, even if she won the ANWA. In fact, had she won, she would have earned a five-year exemption into the event as an amateur. It'd be like past champions returning for the Masters.
"Even though I wasn't playing well in January, it wasn't about, 'I'm not playing well, so I am not turning professional,' " Migliaccio explained on Saturday. "It was about, 'I'm ready for something new. I'm ready for a new chapter.' I see a lot of opportunities for myself still in the golf industry, but not as a professional golfer."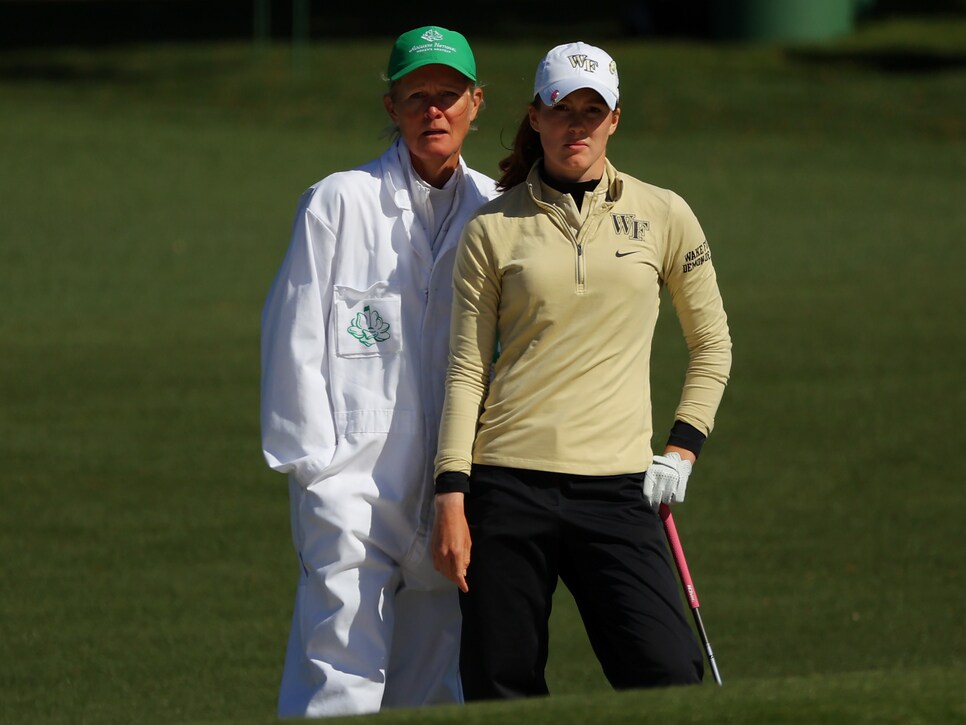 Emilia Migliaccio talks with her mother and caddie, Ulrika, on the second hole during the final round of the Augusta National Women's Amateur.
Kevin C. Cox
There must be something in the DNA she inherited from her mom. Ulrika played on the Swedish national team and was an All-American golfer at the University of Arizona. But she, too, began to question her path in her junior year and decided not to turn pro. "Played better after that," she said.
Ulrika ended up earning an MBA at North Carolina State and then gave birth to Emilia. Dad and sister also bought into golf and it became a family pursuit. Ulrika said on Saturday that she didn't know Emilia was having doubts about her future until after she returned to play after the COVID-19 break.
"It just didn't seem like the edge or the hunger was there," she said.
Looking back, "I think the better she got in golf, the more emotionally draining it became," the mother said. "With most golfers, we're always working on things. … It's pretty intense all of the time. There's never any off time."
It was as if the world blissfully slowed down for mother and daughter when they arrived for the tournament this week. "It was relaxing. We weren't all uptight," Ulrika said with a smile.
As the mom caddie, Ulrika provided yardages, but otherwise just offered encouragement. She left the green reading and serious golf decisions to her daughter, who played and missed the cut in the 2019 ANWA after qualifying for the 2018 U.S. Women's Open and being a member of the '18 U.S. Arnold Palmer Cup team.
The family duo fared well, given they were going up against a number of players who were using professional or top-level amateur caddies for the week. To be sure, no pro at Augusta has ever had his mom on the bag for the Masters.
"It was so special," Emilia said after her round and before the playoff was set. "That's all I wanted to do. I really wanted to enjoy this moment with my mom, and this is probably one of the last times she's going to caddie for me, and it was just a joy to be out there."
For those reasons alone, the Magliaccios were leaving Augusta National with more peace and satisfaction than they ever dreamed.