News
In what appears not to be a new tradition, Team USA holds spring Ryder Cup dinner for potential team members
This isn't quite the Masters Champions Dinner, or heck, not even the PGA Championship past winners' dinner hosted by the PGA of America. But it looks like Team USA gathering together potential Ryder Cup players during Florida tournaments has become a tradition of sorts, as a plethora of pros in the mix for U.S. captain Jim Furyk's American squad met on Wednesday night before the Players.
Then-captain Davis Love III hosted a similar Ryder Cup rager in 2016 ahead of the Honda Classic, with an assist from Jack Nicklaus, who let the group use his house in Palm Beach Gardens, Fla. Jack actually posted a photo of Team USA's most-recent gathering, which took place at Furyk's place in Ponte Vedra Beach, home of TPC Sawgrass. That the group would get together again is no surprise, since Team USA ended up winning the Cup in 2016, its first Ryder Cup victory since 2008. Why not make this a tradition?
Here's a photo of the gathering—which we're enjoying for being able to analyze the outfits of these pros:
We have a couple questions here. First, and probably most interesting, where is the 2018 Masters champion, Patrick Reed, otherwise known as Captain America? We're guessing Reed had an excused absence, but being No. 1 on the Ryder Cup points list right now, we were sort of figuring he'd have a keynote speech to present to his buddies. Probably saving the "A" material for France.
Also missing was Brooks Koepka, 2017 U.S. Open champion, who returned from a wrist injury two weeks ago at the Zurich Classic and is playing this week at the Players. Turns out Koepka re-injured his wrist on Wednesday in a freak accident on the range at TPC Sawgrass (he actually hit a golf cart while swinging a club) and was getting an X-ray and MRI to make sure he hadn't done any more damage to himself. The one other noticeable missing player was Kevin Chappell, who represented the U.S. as part of the 2017 Presidents Cup team. He's 20th in Team USA standings.
Furyk told RyderCup.com: "Not everyone could make it tonight, but we had a huge turn out. I respect everyone is preparing and not everyone can make it and that's totally fine. But I was happy to see the guys I did."
Furyk said his players arrived around 6 p.m. and left around 8. So no late-night partying on the eve of the Fifth Major.
A couple other observations: Bryson DeChambeau, the farthest left in this photo, looks a little over-dressed. We're guessing he didn't get the memo of "beach casual." Tiger Woods obviously did. He's the only of the Team USA vice captains not to be wearing slacks. And Charley Hoffman rocking the short-sleeve button down shirt with flip-flops is exactly what we'd expect from Hoffer, also a member of the 2017 Presidents Cup team.
A couple potentially new faces for Team USA can be seen. Chez Reavie is in the black shirt standing between Justin Thomas and Billy Horschel. (Reavie is currently 16th in Ryder Cup standings, having amassed $4 million in the past two seasons.) Andrew Landry, third in from the right in the blue shirt, is currently 17th in the standings, thanks in no small part to his win at the Valero Texas Open last month. And to the left of Landry in the "d" hat is Scott Piercy, who teamed with Horschel to win the Zurich Classic two weeks ago. Piercy is currently 21st in standings.
Here's a full rundown of the players in the photo (standing, from left to right):
Bryson DeChambeau, Charley Hoffman, Gary Woodland, Kevin Kisner, Dustin Johnson, Tony Finau, Bubba Watson, Jordan Spieth, Justin Thomas, Matt Kuchar, Chez Reavie, Patton Kizzire, Billy Horschel, Webb Simpson, Scott Piercy, Phil Mickelson, Andrew Landry, Brian Harman and Zach Johnson.
Sitting, as you probably have already identified, were: Davis Love III, Tabitha Furyk, 2018 Ryder Cup captain Jim Furyk, Tiger Woods, Steve Stricker and Rickie Fowler.
Here's another nice photo that Jack shared from the event of Furyk with his wife, Tabitha, confirming that the Furyks likely hosted the event, which makes sense, given Furyk will lead this squad as captain at Le Golf National in September:
And our last question: How come Team USA members went dark on social media for this? Only Jack posted any photos—every other team member must've been told not to post any photos.
We're kind of disappointed we weren't treated to hilarious photos like this one from 2016, when the cellphone policy was a little more lax: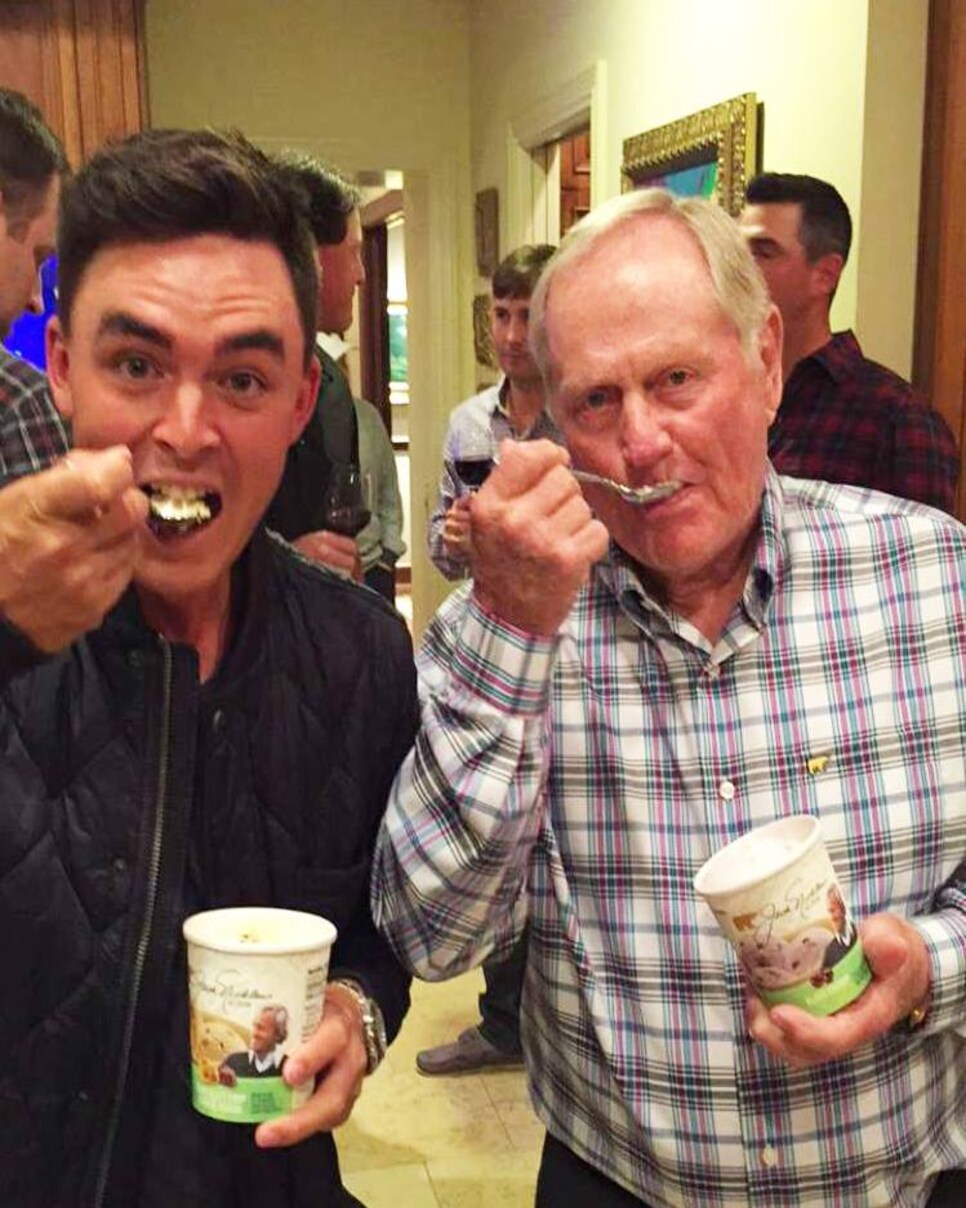 Oh well, we'll have to rely on players talking about the meeting after their rounds at the Players.