LIV GOLF Andalucia
In first LIV event since PGA Tour partnership was announced, Talor Gooch wins third season title at Valderrama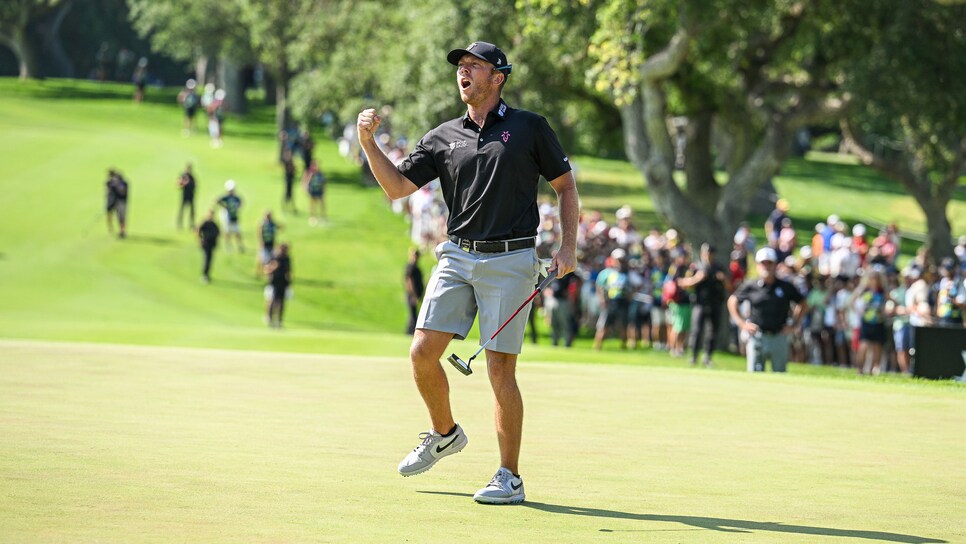 The message LIV Golf projected at its Valderrama tournament—its first since the June 6 announcement of a partnership between its financiers, Saudi Arabia's Public Investment Fund (PIF), and the PGA Tour—was simple: the fledgling league isn't going anywhere.
At the beginning of the week PIF's governor Yasir Al-Rumayyan was heard telling players that LIV Golf was "his baby" and that there were no plans for the $2 billion investment to fold in 2024, when his sovereign wealth fund is supposed to become a minority investor in a for-profit entity alongside the PGA Tour. LIV commissioner Greg Norman was also visible throughout the tournament despite questions over his future with the league.
On Sunday, Norman made a statement by walking the last hole with the final group as Talor Gooch outlasted playing partners Bryson DeChambeau and Brooks Koepka at the former host course of the DP World Tour's Andalucia Masters.
On Valderrama's difficult 18th, Gooch laid well back from the tee with a utility club and had a 6-iron in hand, ultimately placing the approach below the hole. He drained the birdie to steal $4 million and a one-shot victory from DeChambeau.
"I hit a really good second shot and put [myself] in a perfect position to be aggressive with a putt," Gooch said. "I had a really good read on it and made a positive, confident stroke; I just felt like I was going to make it. Before I even hit the putt, I was already visualizing the fist pump that was coming with it."
The birdie gave Gooch a four-under-par 67 and a 12-under-par total, while major winners DeChambeau (68) was 11 under and Koepka (68) was 10 under.
"I coined the term a while back; the 'rule of 67.' Shoot 67 and everything will take care of itself," Gooch said.
The only reward Gooch's 67 didn't take care of was the team portion of the event at Valderrama. That went to Joaquin Niemann's Torque GC at 16 under while Gooch and his RangeGoats GC teammates were 12. DeChambeau's Crushers were third at seven under.
Even Gooch's victory was a statement that he has no plans to cool down or allow LIV's bigger names, Dustin Johnson, Cam Smith, DeChambeau and Koepka, to live up to their billing. A birdie-birdie finish gave Gooch his third LIV victory of the season after winning titles in Australia and Singapore. That trio of titles has the Oklahoma native poised to eventually clinch LIV's season-long individual points title, which Johnson took last year for an $18 million bonus prize.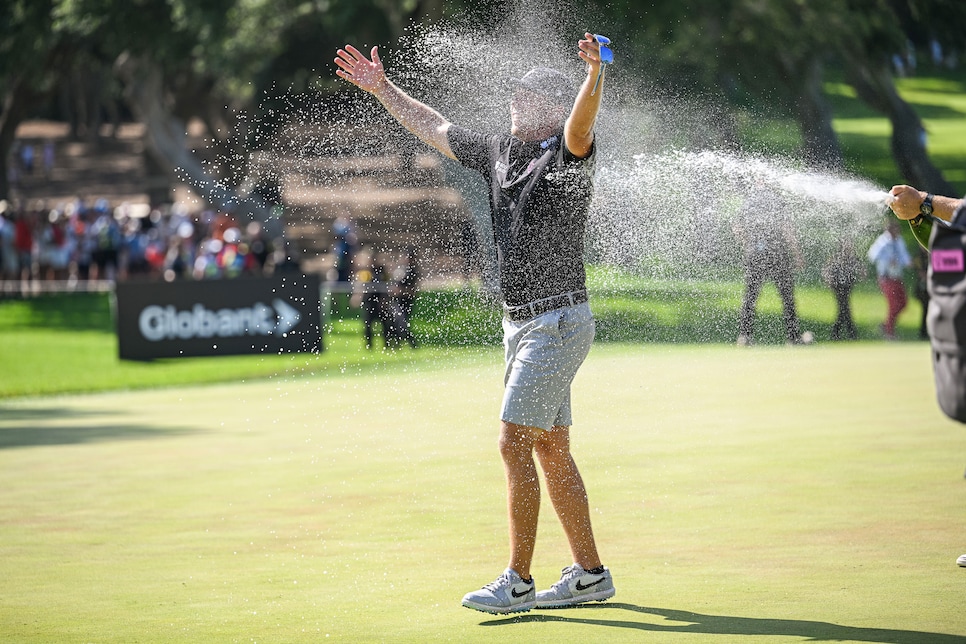 Gooch was so enamored with the picturesque Andalucia region around Valderrama, which also hosted the 1997 Ryder Cup and two WGC-American Express Championships, that he joked about buying a house there.
"On the second night, my wife and I [realized] we might need to get a place here and spend off-seasons here," he said.
Before that off-season arrives in November, Gooch is hoping his stellar play grabs the attention of U.S. Ryder Cup team captain Zach Johnson, who has not ruled out picking LIV golfers given a provision in the PGA of America guidelines allows them to remain members of the organization which runs the American team. Koepka winning a fifth major at the PGA Championship in May and a second-place finish at the Masters in June has him third on the automatic qualification standings. Gooch would need a wildcard.
"I've always dreamed of being on a Ryder Cup [team]," he said. "Before making the decision to come to LIV, Max Homa was one of my good buddies on PGA Tour. My wife and I did our honeymoon in Italy, and we did Rome, and he and his wife couldn't do their honeymoon in Italy, so we had always had the talk the last couple years of, 'well, we're just going to have to go team up there [instead].' It's out of my hands; one thing I can control is playing good golf. Hopefully things work out."
Said Koepka: "Yeah, he's playing good. I mean, laugh at it, but maybe a spot on the Ryder Cup? He's playing that good."