LIV Golf
Poulter, Mickelson offer different levels of bite when responding to Rory McIlroy's LIV pushback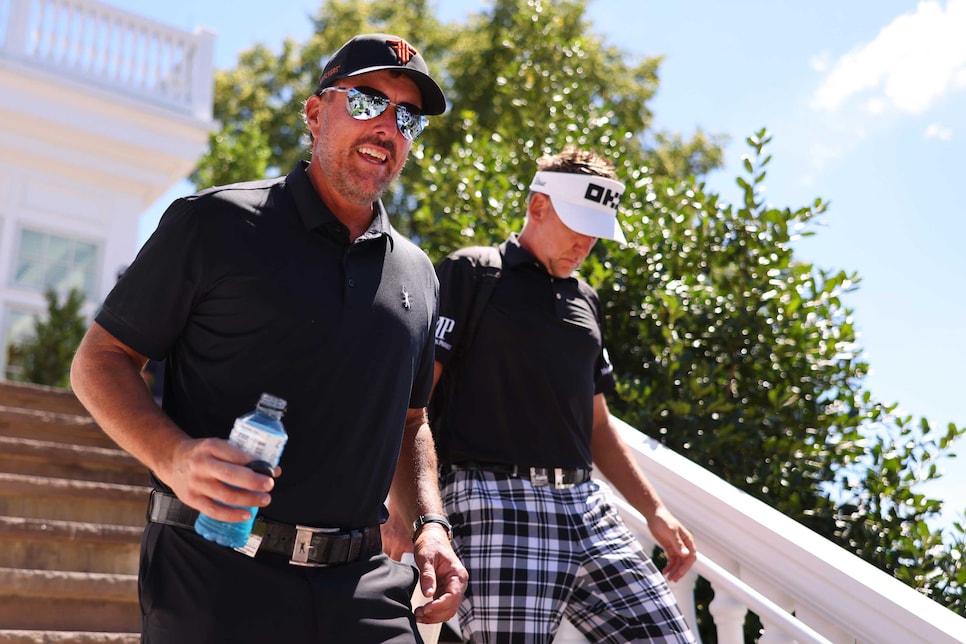 DORAL, Fla. — The atmosphere was mostly light-hearted as LIV Golf team captains and players gathered in a ballroom on Wednesday at Trump National Doral. The famed Miami-area club, owned by former President Donald Trump and once host of a regular PGA Tour stop won by the likes of Greg Norman, Tiger Woods and Phil Mickelson, holds the finale for LIV's inaugural 2022 season.
All 48 players were gathered, with jokes flying as the matchups for Friday's first day of the team competition were revealed. Among the more compelling showdowns will be Phil Mickelson taking on World No. 3 and Open Championship winner Cameron Smith.
"The way Phil hits his driver around here, I think he'll be dropping a few balls out there," Smith said, throwing shade at six-time major winner. Mickelson chose not to needle the Australian who won three PGA Tour events this year before joining LIV, then won LIV's Chicago stop last month. "I mean, the guy is the Champion Golfer of the Year; CGOTY," Mickelson said. "There's not much I can say. But I have won here [in 2009], just sayin'. Cam have you even played here at Doral?" Mickelson saved his sharp wit for a later exchange with Brooks Koepka.
But the mood shifted at times, taking a more serious tone when Mickelson and European stalwarts Ian Poulter, Henrik Stenson, Lee Westwood and Graeme McDowell were asked a string of tough questions on topics ranging from the Ryder Cup to Rory McIlroy to Mickelson's recent controversial comments about the PGA Tour.
Most questions centred around an interview that McIlroy, the new World No. 1 after winning the CJ Cup on Sunday, did with The Guardian, published Tuesday. McIlroy noted that "this 'us versus them' thing has gotten way out of control already," in relation to the war of words between the PGA Tour and LIV. McIlroy also said that with in the aftermath of his fellow European who joined LIV and perhaps jeopardized their Ryder Cup futures, it was "the first time in my life that I have felt betrayal, in a way ... I would like to think the Ryder Cup means as much to them as it does to me. Maybe it does."
Poulter, who has cultivated hero status for Europe during his seven Ryder Cup appearances, was asked to react to McIlroy's interview.
"Betrayal? We can still qualify for the team as far as I'm aware," Poulter said, referencing a U.K. arbitration court injunction allowing LIV players to currently compete in events on the DP World Tour, which controls the European Ryder Cup team, and still earn Ryder Cup points. "I'm still ready to play as much as I possibly can to try and make that team. My commitment to the Ryder Cup I think goes before me. I don't think that should ever come in question. I've always wanted to play Ryder Cups and I've played with as much passion as anyone else that I've ever seen play a Ryder Cup. So you know, I don't know where that comment really comes from to be honest."
Stenson, who was initially named captain for the 2023 European team that will play in Italy only to be stripped of the job after joining LIV, said he had not seen McIlroy's interview. Westwood and McDowell also said they had not read the remarks and preferred not to comment.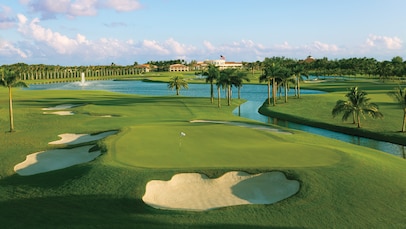 The linchpin of the famous four-course complex previously known as Doral Golf Resort, the Blue Monster had hosted a PGA Tour event annually from 1962 to 2016. The fearsome layout has been given added bite by Hanse and Wagner by creation of new slopes and ridges on several holes and the excavation of new lakes on par-3 15 and drivable par-4 16 to add more excitement to the finish. But they wisely left the legendary 18th nearly untouched. Why mess with history?
View Course
Then Mickelson was quizzed. The left-handed golf great made remarks at the LIV event in Saudi Arabia earlier this month that he saw the PGA Tour as "trending downwards" while he believed LIV, as a tour, was on the rise. At last week's CJ Cup in South Carolina, McIlroy was asked about Mickelson's claims, and the four-time major winner said, "I don't agree with what Phil said last week but I understand why he said it. I don't think anyone that takes a logical view of the game of golf can agree with what he said."
Mickelson chose not to address McIlroy directly when asked, instead heaping praise on the Northern Irishman's 23rd PGA Tour win at Congaree Golf Club. The 52-year-old Mickelson conceded his comments in Saudi Arabia were probably poorly delivered but he doubled down on the sentiment.
"Maybe I shouldn't have said stuff like that?" Mickelson said. "I don't know, but if I'm looking at LIV Golf, where we are today to where we were six or seven months ago, people were saying this is dead in the water … we're past that and here we are today. It's a force in the game that's not going away."
Mickelson then suggested any plans LIV might have to meet with PGA Tour executives and broker some sort of peace deal wouldn't be discussed until LIV's offseason. After the finale at Doral, LIV is not expected to start up its 2023 season until February.
"We'll have three months off after this to talk about things like that," he said.