News
How a few big names who don't like losing are making the PGA Tour Champions competitive again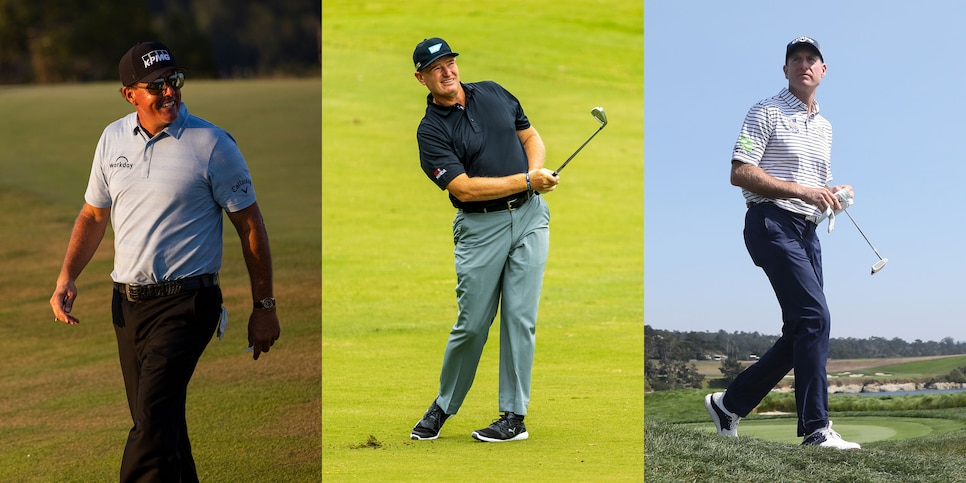 It was a remarkable final leader board. Four-time major champion and World Golf Hall of Fame member Ernie Els had slammed home a 40-foot putt on the 18th green to win the tournament. He had held off Colin Montgomerie, also a Hall-of-Famer, by one shot. Two shots behind Els in third place was yet another Hall-of-Famer, three-time major winner Vijay Singh.
There was more: Jim Furyk, a past U.S. Open champion and a sure-fire future Hall-of-Famer finished in a tie for eighth. Darren Clarke, David Toms and Mike Weir, all major winners, were also sprinkled among the leaders, not to mention 63-year-old Bernhard Langer, a two-time major champion, and another Hall-of-Famer, who had a rare off-day, shooting a two-over-par 74 to drop from a tie for fourth going into Sunday to a tie for 14th.
Welcome to the SAS Championship, which dramatically concluded Sunday afternoon at Prestonwood Country Club in Cary, N.C., a tony suburb of Raleigh.
All those names are now regulars on what is known these days as PGA Tour Champions, the tour's latest marketing attempt to convince golf fans that the old guys, the over-50 set, can still play.
Since it was launched in 1980, the senior circuit has always been about nostalgia and big names. It was started by then-PGA Tour commissioner Deane Beman largely to give Arnold Palmer a place to continue competing. Until then, the only significant senior event was the Senior PGA Championship, run by the PGA of America. Beman recast the age requirement in order to be considered a "senior" from 55 to 50 so that Palmer, who had turned 50 in September 1979 could compete in the tour's new events. At the same time, the USGA established the U.S. Senior Open, and a movement had begun.
Led by Palmer and, a few years later by Lee Trevino (who won 29 times) and Chi Chi Rodriguez (who had 22 victories), the tour was a success early on. The old guys seemed to be having more fun than the young guys—the "flat bellies" as Trevino called them—and they still had game. Jack Nicklaus was dragged kicking and screaming to play, but showed up enough to win 10 times, including eight senior majors.
Eventually, though, the novelty wore off, especially when Palmer and Nicklaus stopped playing and people began to notice that the low scores the seniors were shooting had a lot to do with playing shortened golf courses that frequently had member-guest-like pin positions.
Yet now, with a new batch of notable names turning the magic number, there appears to be an opportunity to make the 50-and-older tour matter again to more than friends and family.
The tour heads to Richmond this weekend to begin what is normally its season-ending three-week playoff run, but there are no playoffs this fall due to the pandemic. Like with the Korn Ferry Tour, officials are taking tournaments that did get played in 2020 and joining them with events in 2021 for one large wrap-around season.
Teeing it up on Friday is Phil Mickelson. It will be his second appearance among the 50-and-older set. The first came in August after Mickelson missed the cut outside Boston at the Northern Trust, leaving him 75th in the FedEx Cup standings and without a spot in the next week's BMW Championships.
Not a problem. Mickelson jumped on a plane and flew to Missouri to play in the Charles Schwab Series at Ozark National—his first foray into senior golf since he turned 50 in June. His first round produced a stunning 61 and he cruised from there, shooting 64-66 to finish at 191—a ridiculous 22 under par. He beat Tim Petrovic by four shots.
Though Mickelson isn't going to give up on playing regular tour events, he clearly is planning to play in PGA Tour Champions tournaments along the way since he's still long enough to dominate on the shorter senior golf courses in ways he can no longer dominate on the regular tour.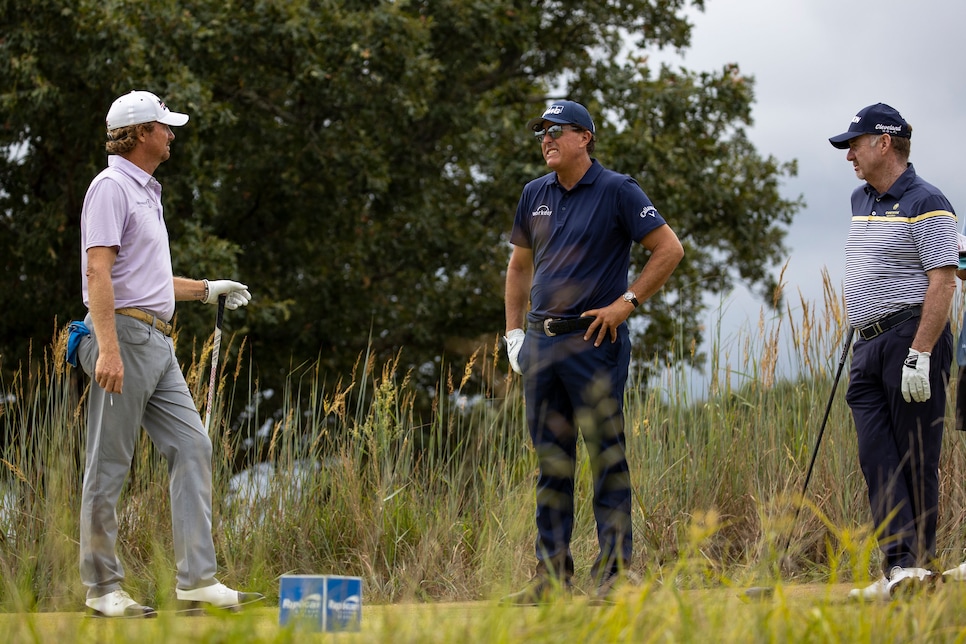 How much Mickelson will play on the PGA Tour Champions is still unclear, but he seemed to enjoy the camaraderie during his first start in August.
Brett Carlsen
Historically, that's what happens to top players. Nicklaus was the first to vow to continue playing against the best for as long as he believed he could compete. Even though he managed to finish T-6 at the Masters in 1998 at 58, competing clearly became more and more difficult. After turning 50, Nicklaus never finished in the top 20 in any major other than the Masters—a sixth in 1990 and the T-6 eight years later.
That's why he played a limited senior schedule—but did play. He won two senior majors in 1990.
Nicklaus was no different than any great competitor: He wanted to tee it up thinking he had a chance to win. The 50-and-older tour gives guys who can no longer consistently have a chance to win on the regular tour, the chance to do that. Davis Love III, who still plays PGA Tour events at 56, did win in Greensboro five years ago at 51. Now, Love admits he isn't long enough anymore to manhandle tour courses the way he did when he was younger.
Furyk wasn't sure a year ago how much he would play with the seniors when he turned 50—which he did this past May. "I think I'll see where I stand on the regular tour at the end of 2020 and then decide," he said.
COVID-19 canceled enough tournaments to make it tough for Furyk to make that decision. But he decided to tee it up at the Ally Championship at Warwick Hills (a former PGA Tour venue) and won. Then he went to Pebble Beach—a current PGA Tour venue—and won the Pure Insurance Championship. His T-8 at Prestonwood no doubt felt like a huge letdown.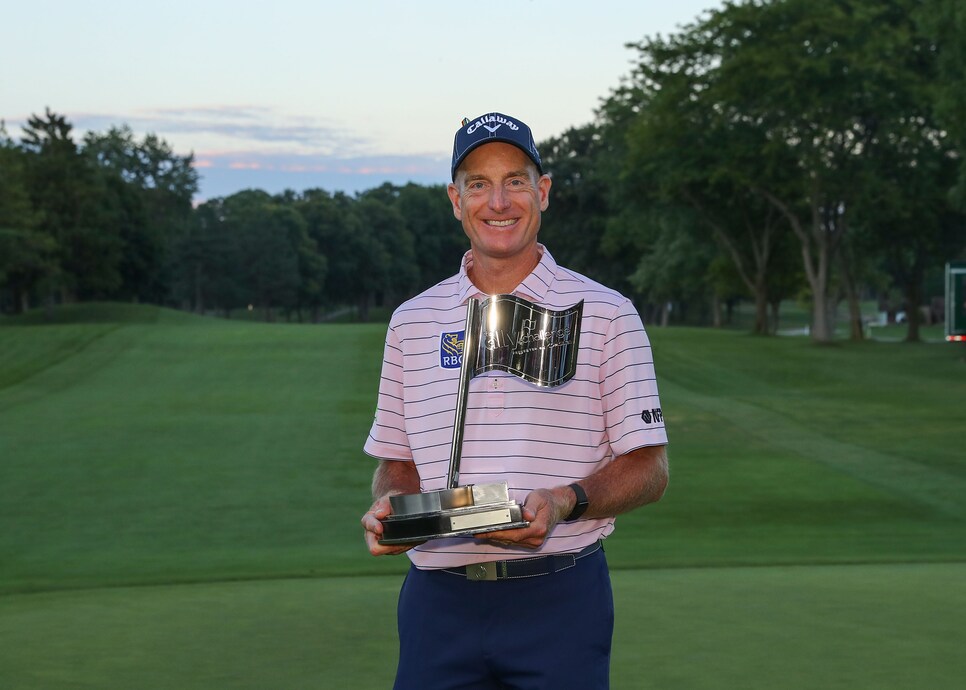 For the top players, the ones who can bring sponsorships to the tour and help TV ratings, money is not the main incentive. Els won $315,000 for his victory last week—exactly 25 percent of what Martin Laird made for winning in Las Vegas that same day. That's fairly typical. Of course, the old guys get to play in carts most weeks and most tournaments are 54 holes with no cut. Shooting in the 60s is fairly commonplace. Els' winning score of 12 under par was much higher than most weeks when the winner will often shoot close to 20 under par for three rounds.
Truth is what seems to be driving these players is the competition. Simply put, they love to compete, and they also enjoy being treated like stars at tournament sites. Unlike athletes in other sports, they can still bask in the glow of VIP treatment well past their peak playing days.
With Mickelson, Furyk, Els and Weir now on the senior tour and with Singh, a now-healthy Montgomerie and Love probably playing more often, there's a chance to get more people to take a serious look at what Billy Andrade, who has had a good deal of success since turning 50 six years ago, calls, "the fun tour."
A few tweaks might help. The tour should make the setups more difficult week-to-week. These guys can play. Challenge them to prove it more often. Get rid of one of the five majors. The senior majors are played in such-rapid fire manner in the spring and summer that it's difficult to know what is a major and what isn't a major. There should be four senior majors—The U.S. Open, the British Open, the PGA and the Players—the last if only to fulfill the tour's dream of making one version of the Players a major. A senior Masters, played a Pebble Beach or Shinnecock, would be better.
On Dec. 30, 2025, Tiger Woods will turn 50. Woods will no doubt want to compete in the real majors for as long as he can possibly compete. But don't bet against him not joining the "fun tour." He's a golfer. And golfers live to play golf.