News
Ernie Els gives the PGA Tour Champions rookie class a sixth victory in 11 starts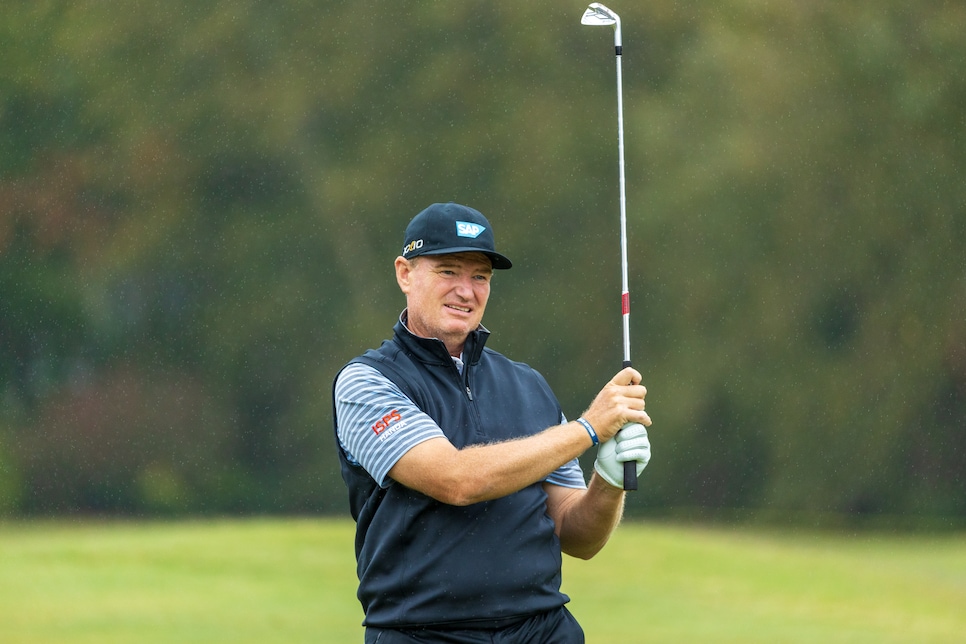 An acclaimed PGA Tour Champions rookie class virtually was certain to have an impact, but who could have foreseen it would be a dominant one?
Yet Ernie Els' victory in the SAS Championship on a rainy Sunday in Cary, N.C., was the sixth by newly-minted 50-year-olds in the 11 senior events played in 2020.
Els, who turned 50 last October, accounts for two of them, the latest by virtue of his holing a 40-foot birdie putt on the 18th hole of Prestonwood Country Club, to defeat another Hall of Famer Colin Montgomerie by a stroke.
Jim Furyk, who turned 50 in May, also has two senior wins in three starts. Phil Mickelson, who turned 50 in June, is one for one, and an unheralded senior rookie Shane Bertsch, who turned 50 in March, has won once in six starts.
A winning percentage better than 50 was not a consideration at the outset of 2020. Of the three stalwarts, Els was the only one committed to playing a full schedule. Furyk was going to play some, but was undecided on how much and it was dependent on how well he was playing on the PGA Tour. And Mickelson, he gave the impression he might not play at all.
Els began the final round in ninth place and trailing leaders Darren Clarke, Woody Austin and Montgomerie by three strokes. Els concluded he needed a 64 to have a chance to win, but then the elements interceded and he closed with a six-under par 66 and a 54-hole total of 12-under 204, good enough beat Montgomerie by one.
"I had 64 in mind," Els said. "There were so many guys bunched, but then the conditions helped out. It became really tough. Sixty-six was just squeaking in there."
Credit goes a putting tip he received from long-time friend Mark O'Meara earlier in the week.
"By chance I saw him on the putting green the other day," he said. "We started chatting a little bit. He was using the same putter that I use. Started talking a little bit. I said, 'have a little look here.' I didn't have a great experience at Pebble [Beach, the PURE Insurance Championship] obviously a couple of weeks ago. He looked at me. He's a great putter. Knowing a man that long, he gave me a nice assist telling me what I felt I should do."
The rookies likely aren't through winning yet. Mickelson has committed to play the Dominion Energy Charity Classic, his second senior start, this week. Els and Furyk also are entered.