It has taken a lot—even more than going wire-to-wire at the Omega Dubai Desert Classic for his 12th career European Tour victory—but I'm finally back to believing that Sergio Garcia will someday win a major championship.
I've been in the "never will" camp for about a decade, a subscriber to a litany of criticisms that start with the mechanical (can't putt) but quickly escalate to the personal (immature, excuse-making, sulking, lacking heart). They all added up to the feeling that Garcia couldn't make the big shot, would make the mistake, would somehow manage to do just enough to come up short.
Of course, Garcia, now 37, with 12 top-five finishes in 73 career majors (including three seconds), is the kind of talent who never stops getting punished for not fulfilling huge early expectations. Having seen how good he was as a teenager (he won the Irish Open at 19), not being able to handle Sunday Grand Slam heat seemed like a sin against nature that required appropriate outrage. Worse, the Spaniard in the past several years seemed to be getting more fragile under pressure.
Garcia first showed his brittleness at the 2002 U.S. Open at Bethpage, where he fought a case of compulsive re-gripping before ultimately getting a final-twosome tutorial in mental strength from his nemesis, Tiger Woods.
"I love playing golf. Just the possibility of doing it year in, year out for a living, it's something that is magnificent to start with. The hunger is still there." —Sergio Garcia
More close calls and failures ensued, until Garcia went darkly fatalistic after losing the 2007 Open Championship in a playoff to Padraig Harrington. "I'm playing a lot of guys out there, more than the field," he whined, seeming to suggest he was being singled out by the golf gods. The woe-is-me got worse in 2008, when after seeming to achieve a breakthrough by winning the Players Championship, he was again nipped at the wire by Harrington in a mano-a-mano clash during the PGA Championship at Oakland Hills.
After a bad weekend at the 2012 Masters, Garcia melted down, telling the Spanish media, "I'm not good enough. ... I don't have the thing I need to have." Asked what he was missing, he said "everything," adding that "I need to play for second or third place." Did he mean merely at the Masters? His reply was chilling: "In any major."
Garcia would win later that year at the Wyndham Championship, but it didn't put him on a new path. For the next three years on the PGA Tour, Garcia was almost certain to play poorly with the lead on the final day, shooting over par from that position five consecutive times. Last February at Riviera, Garcia came to the 17th hole with the lead, only to snap hook his last two tee shots to lose. The next week at the Honda Classic, he was locked in battle with Adam Scott until two poor 8-irons led to killing bogeys.
"Let's face it," said Johnny Miller. "The pressure got to Sergio." By this time, it was as if the golf public was embodied by George C. Scott's Bert Gordon character in "The Hustler," who tells Minnesota Fats in his match with Fast Eddie Felson, "Stay with this kid. He's a loser."
But since then, to his great credit, Garcia has indeed shown heart. He finally came through to get his ninth PGA Tour victory last May at the AT&T Byron Nelson, defeating Brooks Koepka in a playoff. Quietly, Garcia followed with two top-fives in majors (at Oakmont and Troon), the first time he had done so since 2006.
At the Ryder Cup, which has often provided a sanctuary for Garcia, he engaged with Phil Mickelson in one of the all-time singles matches. The two produced 19 birdies between them, and the match was a gritty affair all about pride, Team USA's inevitable victory beside the point. When Mickelson holed a 15-footer on the 18th hole, the nine-footer that Garcia needed to salvage a halve was just the kind of putt in a big spot it seemed he'd always missed. This time, he made it.
Garcia seemed rejuvenated in Dubai, his first event of 2017, and he put on a clinic of controlled power golf. He looked solid, capable and calm, playing within himself and making only one bogey in 72 holes at Emirates Golf Club. Employing the claw grip, his putting stroke looked smooth rather than jumpy. He took a three-stroke lead into the final day and faced down Henrik Stenson. When the Swede, after two straight birdies cut Garcia's lead to two, hit over the green on the par-3 15th, Garcia stiffed a perfect 6-iron to close the door.
Suddenly, even after 26 official worldwide victories, it was as if El Niño had finally learned the right way to win. And it was the reminder of a couple of truths. It's prodigies who take the longest to grow up and mature. And, it's a long journey in golf. It's why I'm still not ready to write off Tiger Woods. And it's why we might still see the best of El Niño.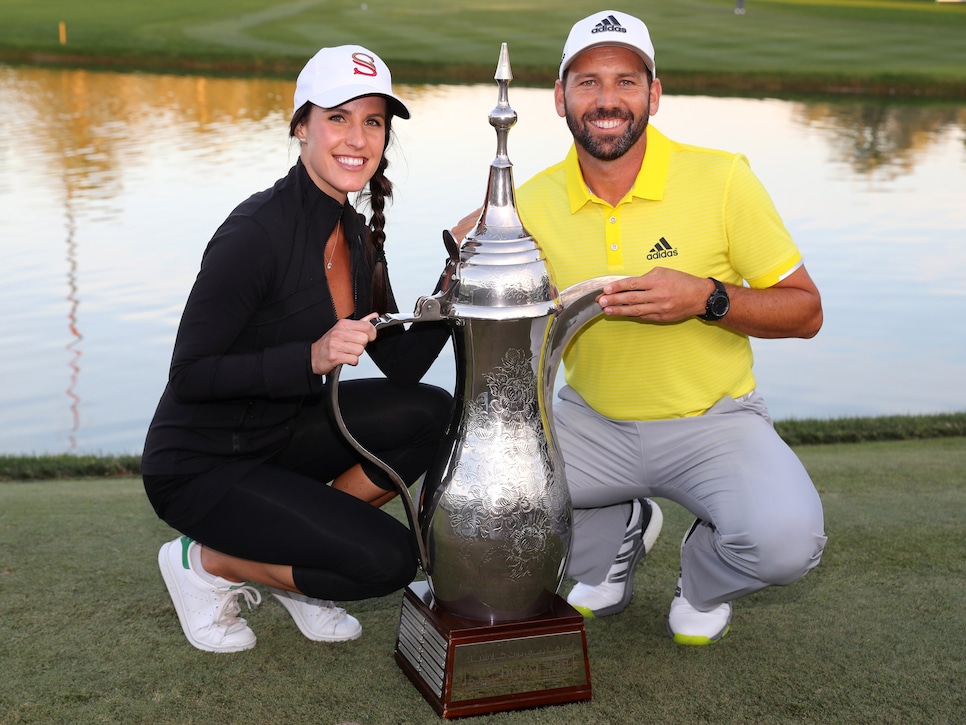 Long popular among his playing peers, Garcia has also grown more personable with the world at large. A key might be his impending marriage to Angela Akins, a former University of Texas golfer (above). When Woods signed with TaylorMade, Garcia took the high road, putting aside their longtime differences to welcome him to the playing staff. Garcia even responded in the lighthearted affirmative to an Englishman who begged his favorite golfer—through more than 200 Twitter requests over several months—to let him caddie for him in a tournament. Garcia has agreed to let Mark K. Johnson carry his bag during the pro-am of the British Masters in September.
The cumulative effect is that Garcia is freer than ever to take full advantage of his greatest strength: ball-striking. Among insiders, Garcia is renowned for the way he can compress a golf ball, especially with his irons. It's a product of the extraordinary lag Garcia achieves on his downswing, a move that was criticized as too extreme, especially as he failed to fulfill his early promise. But with time, Garcia has become a model for the wisdom of staying with a natural swing over chasing textbook perfection.
Renowned instructor Pete Cowen, who has worked with Garcia, recently told Golf Digest's Guy Yocom, "Sergio lays the shaft down on the downswing far more than anyone, myself included, would recommend. But the way he delivers the club into the ball through the movement of his shoulders is fantastic. Billy Foster, who has caddied for Lee Westwood, Darren Clarke, Seve Ballesteros, Sergio and even Tiger, will tell you that Sergio is the best striker of the lot."
Garcia led in greens in regulation in Dubai, was second in driving accuracy and third in driving distance. "I've been fortunate to have some really good ball-striking tournaments," he said. "This definitely was one of them."
Here's the question going forward: Is Garcia poised for something special in 2017? At Dubai, he sounded like it.
"I love playing golf," said the former sulker. "Just the possibility of doing it year in, year out for a living, it's something that is magnificent to start with. The hunger is still there."
So, it would seem, are necessary portions of experience, urgency and perspective. "I'm excited to keep improving, keep giving myself chances at winning tournaments, winning majors," he said. "Sometimes you feel a bit more comfortable, you're a little bit more relaxed, and you're a little bit freer, and you play better. And sometimes you're a little bit tighter. And it doesn't mean that you're not trying as hard, but it's just not that easy. You know, golf is tough. Golf is really tough."
The road is smoother, Garcia has learned, with as little baggage as possible. "I mean, it's simple," he said. "When I get to Augusta, U.S. Open, the British Open, PGA, I just want to do the best I can. Just like I try any other week."
Easier said than done. But if Garcia can try the way he did at Dubai, he's finally going to win one.