Apparel
How Collin Morikawa used percussive massage to prepare for the return to golf
We caught up with Morikawa to hear about his new partnership with Theragun, and how he uses the devices to improve his game
A few weeks into the PGA Tour's hiatus a few months back, Collin Morikawa began to feel some tightness in his hips. He'd been keeping up on his fitness and golf regimens, but admits—like most—he found himself on the couch more than usual. Having used it sparingly in the college, the 23-year-old turned to a technique called percussive massage that's been gaining popularity with both professional athletes and weekend warriors. Morikawa has now formed a partnership with the recently rebranded company, Therabody, maker of the Theragun. The devices are like a power drill of sorts that allow the user to target specific areas of the body with repetitive massage to relieve tension, increase blood flow and activate muscles.

We caught up with Morikawa to hear more about how the device helped him stay in shape in the unexpected off-season.

RELATED: The Best Fitness Equipment for Golfers
*All products featured on Golf Digest are independently selected by our editors. However, when you buy something through our retail links, we may earn an affiliate commission.*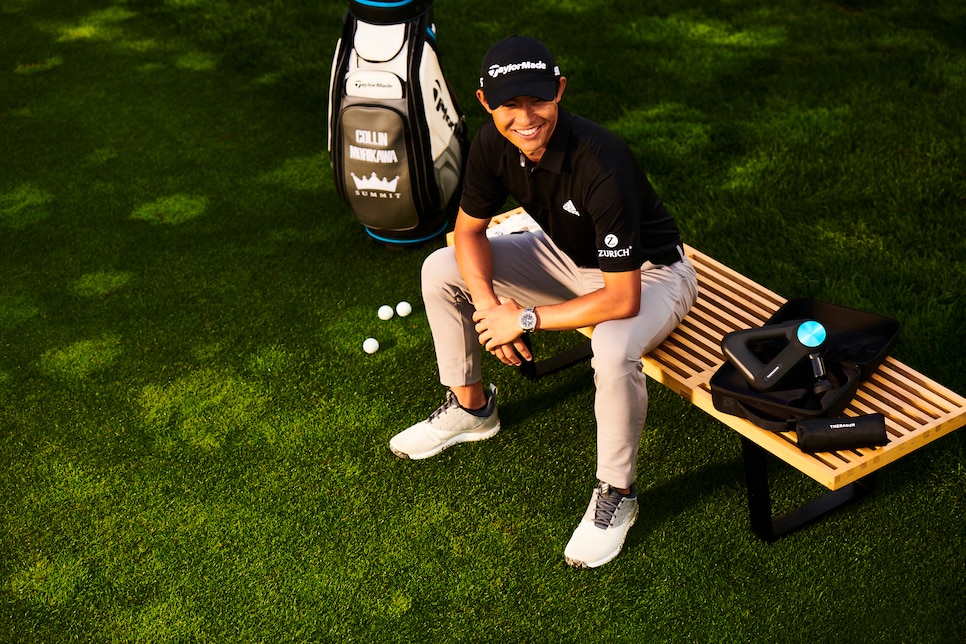 Q: How did you first get introduced to percussive massage?
Collin Morikawa: I was introduced to it about four years ago when I was a sophomore in college [at University of California, Berkeley]. The Theragun was a product our team had and along with a few other products we'd bring it on the road when we traveled. When I first started using it, I thought it was great, but my body felt fine, so I didn't use it too often. Then by junior year of college, I tweaked my back and that's when I really started taking the Theragun seriously. I pretty much used it every day throughout the rest of college. When I turned pro last summer, I didn't have any tools with me and started feeling little tweaks in my back and started to try to figure out what the difference in my routine was, and it hit me that I needed a Theragun. I've been with the Theragun team ever since and it's been amazing.
Q: What muscles/areas are you focusing on when you use it?
It's amazing how many places you can really use it on, almost any part of the body. I've noticed when I put it on my forearms, it's game changing. I don't realize how tight my arms get sometimes. It's also great for the neck, shoulders, back, hamstrings and glutes—working those areas are crucial for me and I make sure to incorporate each into my routine.
Q: How did your routine change during the break, and how did you keep your body ready to return to tournament play?
I knew I couldn't just show up at the first event and hope my body felt okay. It has to be a process of getting your body ready, and I had to make sure I was really dialing into the spots that needed attention after the break. I was training all along like I would be going to tournaments, waking up and doing stretches for my hips or my back, or whatever I needed to do. There is a smaller device called the Theragun Mini that I bring to the course and implement into my routine before and after the round—I even use it mid-round sometimes.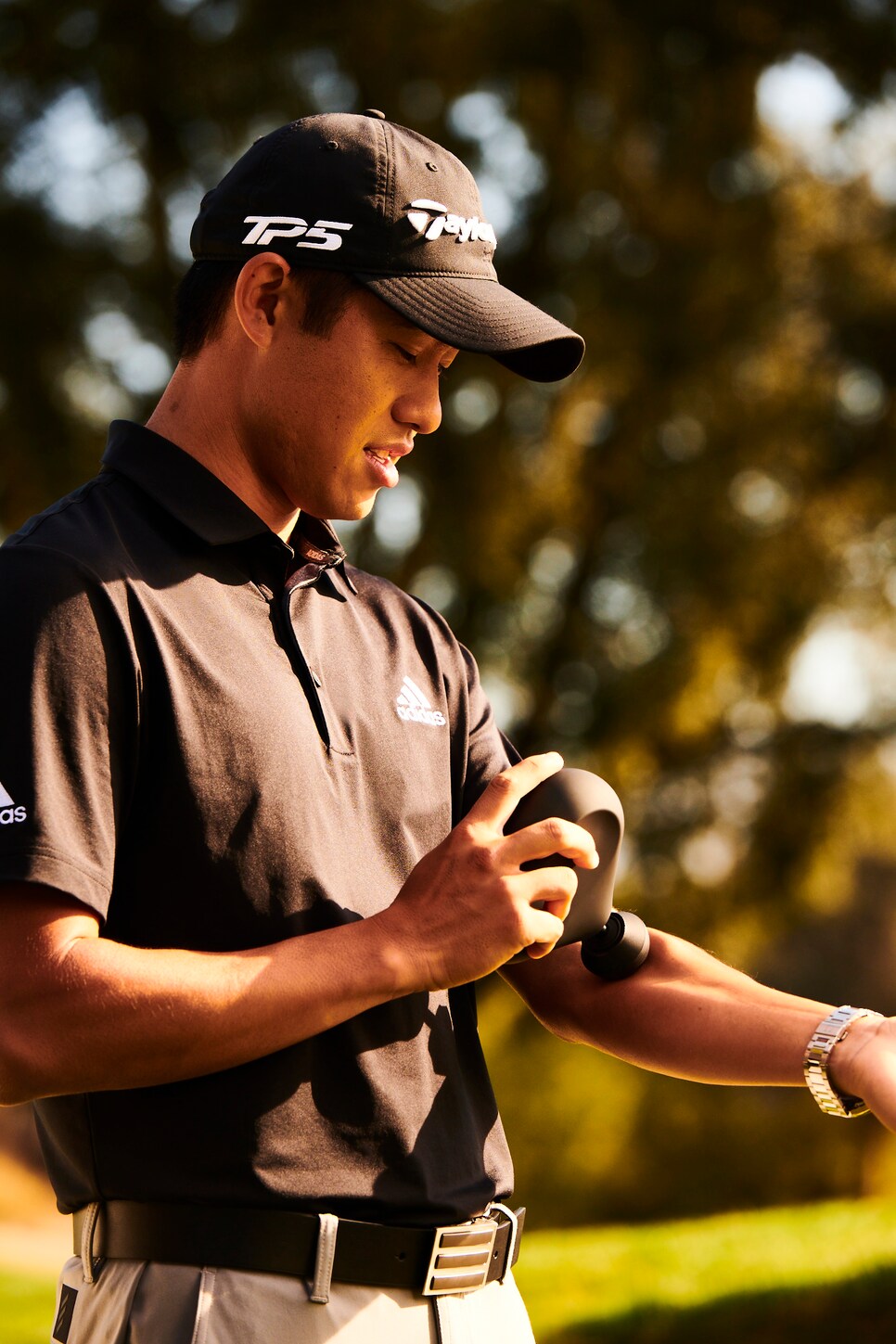 Q: Any surprising areas you've found beneficial to target with percussive massage therapy lately?
I use the cone head attachment to focus in on my hip flexors too. My hips have tightened up recently, especially when I was sitting on the couch for those two and a half months during quarantine.
Q: Why are warming up the hip flexors important for golf?
It's really just to activate the muscle and by doing that, it allows you to step on the first tee and be ready to play. So many players go out to the first tee and even if they warmed up for maybe 20 to 45 minutes, their body still isn't active or ready to go out there and play. Percussive massage activates the muscles so that your body is going to feel a lot better and you know you're going to be in the right state starting at the first hole.
Q: What does your warm up look like on the road?
In the hotel room, before any golf, I'm spending about 45 minutes stretching, foam rolling and waking up my muscles. I also like to have my Theragun with me in the locker room, and I'll use it a little bit maybe for 5-10 minutes after I eat breakfast. Then I warm up for a little over an hour of just pure golf. So a lot happens before the round right from when I wake up, and then after I'm spending another hour doing cooling down and making sure my muscles recover for the next round.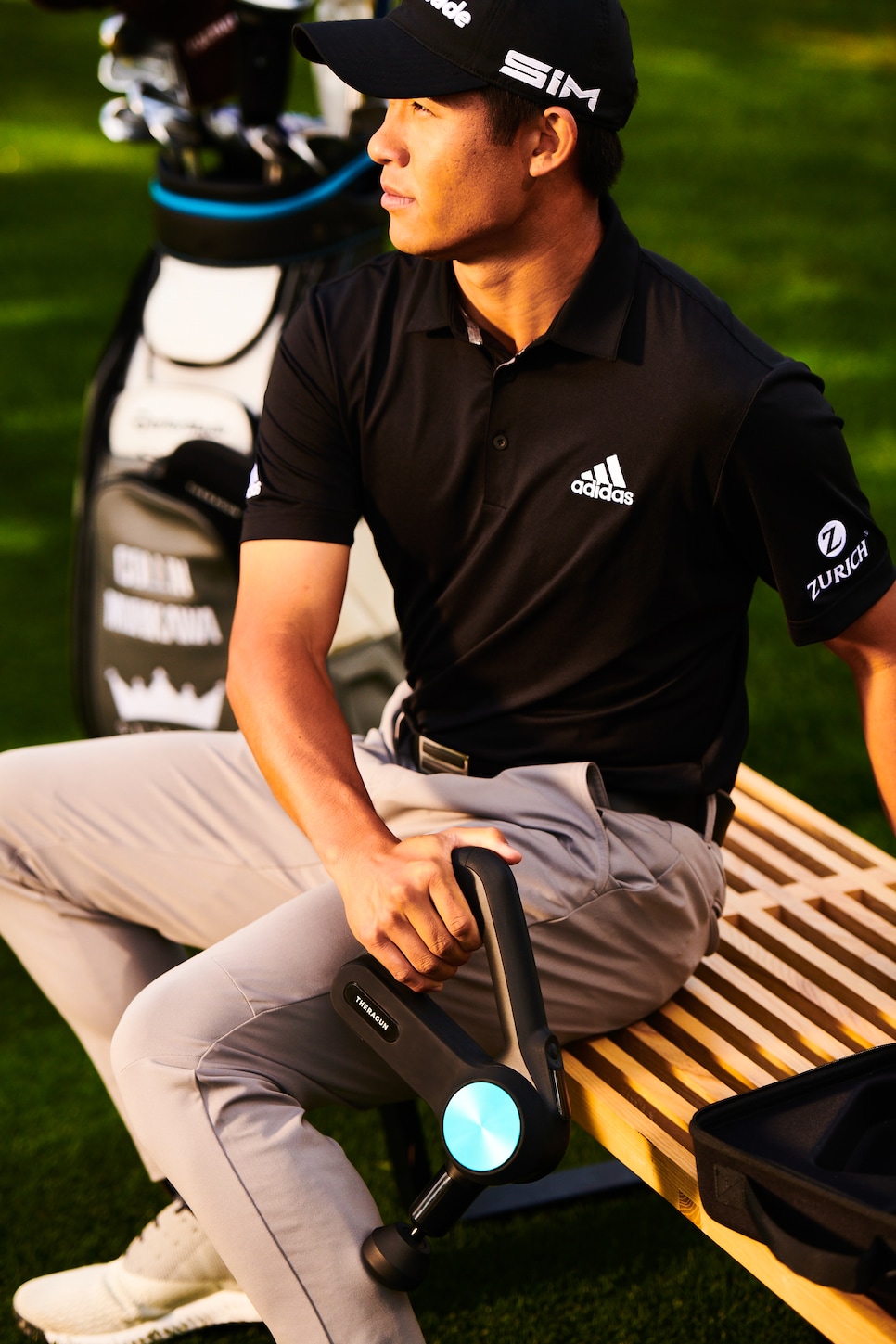 Q: In addition to the areas you've mentioned, any other areas of the body you'd suggest golfers should focus on during the warm up or cool down?
I've found it beneficial to use it on the chest, which is not something I originally thought of but can really make a difference. The chest gets tight—especially from sitting or while traveling. I've been able to open up my chest and shoulders just by using the Theragun around that area. There are so many body parts that you think are just not meant to be massaged out or need some therapy on, I've even used it on my hands—which I think it feels amazing. I never would have thought I would need it in my hand but using it around my hands or on the palm, you just feel better after.