I Heart New York
The Houston Astros were back in New York for the first time since the sign-stealing scandal and Yankees fans let them have it
Short of the Los Angeles Dodgers—who have since won an asterisk World Series of their own—no team remains more butthurt about the Houston Astros sign-stealing scandal than the New York Yankees. The Yankees lost two ALCS to the Astros in a three-year span, including in 2017, widely believed to be the "big" sign-stealing year, and the already-fragile psyche of the Bronx Bomber fanbase never fully recovered. On Tuesday night, however, they finally got an opportunity for some closure, as the Houston Astros headed to Yankee Stadium for the first time since the scandal exploded during the 2019-20 offseason, and needless to say, they did not let it go to waste.
Things started off, unsurprisingly, with a grown man dressed in a full Oscar the Grouch costume under the pretense of banging a trash can (whatever helps you sleep at night, buddy) . . .
. . . and only descended from there, as Alex Bregman hit an above-board first-inning homer to really sour the mood.
That warmed up the pipes out in the bleachers just in time for the "F—k Altuve" chants, who in addition to a World Series championship, also won the 2017 MVP over Aaron Judge.
This young woman decided to leave Altuve out of it entirely, opting for a simple "you!" instead. You have to love the brevity.
There were a few last-minute signs you couldn't read with the Hubble telescope standing three feet away . . .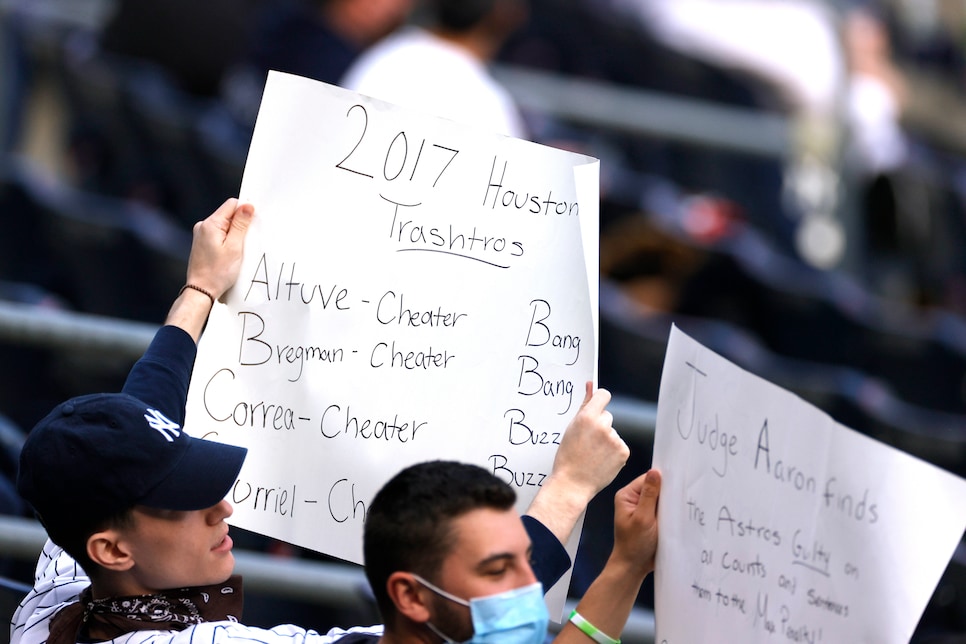 . . . plus some more Oscar the Grouch tomfoolery . . .
. . . which, of course, eventually led to the confiscation of the fake trash cans clogging the concourse.
Much to the delight of the Yanks faithful, however, the Pinstripes ran out 7-3 winners, improving their record to an MLB-best 10-4 over the last 14 games. All in all, just another Tuesday night in the Bronx.