The Loop
High-roller gambler wins $300,000 on huge parlay, could've won WAY more if it wasn't for a meaningless two-point conversion
With sports betting legalized and a number of states with open sportsbooks for football season, we've seen more stories of crazy bets—both won and lost—than most football seasons. Gamblers are suckers for the possibility of a huge payout of a parlay, though the likelihood of hitting one of these bets is really slim. Don't tell that to one bettor in New Jersey.
An obvious high-roller placed insane amount of money on two parlays last weekend at FanDuel's Meadowlands sportsbook. And the bets paid off. Two parlay bets totaling $2,000—one eight-teamer and one 10-teamer—on mostly college football, with a little NBA mixed in, netted this guy a little less than $300,000 in winnings. A 90-1 hit and a 233-1 hit on the same weekend? Some of the most incredible long-shot victories you'll hear about.
The scary thing? He could've won way more, too. Here are his bets:
Amazingly, just one of those bets didn't win, and it was a push—which means the spread hit exactly on the number, resulting in a tie. Notre Dame defeated Navy by 22 points, right on the number of this bettor's spread, and to be honest, that push should've been a win. With Navy trailing by 23 in the fourth quarter, the Midshipmen scored a touchdown and went for a two-point conversion instead of kicking the extra point, making it a more manageable two-score game instead of trailing by 16. Navy converted, making its deficit 15 points, before Notre Dame punched in a touchdown later in the fourth quarter to put the margin at 22 points.
So, if Navy had either kicked the extra point, or failed the two-point conversion, Notre Dame would've covered the 22-point spread—meaning this guy's payout would've been even more huge. How big? He would've taken home more than $500,000, as Notre Dame appeared in both of his bets.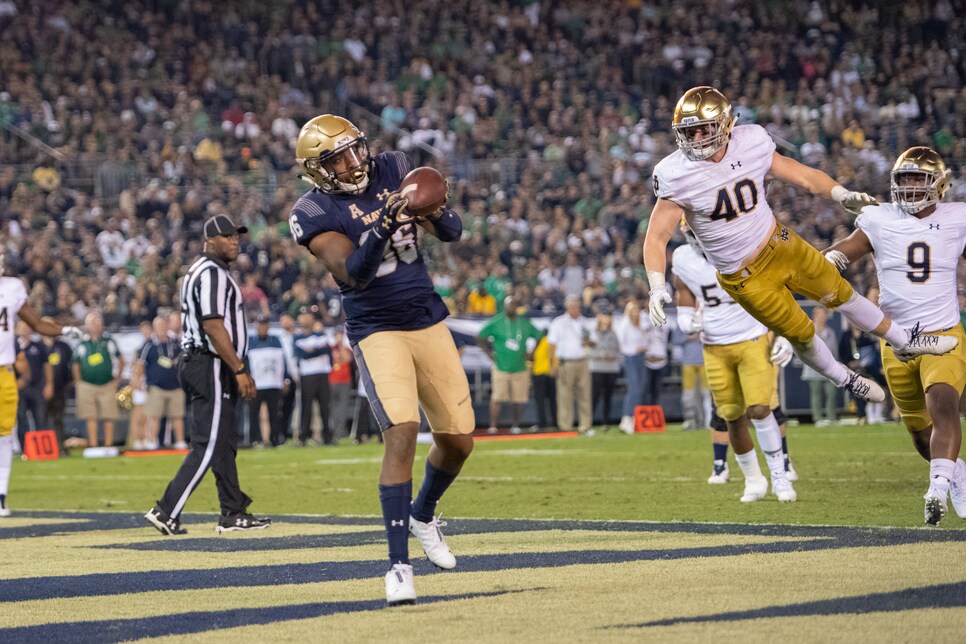 (Photo by Justin Fine/Icon Sportswire via Getty Images)
Still, an amazing hit by this guy.