The Grind
Hideki Matsuyama's one-in-a-thousand shot, an NFL star's sneaky Tiger Woods tribute and a tour pro finds a caddie—and possibly, love—through Instagram DMs
Welcome to another edition of The Grind where as New York Giants fans these days we can at least take solace in the Dallas Cowboys losing. In absolutely crushing—and hilarious—fashion. But as Tiger Woods fans, turns out, there was another reason to root for the 49ers.
Well played, Deebo. It seems Sunday (victory) red transcends golf. Anyway, there's a lot of golf stuff to talk about so it's a good thing we have plenty of time. You know, unlike the Cowboys on that final possession. Woo!
Hideki Matsuyama: He may have won the Masters last April, but the Japanese star is currently playing the best golf of his life. With a final-round 63 at Waialae, Matsuyama has now shot 13 consecutive rounds in the 60s. And after going 93 starts without a W, Matsuyama's win at the Sony Open gives him three victories in the last 18 times he's teed it up. Oh, yeah, we have to talk about that 3-wood he hit on the first hole of sudden death to set up the winning eagle:
Just majestic. As far as winning shots go, good luck to anyone topping that this year. In fact, statistician Lou Stagner showed just how good Hideki's heroic effort was:
I'm not great at math, but one in a thousand sounds pretty darn special. And to pull that off with the tournament on the line?
Netflix's PGA Tour show: We've heard rumblings about the PGA Tour getting the same treatment F1 Racing got from Netflix, but it's officially happening now. And the fact Netflix got all the majors on board as well as these golfers has us even more excited:
Of course, two big names (not including Tiger because he's still sidelined) missing are Phil Mickelson and Bryson DeChambeau. But this should be some high quality content even without these two Content Kings. Oh, and we're selling Bryson's "I want to let other guys shine" reason for not participating. That's about as believable as the Giants winning the Super Bowl next year.
Jediah Morgan: What a week it was for this 22-year-old Aussie who won the Australian PGA by 11(!) shots and broke the 94-year-old tournament's scoring record by shooting 22 under. And it was just his fourth start as a pro. "I wanted to just make the cut this week," Morgan said after. "I know that's a low kind of shot to shoot at, but it was all reality." Well, keep shooting low then, Jediah.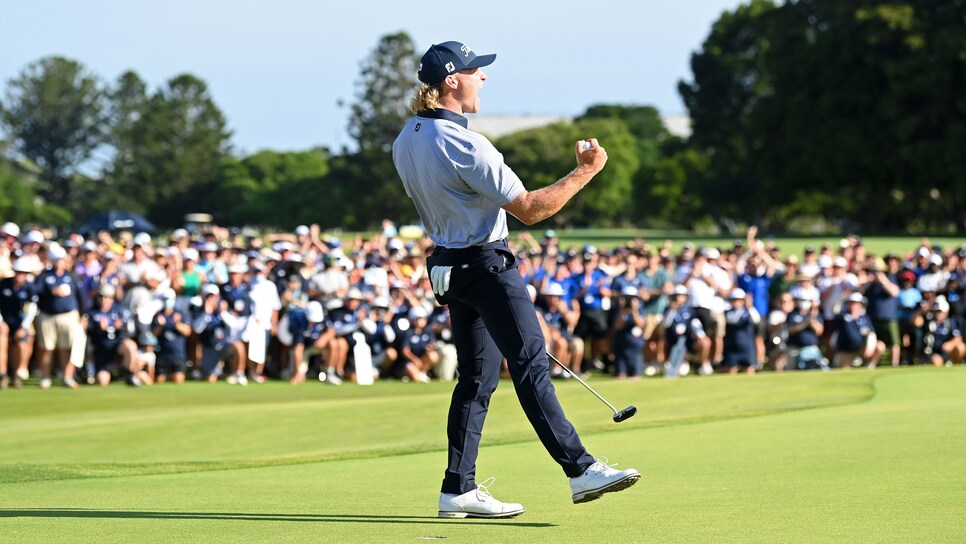 Also, between him and Cameron Smith, what's up with mullets in Australia? Not that I should talk. When I returned from the barber last week my wife said, "Did you go, 'Yo, mess my sh–- up?'" Yeah, it's that bad. Maybe I should just ask for a mullet next time.
Russell Henley's closing ability: This is a tough one. After all, Henley shot a Sunday 65 and still only lost on Matsuyama's majestic 3-wood dagger in the playoff. But the fact of the matter is he's now 1 for 6 when it comes to converting 54-hole leads/co-leads into wins on the PGA Tour. And that 65 included a one-over 36 on the back nine at Waialae, where he blew a five-shot lead to Matsuyama. On the bright side, his Georgia Bulldogs beat Alabama for the first football national title of his lifetime, so it was still a solid week.
Kyle Berkshire's pro debut: To be fair, it had been nearly six years since the reigning World Long Drive champion had teed it up in an actual golf tournament. And this was his first attempt as a pro. That being said, the dude plays golf every day and he has PGA Tour aspirations—something to which we even dedicated an entire Local Knowledge podcast episode! So a 76 and a T-43 in a Florida mini-tour event wasn't what we were hoping for.
But again, it's just a start in pro golf for the 25-year-old. And we like seeing Kyle hitting iron off the tee. Heck, we just like seeing him playing golf. Let's hope he keeps working at it.
Stake-related injuries: The details are still unclear, but Damien Jordan withdrew from the Australian PGA due to "heavy bleeding" after slicing his hand open on a stake. Yep, a stake.
A couple weeks ago, we were worried about giant crabs on the course in Australia. But apparently, the course stakes over there are pretty dangerous as well. Good to know if I ever make a trip Down Under.
The PGA Tour heads to the mainland for The American Express, AKA that one that has been called a million other things and is played in Palm Springs every year. The LPGA, meanwhile, kicks off its season with a winners-only event, the Hilton Grand Vacations Tournament of Champions, which also doubles as a celebrity event. In that Mardy Fish has won three times in five years. And he finished second and third those other two years. Yeah, he's good. Also good? The Netflix documentary on him. Which, again, has us even more excited about Netflix's upcoming PGA Tour series.
Random tournament fact: Arnold Palmer won this PGA Tour stop five times, three more than anyone else. In other words, The King was also The Desert Golf King.
RANDOM PROP BETS OF THE WEEK
—Kyle Berkshire will win a PGA Tour event this year: 1 MILLION-to-1 odds
—Jon Rahm will win The American Express this week: 5-to-1 odds (Actual odds!)
—Harry Higgs will steal some scenes in the Netflix series: LOCK
Sadly, I can confirm this is true. And if we're being honest, it's at least a triple chin at this point.
Joel Dahmen continued to make fans among average golfers by having his caddie, Geno Bonnalie, hit up a hot dog stand before his first-round tee time:
Unfortunately, Joel played more like an average golfer after that in missing the cut.
VIRAL VIDEO OF THE WEEK (NEAR-DEATH DIVISION)
Check out this scary scene that you'd expect to see at a cramped muni:
Wow, that was close. And where was the "FORE!"? We might need the "FORE!" Police to investigate. Anyway, thankfully, Talor wasn't harmed.
VIRAL VIDEO OF THE WEEK (NON-TOUR PRO DIVISION)
Good stuff. As our Coleman Bentley said on Slack, "You drive for show, you putt for Pappy."
THIS WEEK IN PUBLIC DISPLAYS OF AFFECTION
Akshay Bhatia's caddie situation to start his season on the Korn Ferry Tour is, well, interesting …
Good for you, young man. And we hope these two lovebirds are still talking after their first tournament working together.
THIS WEEK IN PUBLIC DISPLAYS OF AFFECTION ANIMOSITY
Hideki Matsuyama hit the shot of the week, but the shot heard round Golf Twitter was delivered by Kevin Na after Grayson Murray took a crack at him.
Boom! Na told GOLF's Subpar podcast that a bunch of golfers reached out to him congratulating him on the dig, including known Twitter sniper Brooks Koepka. That's an impressive compliment. We know who the early PIP leader deserves to be.
"I had a great time. Got sunburned. It was hot. But still very happy." —Hideki Matsuyama. Pros are just like us, am I right? Well, other than that godly 3-wood, of course.
The Latin America Amateur Championship is back this week after being canceled in 2021 due to COVID. And to the victor, goes those coveted Masters and Open Championship invites. … Speaking of coveted invites, Aaron Beverly got the 2022 Charlie Sifford exemption for the Genesis Invitational from Tiger Woods. That must be a pretty darn cool call to receive, huh? … At the Sony, Hideki Matsuyama led the field in strokes gained/putting for the first time in his career. That is definitely NOT a good sign for the rest of the PGA Tour. … And finally, as a child of the '90s, when my Giants, Yankees and Knicks were good, I absolutely can't wait to read this new book from Chris Herring: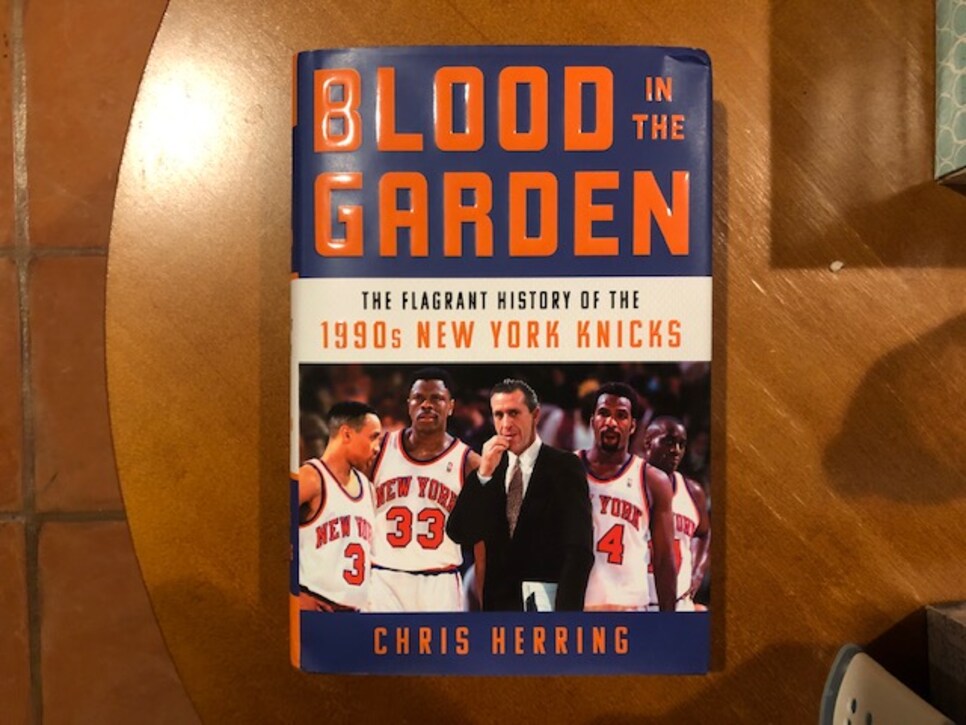 STARKS! OAK! Loved those guys. Just seeing that cover photo makes me want to run through a brick wall.
RANDOM QUESTIONS TO PONDER
Will the Knicks win a championship in my lifetime?
Will the Cowboys win another championship in my lifetime?
What the heck was Mike McCarthy thinking?