Australian PGA
This newly minted pro's reaction to winning historic home event by 11 shots was truly unexpected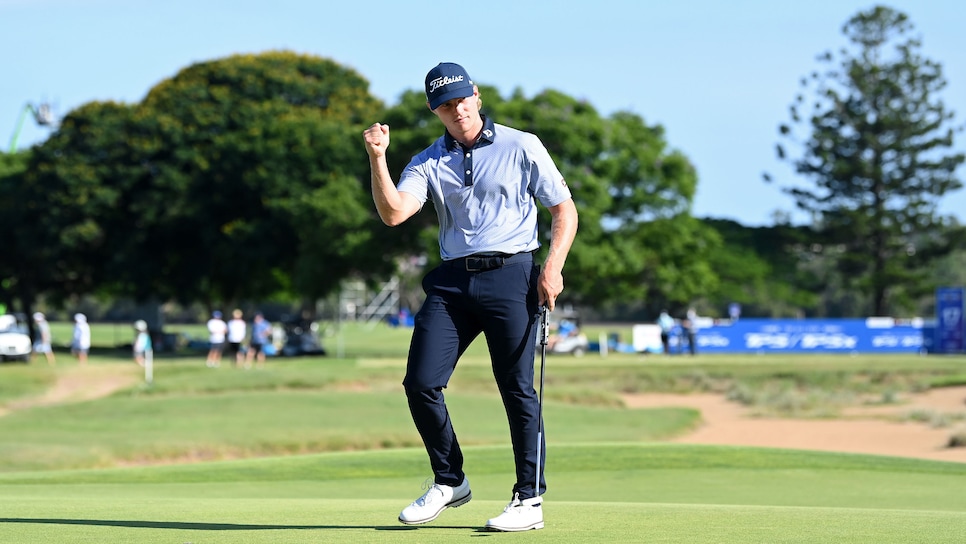 Jediah Morgan, 22, broke the Australian PGA Championship records for 72-hole scoring, largest margin of victory and youngest champion on Sunday at Royal Queensland Golf Club.
Bradley Kanaris
Jediah Morgan knows life as a pro golfer isn't going to be as easy as he made it look this past week at the Australian PGA Championship. But he's also taking a minute to enjoy what turned out to be a dominant win.
The 22-year-old Brisbane, Australia, native started the final round at Royal Queensland Golf Club with a nine-shot lead, before shooting a closing 69 to take the title by 11 shots over runner-up Andrew Dodt. In the process, Morgan broke the 94-year-old event's 72-hole scoring record by four with his 22-under 262 (the mark previously set by Nick O'Hern and Peter Lonard in 2006).
Morgan's 11-shot margin of victory also topped the old record of eight held by Greg Norman (1984 and 1985) and Hale Irwin (1978). Plus Morgan is the youngest player to win the title in the stroke-play era as he's more than a year younger than when David Howell won in 1998.
"I'd never imagine this happening to be honest with you," Morgan said, although he had a couple of intangibles on his side. For starters, he's a member at Royal Queensland. He also won the Australian Amateur when it was held there in 2020.
"I wanted to just make the cut this week," Morgan said. "I know that's a low kind of shot to shoot at, but it was all reality. I felt a lot of pressure, especially on myself, obviously being a member here and having won the Australian Amateur here and stuff. I missed a couple of tour schools in the U.S. toward the end of my trip and come back a little bit with my tail between my legs."
Nevertheless, he opened up with a 65 and followed it with a 63, setting the 18-hole course record.
If anything, though, the wide gap between him and the rest on the leader board actually seemed to make Morgan more anxious.
"I've been feeling sick for like three days, especially after I was leading after two rounds," he said. "I thought, there's no way back from there. I tried to press as hard as I could and tried to keep pushing it. It's been amazing what's happened. I'm glad it's over. Whether I won or lost, I'm just glad it's over because I've been in all sorts, for sure.
"I've never had that type of emotion. I've felt pressure for sure, but I've never felt pressure like the way I felt it this week. It was something. I want to do it again."