Matsuyama's Moment
Ripple Effect: How Hideki Matsuyama's Masters win could revive golf's popularity in Japan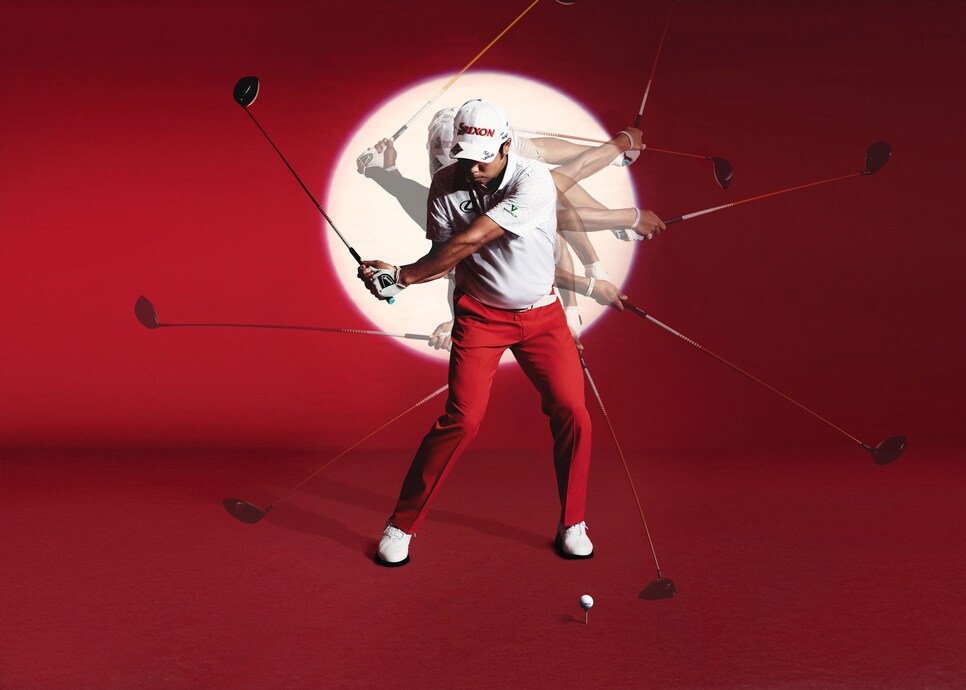 Because as challenging as closing the deal on becoming the first Japanese-born male golfer to win a major championship clearly was during Sunday's frenetic finish, now the shy, workman-like Matsuyama stands at the forefront of what one long-time Japanese golf business observer called "an epoch-making event." Japan may comfortably stand as the world's second largest golf market, accounting for a fifth of the global golf business all by itself, but it is long removed from the country's golf boom of the late 1980s and '90s. With the last decade seeing flat revenues and declining play and players, Matsuyama's win is an opportunity to inject new life in a nation that has been waiting for a golf moment like this for more than half a century.
"We could only dream of something like this," said Andy Yamanaka, secretary-general of the Japan Golf Association. "Honestly, who could have even imagined it? It's more than a dream, really. I can't find the words to explain it. Maybe it can be like 1957 again, our first golf boom."
That year, the Canada Cup (the precursor of the World Cup) was held in Japan and the Japanese team of Torakichi "Pete" Nakamura and Koichi Ono won the title by nine shots over Sam Snead and Jimmy Demaret. Nakamura won the individual title by seven shots. That performance begat the lineage of golfers that started with Isao Aoki and Tommy Nakajima in the 1970s, to the Ozaki brothers (Jumbo, Joe and Jet) of the 1980s and '90s to Shigeki Maruyama, Shingo Katayama and Ryo Ishikawa in the 21st century. That wave of golf's popularity in Japan included the country's first major champion in Chako Higuchi, who won the LPGA Championship in 1977.
Matsuyama's victory already is bigger than all of that, though, because while Japan was a burgeoning golf country back then, it now finds itself trying to figure a new way forward with new momentum. More than half of the country's televisions were watching the 29-year-old pull out the Masters victory at 8 o'clock on a Monday morning. The country's national alert system, usually reserved for natural disasters and other emergencies, sent out a notice of congratulations the minute Matsuyama holed the final putt. Special extra (print!) editions of newspapers announced his win. His Sunday Srixon hat was sold out by noon and a story published in Japan says the company has sold out of its stock of the ball he played that it had made with the Masters logo. TV commentators already are calling for Matsuyama to receive a People's Honour Award, which is traditionally bestowed by the prime minister for national figures in sports, acting and music but never before to a golfer.
With the rescheduled Olympics just months away and the golf competition being held at venerable Kasumagiseki Golf Club, site of that 1957 Canada Cup and the venue where Matsuyama first earned a Masters invitation by winning the Asian Amateur in 2010, the weight of a golfing nation that he's carried for over a decade hasn't been lessened with his major victory. Rather, his potential importance may only have increased, said Joe Gaughwin, ambassador for the Taheiyo Club, which runs 18 courses in Japan.
"With his Masters win and his return to the Olympics and a possible win, it could create a perfect storm that could lift golf into the stratosphere like in the '80s and '90s," said Gaughwin, an Australian PGA member who's been working in Japan for the last seven years. "Hideki's win is generational and the impact it will have will be so interesting to witness."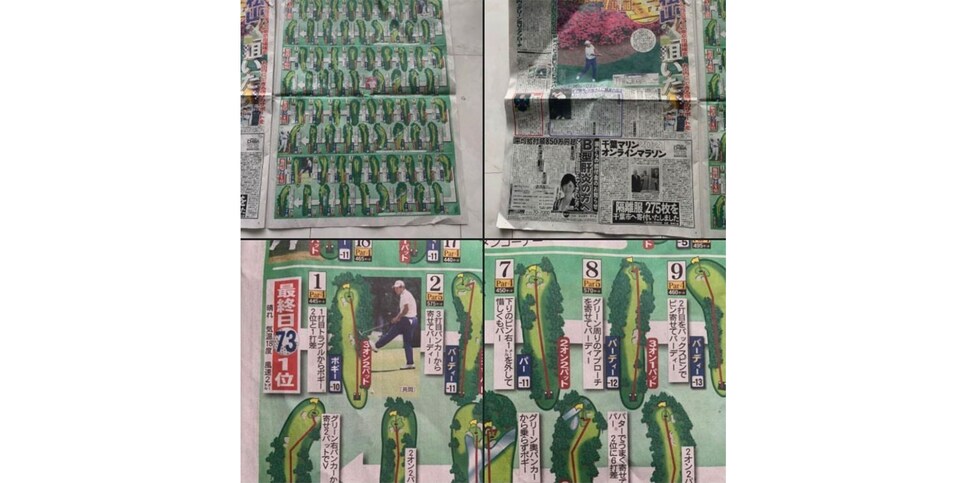 Coverage of Matsuyama's Masters win in Japanese newspapers included a breakdown of how he played all 72 holes at Augusta National.
Gaughwin compared Matsuyama's potential impact to what Greg Norman did for Australian golf in the 1980s, and what another Japanese player did for the country in the early 2000s. Ai Miyazato, though she never won a major, captured the attention of the country when she won her first pro tournament while still in high school on her way to a World No. 1 ranking and dozens of worldwide wins.
The difference, of course, is Miyazato was legendary for her smiling, engaging personality. Hideki-san is no Ai-chan, as they say. And when you're trying to re-energize an industry like golf in Japan, you could certainly make use of a national hero that embraces celebrity. Because while enthusiasm for golf persists in Japan, it is not 1988 anymore.
Over the last 25 years, the number of golfers has decreased by nearly half, from more than 12 million to now around 6.5 million. The country's 2,500 golf courses of a generation ago, while likely overbuilt, have seen several hundred shuttered. Sales of golf gear in Japan still account for well more than $2 billion annually, but those numbers have largely been unchanged for the last decade. According to the World Golf Report, a joint research project of the global golf business produced by Golf Datatech and the Yano Research Institute in Japan, Japan accounts for 22 percent of the world's golf economy, second to the U.S. at 45 percent. Still, golf equipment sales, which rebounded somewhat in the second half of 2020, finished the year down 5 percent, and over the last five years, they are down 1 percent while worldwide sales were up 11 percent.
Japan has half of Asia's golf courses, but the country that was famous for recreational golfers lugging their clubs on subways and trains and wearing out the more than 3,000 driving ranges has suffered through the economic bubble bursting in the 1990s and a struggling economy ever since that no longer consistently supports private clubs and their long ago $400,000 initiation fees. The demographics were a concern, said Japanese golf great and World Golf Hall of Famer Isao Aoki. Speaking to the National Golf Foundation's Golf Business Symposium in 2019, he pinpointed an issue that's no stranger to golf in the U.S. either.
"The serious problem is the aging golf population," Aoki said. "The biggest age group is 60. We need to get more younger people to play golf."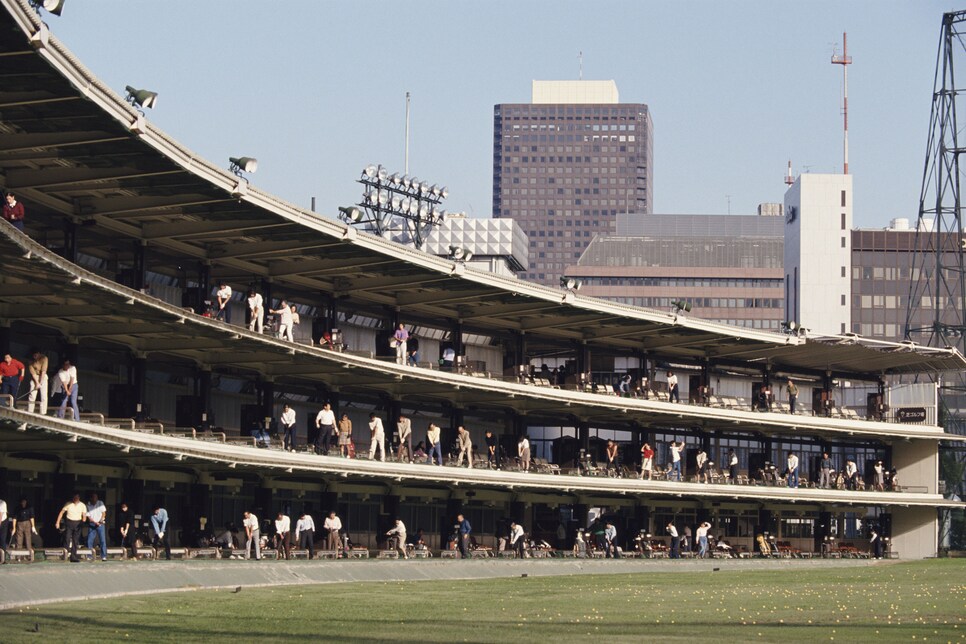 In the 1990s at the height of the golf boom in Japan, driving ranges like this three-floored facility in Tokyo thrived.
Pascal Rondeau
Aoki said there have been some encouraging signs. Those initiation fees have dropped by 80 percent in recent years as courses sought younger members, even offering free golf to college students on their 20th birthdays and setting aside traditional strict dress codes by allowing "Jeans Days." And the increase in golf simulator bars has stirred interest in golf as a social activity, prior to the coronavirus pandemic. Still, some courses in the far suburbs haven't survived, eventually turning into solar farms.
"The picture of Japan as 'golf mad' is probably a bit overstated by media reflecting upon what once was the fastest growing golf market in the world, back in the 1990s," said John Krzynowek, partner at Golf Datatech. "Over the past several years, the business of golf in Japan has been flat to slightly down. That said, there's no reason to think that the win by Hideki and Tsubasa Kajitani at the Augusta National Women's Amateur can be anything but great for the game in Japan."
Like in the U.S., as well, golf benefited during the pandemic. Krzynowek also notes that even with fewer golfers, Japan still generates significantly more sales per player than the U.S. and still produces the second-highest spending per player behind South Korea. Krzynowek says that while there are roughly one-third as many golfers in Japan as in the U.S., they account for half as much as the total dollars spent on golf equipment by U.S. golfers.
"An interesting fact here is that we have more young players and female players compared to before COVID-19," said veteran Japanese golf business insider Sunny Harue Marumo. Social media posts like those from YouTube star Mai Shiraishi, the singer, model and former member of the Japanese girl group Nogizaka46, showed her playing her first round of golf in November.
"I wish I could have fun while being taught by my teacher," she said in the 10-minute video that's been viewed nearly 1.8 million times. "I'm a little embarrassed, but I'll do my best."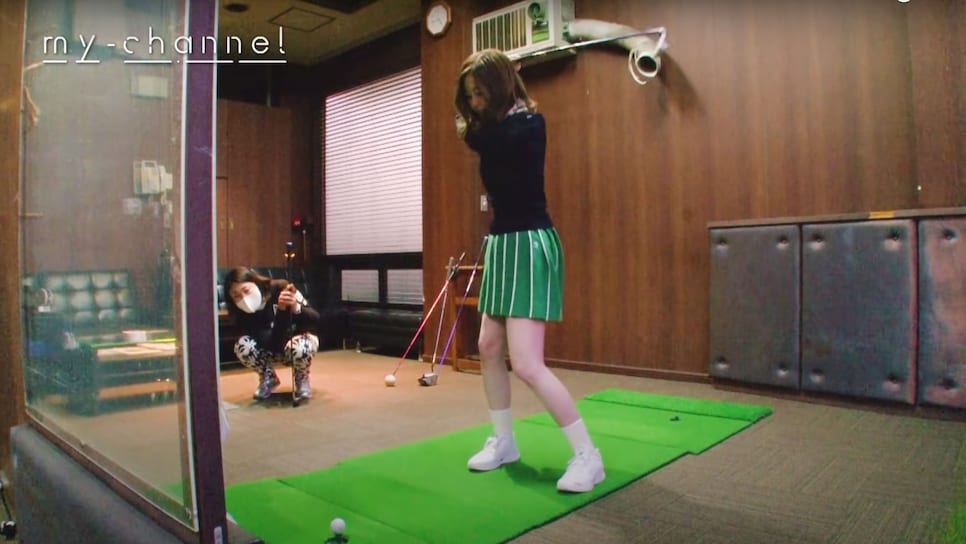 Some are hopeful that influencers like Japanese YouTube celebrity Mai Shiraishi, who posted a video of her taking a lesson that has gotten nearly 1.8 million views, can help attract younger players to the game.
But not to minimize the influence on the multibillion-dollar golf business of someone famous for the Japanese television show "Where Have My Skirts Gone?", the impact on golf in Japan of Matsuyama's Masters win is potentially Tiger-esque. While no one is suggesting the reserved Matsuyama is going to immediately warm to the task of marketing icon or start doing Suntory whiskey commercials, his victory comes to a nation pining for a male golf legend, especially one that goes beyond where any has gone before. Women's golf remains a stalwart fan favorite in Japan, fueled in the early 2000s by the smiling Ai Miyazato's international success and a second women's major championship won by Hinako Shibuno at the 2019 AIG Women's British Open. Today, the women's pro game in Japan is distinctly more popular, drawing more fans and sponsors and playing 38 events, while the men's tour only plays about 25. Matsuyama traditionally plays in two of those events a year, but his appeal even before the Masters was larger than anyone. Now, Matsuyama in the green jacket could be transformational just when golf in Japan needs it most.
"This may be the start of the next popularity of golf in Japan once again," said Nobuya "Mike" Ishizaka, founder, chairman and CEO of GDO, the huge Japanese golf conglomerate that includes the go-to website for all things golf in Japan with a major online retail operation and an online tee-times service. "[Hideki] is the way he is, very quietly spoken, non-flashy, not too social. He will definitely have many offers to appear on TV after this success and so let's see how he steps up more in the spotlight than ever before."
The enthusiasm for the game already was percolating before Matsuyama's win. GDO's online reservation system saw record bookings in 2020, and the Japan Golf Range Association told the Japan Times that its latest figures saw 10 to 20 percent more players with "the rise conspicuous among those in their 20s and 30s."
"There has always been many core golf fans in Japan, but with the pandemic, Japan also saw a huge surge in golf popularity with new people joining the game so there were many more new fans this time around," Ishizaka said. "I've witnessed a great accomplishment by Hideki so this will be a big celebration for golf in Japan."
But it's after the celebration that will be the true measure of Matsuyama's moment. As the challenges of the pandemic persist, the Masters riveted the country and the win immediately drew the praise of the Prime Minister Yoshihide Suga.
"It was really wonderful," he said. "As the coronavirus drags on, his achievement moved our hearts and gave us courage."
Aoki told Golf Digest Japan, "This win was a moment we were all waiting for, not just myself but all the Japanese golf fans and those involved in the golf world."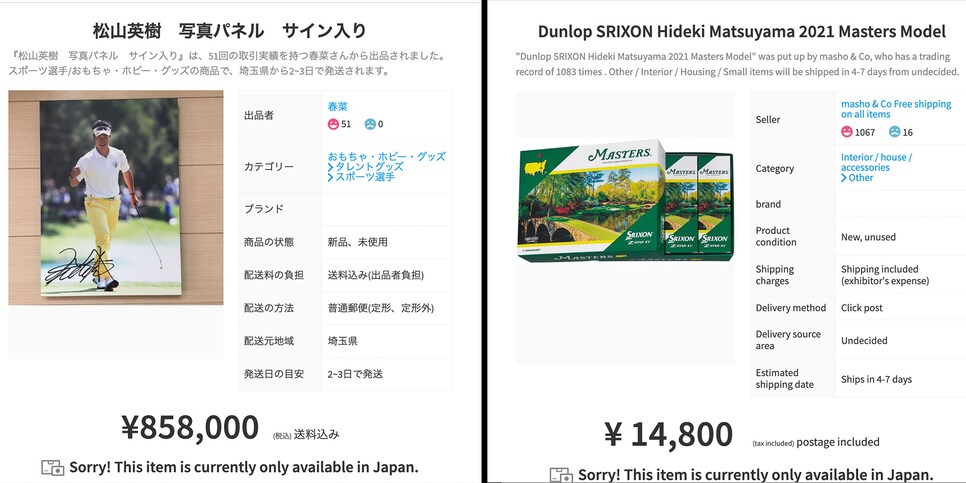 Bids for signed Hideki Matsuyama photos have risen to $8,000 on Mercari.com, Japan's version of eBay, while a dozen golf balls are going for $135.
What's not clear is how directly Matsuyama can influence attitudes going forward, not just because of his natural reticence but because his Masters victory can't truly be celebrated during the coronavirus pandemic, which again has placed Japan in a state of emergency. When Higuchi won her major championship in 1977, there was a ticker-tape parade upon her return to Tokyo. Matsuyama flew back to Japan this week but immediately had to go into quarantine for two weeks.
Nevertheless, his image is everywhere already, the arms raised in victory draped in the revered green jacket. Signed photos of Matsuyama are going for ¥880,000 (roughly $8,000) already on mercari.com, Japan's version of eBay, which also includes Hideki hats, keychains and comic books. He is a source of pride and the power of his influence may not require much more than his excellence on the course and understated class off it. In that way, he is more like Ichiro Suzuki, the great baseball icon and certain hall of famer, then any kind of TikTok sensation. And that's just fine, said the JGA's Yamanaka.
"Hideki is Hideki, and I think it's easy to misunderstand his personality," he said, noting that quietly Matsuyama contributes significant dollars to junior golf in Japan. "And I think he has all those qualities in him. The players not only respect him, they like him. And I think so much of the country who was watching him, who had never experienced golf like that before, they will be inspired by him.
"I think he did maybe the most important thing he could do when he said on Sunday that his goal was to show that a Japanese golfer could do it and he was saying now you guys can do it, too."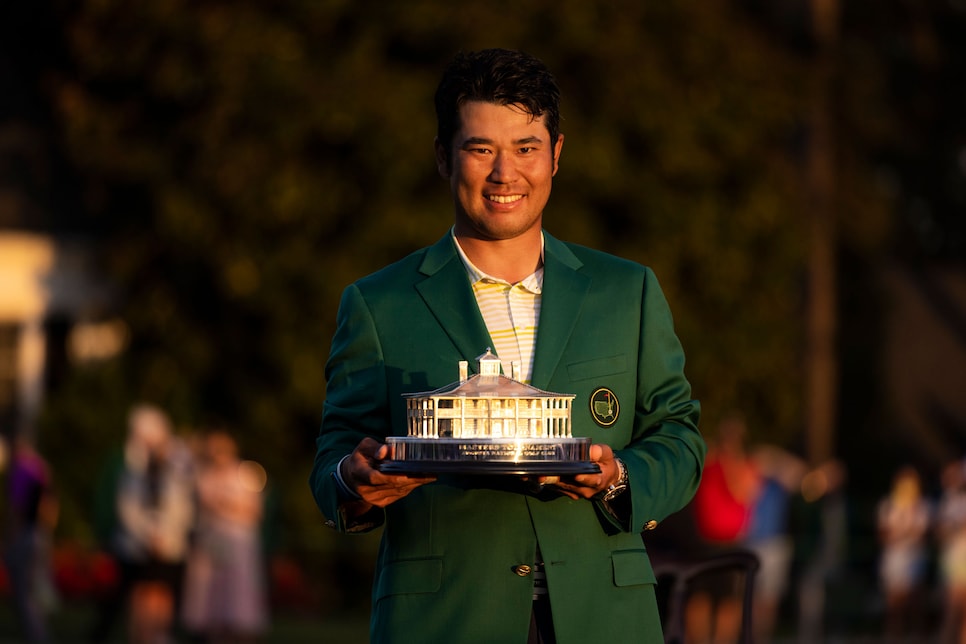 A big question that remains is whether Matsuyama, already a private person, will embrace his newfound celebrity.
Ben Walton
So while there might be a desire for Matsuyama to be an instant, 1997 Tiger Woods-like spark to fuel a resurgent golf economy in Japan, that may be short-sighted. Matsuyama's win actually may have echoes that resonate even deeper than that first great international moment at the Canada Cup in 1957.
"It will stimulate golf clubs and goods sales, and existing golfers for sure, but I believe the true impact will be seen 10 to 15 years later," Marumo said. "I think the event will have its impact on children first, then golf business for the future. It will make more kids start playing golf with determination to win major tournaments. Fifteen years later, we will have more male and female players who play well in the world, and then we have more general golfers in Japan, too."