The Grind
Hideki Matsuyama's green jacket flex, Happy Gilmore's special Masters shout-out and a driving range gets Bryson-proofed
Welcome to another edition of The Grind, where we hope young PGA Tour stars are taking notes. You want to win a major? Try playing golf with me first. Brooks Koepka found that out in 2017, winning his first of four majors about a month after we (kinda) teed it up at TPC Sawgrass. And now, about a year-and-a-half after (kinda) being my pro-am partner, Hideki Matsuyama has a green jacket.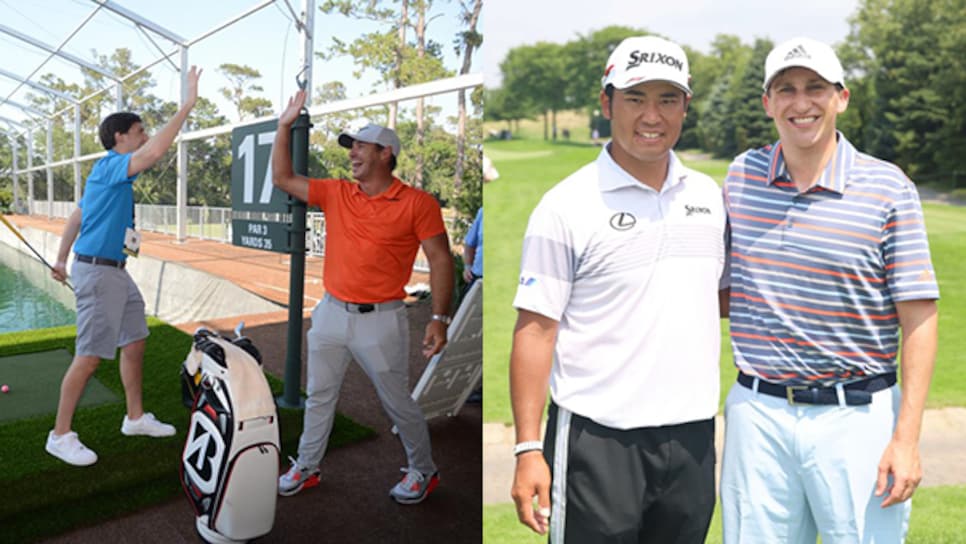 In other words, guys like Jon Rahm and Xander Schauffele should give me a call. I've got two young kids so my schedule is a bit tight, but I would try to pencil them in. Anyway, here's what else has us talking.
Hideki Matsuyama: On one hand, Matsuyama's Masters win caught everyone off guard. On the other, it's one of the least-surprising things ever. Remember, this is a former World No. 1 amateur who seemed on his way to being World No. 1 in 2017 when he blitzed the field at Firestone and then took a back-nine lead on Sunday at the PGA Championship the following week. The Japanese star was already at the top of everyone's "best to not win a major" list, but after collapsing at Quail Hollow he hadn't won since. Well, he picked a damn good time to return to the winner's circle.
People will talk about his ball-striking—and rightfully so—but the shot of the tournament was that chip he hit on 18 on Saturday from an upslope behind the green. The cameras didn't do it justice how tricky that was. Of course, Matsuyama barely reacted and said afterward he only pulled it off because of the rain. I'm dubbing this guy "Humble Hideki." And after slipping on the green jacket he was asked about trying to win a gold medal this summer. "I'm really looking forward to the Olympic Games in Tokyo. If I am on the team, and maybe it looks like I will be, I'll do my best to represent my country, and hopefully I'll play well." Yeah, I'm pretty sure you'll be on the team.
Hideki Matsuyama's style: Not as in, his clothing; there's a bit too much neon involved for me. I'm talking how he handles himself. Sure, it would be nice from as somebody who covers golf if he showed a bit more emotion or gave longer answers at press conferences—although, that might get tough for his interpreter, Bob Turner—but he gives off such a mellow vibe. And how about him being spotted in the Atlanta airport carrying around his green jacket like an average Joe holding an old sweatshirt before flying commercial? Again, dig his style.
Amazing. And I love the fact he wasn't hiding the green jacket. In fact, been there, done that.
Will Zalatoris: Shout-out to my fellow Wake Forest Demon Deacon, who got a shout-out from Adam Sandler before Sunday's final round because he looks like the caddie from "Happy Gilmore":
He also looks like a star in the making after finishing runner-up in his Masters debut. This after finishing T-6 at the U.S. Open in September. Of all the contenders on Sunday, it was the 24-year-old who looked the most solid. "I think the fact that I'm frustrated I finished second in my second major says something," Zalatoris said. "And the fact that I didn't let any moment really get to me was really exciting." Spoken like a smart, young man. A smart, young WAKE man, that is.
Augusta's food and drink: My two favorite sandwiches in the world were back and better than ever: the classic chicken and the peach ice cream. Yes, I'm counting that as a sandwich because I often substituted it for meals. Hey, it's got fruit in it! I also did some hard-hitting reporting on the tournament's new beer. Good times. And Augusta National really went all out for Dustin Johnson's "pigs in a blanket":
Smoked Kielbasa with puffed pastry? Yeah, not exactly the stuff you whip up at home for "App Night." Augusta National does NOT mess around.
Xander's big moment: First off, my apologies to Xander Schauffele. On Saturday morning I declared on Slack that he's my new favorite player—a distinction I haven't officially made for a golfer other than Tiger Woods since 2008 when Woods shut it down for the season after winning the U.S. Open. That year I picked Anthony Kim and Andres Romero, and, well, I may have mushed both of their careers. Let's hope I haven't done the same for Xander who made Sunday interesting for about five minutes before that disastrous triple bogey on No. 16.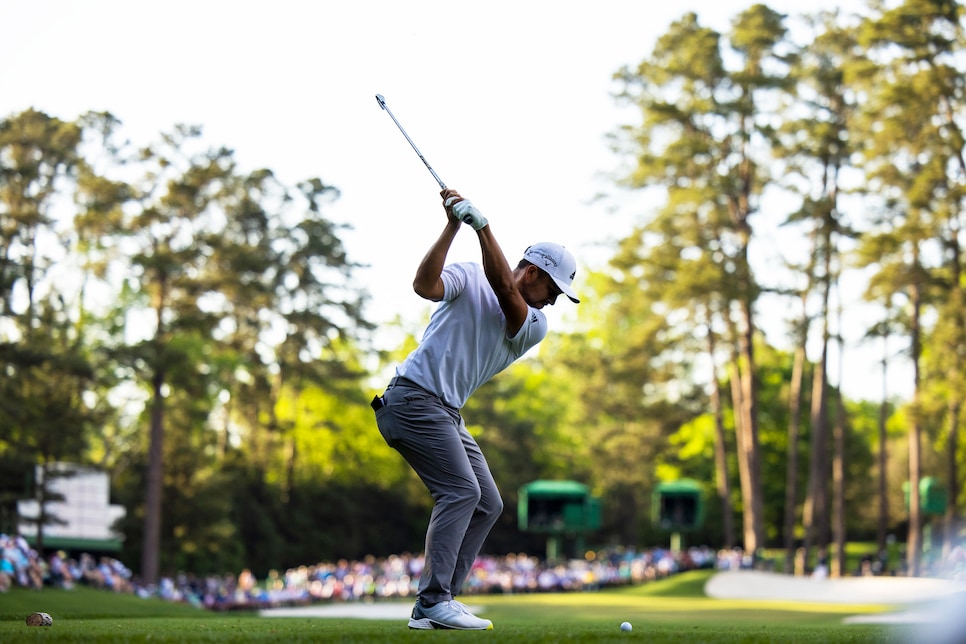 He has truly become a big game hunter early in his career, but as we've seen with guys like Rickie Fowler, there's no guarantee close calls will result in trophies down the road. I love the way Schauffele handles himself following his heartbreaks—it's part of the reason why I declared him my new favorite—but I also know he let another great opportunity get away.
Bryson at Augusta: Bryson DeChambeau, on the other hand, was never in this tournament. Even after a Friday 67—an outlier between three other rounds of 75-plus—he talked about trying to get comfortable and mentioned he can't use his normal green-reading books and calibration tools at Augusta National. And I watched first hand on Sunday as he hit some of the most jaw-dropping drives only to walk away with disappointing pars after not capitalizing with wedges.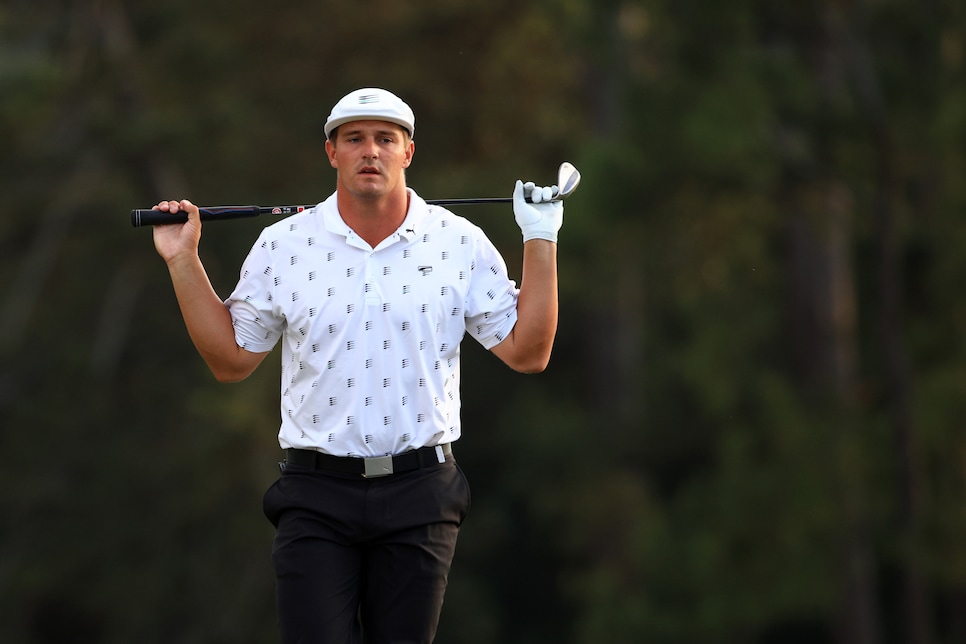 His distance experiment has been a huge success, except at the Masters where his T-46 finish this week was his worst in five tries. Unless he plays a ton of practice rounds there between now and next April, I just don't see how anyone could bet on him to win.
Media lottery dagger: There was a glimmer of hope! Even more than a glimmer with a limited number of credentialed media at Augusta National! After not having a media lottery in November, it was back—and I believed my chances were better than ever. But that's what made it even worse when they only drew a dozen names (instead of the usual 28) and none were mine. Sigh. I was genuinely happy, though, for Golf Digest photo editor Ben Walton, who used to produce The Grind videos before moving on to bigger and better things (like taking killer photos at the tournament all week). Ben took full advantage of his time there, taking some fantastic photos and even breaking 100. Barely. So congrats to him. And if you're wondering why I'm not sharing any of his photos that's because the club even scolded Jack Nicklaus for publicly sharing photos once. Yep, that Jack Nicklaus.
The PGA Tour heads to Hilton Head for the RBC Heritage, AKA that one which, no offense to the good people at RBC and South Carolina, always feels like a letdown following the Masters. Well, not last year when it was one of the first events in the COVID restart and I hit a Webb Simpson win bet. That was not a letdown at all.
Random tournament fact: This is the tournament where Bryson DeChambeau had to move farther back on the driving range because he was hitting it over the net. Unfortunately, Bryson withdrew from the tournament where he made his pro debut five years ago. That was made even more unfortunate by the fact some people had gone to a LOT of trouble to Bryson-proof that driving range:
RANDOM PROP BETS OF THE WEEK
—I will win next year's Masters media lottery: 1 MILLION-to-1 odds
—Bryson DeChambeau will win next year's Masters: 12-to-1 (actual odds)
—Fans at Harbour Town this week will feel much safer near the range: LOCK
It's OK, Max. I put on "the Masters 15" this week, too. It happens.
VIRAL VIDEO(S) OF THE WEEK
OK, so it's not quite a video because I'm not posting pirated video because I'd like another opportunity to put on the Masters 15 again sometime. But you guys saw it. Billy Horschel fell on his ass and was very concerned about grass stains on his white pants. He also wound up apologizing for some of his antics over the weekend. Speaking of antics, our boy Chris Vernon killed it once again with his zany Masters updates:
HIDEKI MATSUYAMA, CALL YO MAMA! Genius.
THIS WEEK IN PUBLIC DISPLAYS OF AFFECTION
In slightly quieter moments, Hideki Matsuyama's caddie, Shota Hayafuji, bowed to Augusta National as he walked off the 18th green, and it instantly became the lasting image of the tournament:
Well, until his boss was spotted walking through the airport holding his green jacket. But seriously, what a cool moment that was. And how about Tim Horton's showing its love for Canadian Corey Conners by making a doughnut recognizing his Saturday hole-in-one:
"Let's make a 1. … I was in full chase mode, so I have no regrets from that aspect." —Xander Schauffele on what he was thinking when he got to the 16th tee on Sunday. My man.
Jose Maria Olazabal made his first Masters cut in seven years and first cut anywhere in six years despite having not played competitively since the last Masters in November. That is inspirational for me whenever I play my first round of 2021. … Those new sandwich shirts we mentioned last week sold out before the tournament started and are now fetching high prices on eBay so I wish I had horded a few. Kidding! Augusta National would find out and track me down like Liam Neeson in "Taken." … And finally, the club did give out these dope masks to players and press: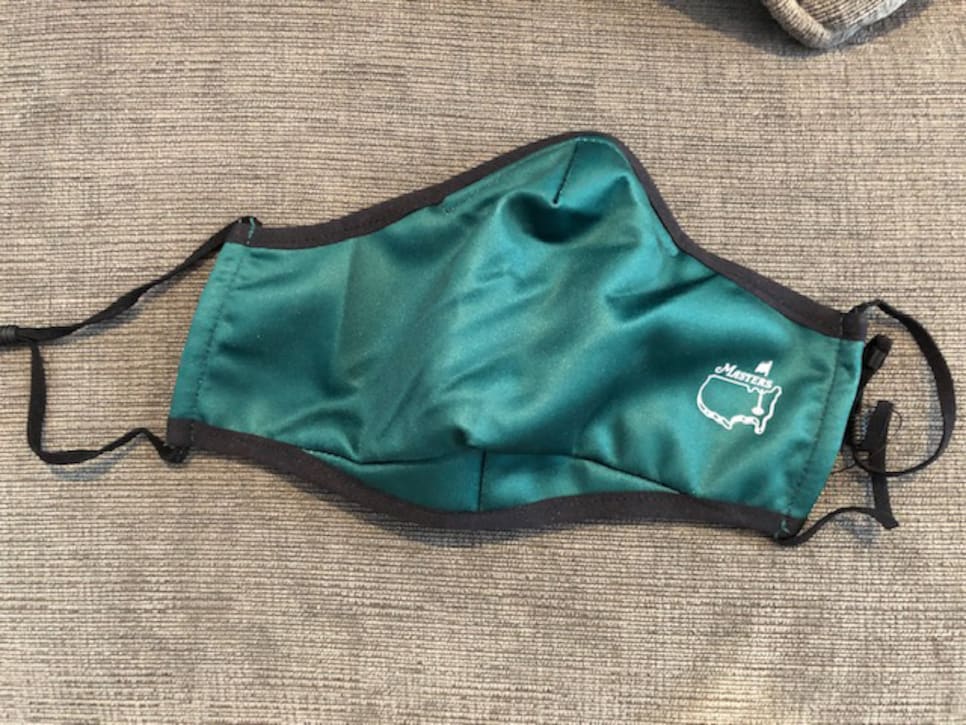 And like Phil Mickelson, I'm going to flex with it. Hard. Although, I could probably get some good money for that. . . again, kidding! No, really, I'm completely kidding. Seriously. I swear.
RANDOM QUESTIONS TO PONDER
How many majors will Hideki Matsuyama win?
How many words did he say on that flight home?
Where can I find that peach ice cream sandwich?