Payday in Orlando
Here's the prize money payout for each pro at the 2022 PNC Championship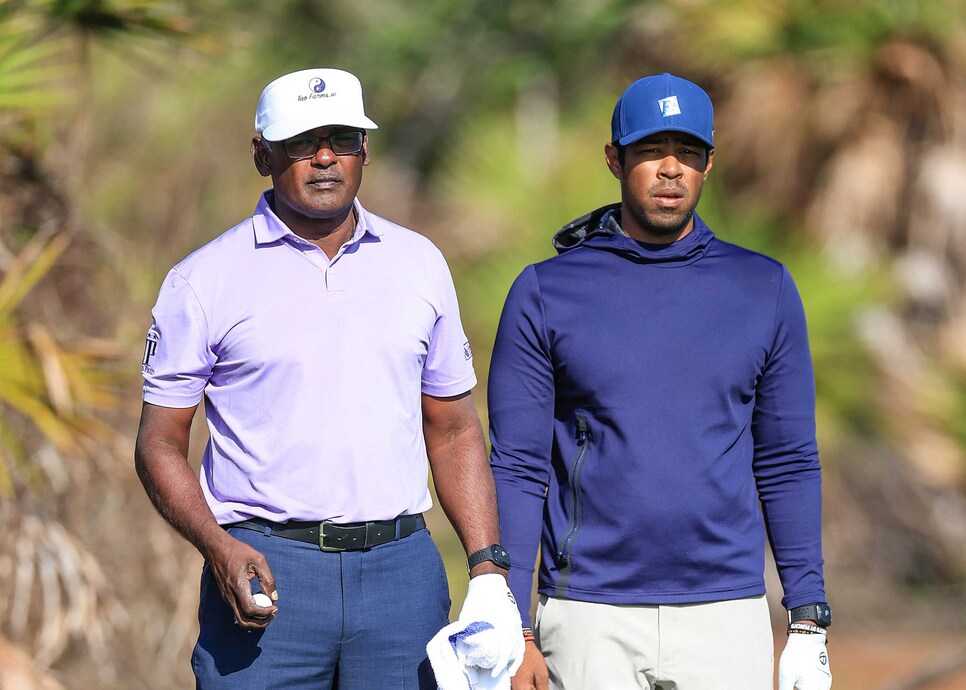 The PNC Championship is all about fun. If you couldn't see that from the smiles and laughs being shared at the Ritz-Carlton Golf Club in Orlando over the weekend, you weren't watching closely enough. The two-day exhibition is a highlight of the year for many of the professional participants who get to show a side of themselves that's not seen on a regular basis.
However, the 20 pros in the field didn't just turn the competitive side of their brains off because their hearts were melting while playing with a dad or a son. On Sunday, Vijay Singh and his son Qass, playing in the event for the 16th time, rallied from two shots back of Justin and Mike Thomas to take the title for the first time (after eight top-five finishes) with a closing 59 in the scramble format.
The Singhs' 26-under 118 total—accomplished by becoming the first team to shoot back-to-back sub-60 rounds in the 25th playing of the event—allowed them to hold off another comeback challenge from John Daly and his son John II, the defending champs, who shot a closing 59 to finish two shots short.
"Every year we came here from the very first time I wanted to win this, we wanted to get it together. And it got harder and harder," said Vijay, who turns 60 in February. "Each time we went out as the first loser or second loser. But never won. And we'd talk about it a lot, 'OK next year we're going to go back and win it.' And to finally do it, it means a lot. This is one of the highlights of my career. Doing it with him and seeing him hit so many great shots when we needed to, you know it's a great feeling. I'll keep this forever."
The Thomases threatened on the back nine to win for a second time in three years, but faltered with a final-round 63 to finish to also tied for second.
Tiger and Charlie Woods also started Sunday two shots off the lead but couldn't find the same final-day magic they did a year ago (when they made 11 straight birdies to finish in second). They shot a seven-under 65 to finish tied for eighth.
The victory comes with a nominal financial reward, but more importantly brings with it a sense of pride in being to say you won a golf title with one of the closest people in your life. That's a memory that lives forever.
Here's the prize money payout breakdown for every team at this week's event. Come back shortly after the tournament end and we'll update the results with names and individual payouts.
T-2: John & John II Daly, -24, $68,625
T-2: Justin & Mike Thomas, -24, $68,625
4: Padraig & Patrick Harrington, -22, $50,000
T-5: Matt & Carson Kuchar, -21, $48,000
T-5: Nelly & Petr Kuchar, -21, $48,000
T-5: Bernhard & Jason Langer, -21, $48,000
T-8: Tiger & Charlie Woods, -20, $45,166
T-8: Mark & Shaun O'Meara, -20, $45,166
T-8: Jordan & Shawn Spieth, -20, $45,166
11: Stewart & Connor Cink $44,000
12: David & Brady Duval, -18, $43,500
T-13: Lee & Daniel Trevino, -17, $42,750
T-13: Tom & Sean Lehman, -17, $42,750
T-15: Nick & Matthew Faldo, -16, $41,750
T-15: Jim & Tanner Furyk, -16, $41,750
T-17: Annika Sorenstam & Will McGee, -15, $40,750
T-17: Justin & Luke Leonard, -15, $40,750
T-19: Gary & Jordan Player, -14, $40,375
T-19: Nick & Greg Price, -14, $40,375