Father and son
Playing through pain, Saturday was about so much more than the score for Team Woods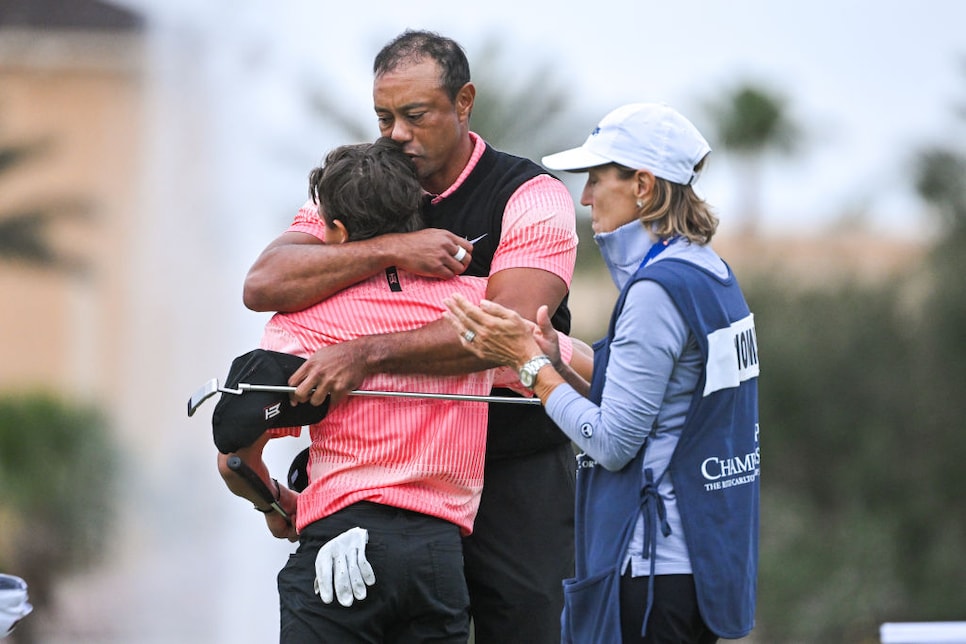 Tiger Woods hugs his son, Charlie Woods, on the 18th green after the first round of the PNC Championship.
Ben Jared
ORLANDO — The scorecard matters in golf. But it's not the only thing that matters.
The 2022 PNC Championship marks the third consecutive start for Team Woods, the third year we get a glimpse of a different side of Tiger. He's not a 15-time major champion here. He's just a dad stewarding his son, an avid junior golfer, as he grows through the game.
"On some shots it hurt a lot. Walking was tough," Charlie said on Saturday evening, speaking to the media for the first time ever after a PNC round. "Walking was tough."
The pain became obvious to all during his pro-am, when Charlie's leg buckled after a drive on his back nine. On the range ahead of Saturday's first round, Charlie ditched his left golf shoe at one point and wore a sneaker instead. He needed something with less traction that would allow his ankle to spin out and prevent more pain. He wore it on the first tee, then reverted to his golf shoes and shared a cart with his dad for the rest of the day.
He wasn't at his best. But that's what teammates are for.
"You telling me you need me to hit a good drive here?" Tiger jokingly asked Charlie on the first tee, before firing a fade down the left side.
Tiger, indeed, rose to the challenge. He chipped in for eagle on the fifth hole and was more dependable than ever off the tee. He touched 180-mph ball speed a few holes later, turbo-charging an eight-hole stretch that the pair played in nine under par.
"It's what I've been saying," Tiger said of his leg. "I can hit the golf ball. I just have a tougher time getting from Point A to Point B."
"He 100 percent hits it farther than I do with the driver right now," Justin Thomas, who played with his dad Mike alongside Team Woods, said the elder Woods. "When he's feeling well and moving well like he was today, he can do anything he wants."
Tiger bombed another drive off 18, then stuck one to within 20 feet. Charlie stepped up and made the putt for a 13-under 59, leaving the two-man scramble team two shot back of the Thomases, who combined to make two eagles and 11 birdies in shooting their 57. The foursome will play together again in the final group on Sunday.
"He played great," Charlie said of his dad, "He had to carry me all day."
We've all had those days, when we're not feeling our best and playing the way we wanted. Tiger has certainly had his fair share. And when he looks at his son, that's the essential skill he sees him learning.
"Playing tournament golf, you've got to make a switch on the fly and trust it," Tiger said a day earlier. "And that's where I've seen the biggest growth when I've caddied for him in events or I've watched him play."
Saturday at the PNC was another lesson in that regard. It wasn't what Charlie would've wanted, but it's a round he can be proud of nonetheless. Tiger certainly was, and leaving the course on Saturday, the score on the leaderboard was the last thing on his mind.
"We have fun out there. At the end of the day that's what it's all about. It's about us having an opportunity to bond," said Tiger, who joked that they were "Team Ice Bath." "It's just an amazing relationship, and it just deepens the bond between father and son. It's been incredible over the years to be able to share this stage and this atmosphere with him."