Broadcasting
On eve of their dual farewells, NBC's Gary Koch and Roger Maltbie are celebrated by some legends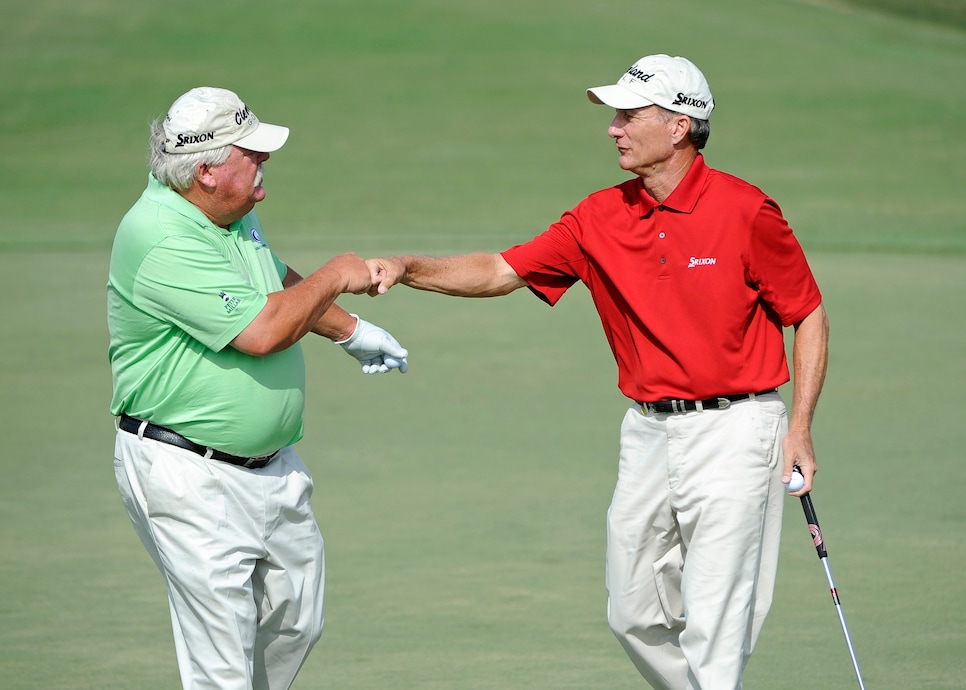 Roger Maltbie and Gary Koch celebrate a birdie on the seventh green during the final round of the 2011 Liberty Mutual Legends of Golf.
Chris Condon
It is not the easiest way to go out. NBC Sports commentators Gary Koch and Roger Maltbie—two of the most recognizable voices in the history of televised golf—were told in November that their contracts would not be renewed for the new year. Maltbie has been with the network for 31 years and Koch for 26, and their last event together is the PNC Championship this weekend in Florida.
But to NBC's credit, it is not letting the two walk into the sunset without proper recognition. Following the conclusion of the first round of the PNC on Saturday, the network devoted 13 minutes to Maltbie and Koch, including a six-minute montage of some of their most memorable calls, as well as having the likes of Jack Nicklaus and Tiger Woods speak about what the announcers have meant to the game.
Maltbie and Koch sat in the booth with lead anchor Dan Hicks watching the tributes and were clearly touched by the recognition.
"You look back on some of those things, and in the heat of the moment you forget how much fun you're having, and how great it is to be a part of those magical moments," Koch, 70, said. "I have to say that 26 years has gone by very quickly."
Said Maltbie, 73, "It's been a thrill ride for 31 years. And I still get a kick out of watching them, I really do. As a golf nut, to watch the very best players in the world play their best is still exciting for me. And I'm going to miss it desperately. I'm going to miss it."
The videotaped kudos covered the spectrum of golfers with whom Koch and Maltbie competed, as well as those younger players whose careers the two have documented while being behind the mic. Maltbie is known for trouping with the lead groups at every event he covered—most memorably in U.S. Opens. Koch worked in the booth and produced some memorable calls, including his "better than most" nugget when Tiger Woods made his snaking putt on the island 17th green in the 2001 Players Championship.
Roger Maltbie and Gary Koch celebrate on the 18th green after winning the Raphael Division of the 2009 Liberty Mutual Legends of Golf.
Hunter Martin
Here is what some of those paying tribute said:
Jack Nicklaus: "You both have been at NBC Sports for over 25 years. You both have done a great job and called it like it is. If a guy did something wrong, both of you would tell them that. If they did things right, you praised them. You've contributed a tremendous amount to the game of golf. You've been good friends to the game, and more than that, you've been a good friend to me."
Lee Trevino: "I'm sorry to see them leave. I tell you, Gary was a hell of a player. … Roger, what can I tell you about Roger? The mustache man. I love him to death. We're going to miss you guys."
Webb Simpson: "I still remember the first time you came and followed my group, and I realized I was in a good position if Roger Maltbie is coming to follow me. You made me nervous. … But it's been great to work with you over the years."
Billy Horschel: "You guys have been so great to me in my 14 years, the way you covered me. You guys have been fair. You guys are well prepareod. You guys come out to the range and talk to the players, so you guys have information. I appreciate that as a player."
Davis Love III: "Gary, you've had a long career. We're going to miss your voice on the PGA Tour. You've been so supportive of me and so many tour players in our career. You were especialy nice to me as a rookie … you and Vinny Giles taking me under your wing. I'm going to look forward to playing a lot of golf with you guys at Seminole. … Roger, congratulations on an incredible career. I always knew I was playing well when you would show up. You always made me feel comfortable. You always had a great joke when I was out there grinding it out."
Justin Thomas: "Y'all are unbelievable people. You've put so much time and hard work and effort into the incredible careers you've had. I'm going to miss you dearly. I'm going to miss hearing your voice and being able to mess around and hang out with you guys."
Tiger Woods: "Gary, probably the call of all calls, right, at 17? 'Better than most.' You've had an amazing career, not only as a player but as a commentator. You understood us players. You understand how hard certain shots were and couldn't have been more descriptive of shots. … We're going to miss that side of your commentating, your ability to understand us. You get it. Not too many commentators really, truly get it, but you do.
"Well, Rog. I'm going to miss you, especially those shortcuts you used to take in carts. … I do remember a call in 2000 [in the U.S Open at Pebble Beach]—it 'wasn't a fair fight'—with that little 6-iron up the hill at No. 6. … You've been awesome. The needling I used to get from you here and there on a shot I would hit. I'm going to miss you out there, big guy."
While Koch has no plans to continue in broadcasting, Maltbie is expected to work a handful of events for Golf Channel in 2023. And they do have the one final round together on Sunday at the PNC Championship. Given their connection to Woods, it would be quite the fitting farewell if Tiger and his son Charlie could pull off a win. One thing is certain: There will be no shortage of appreciation, or tears.