Payday in Puerto Rico
Here's the prize money payout for each golfer at the 2022 Puerto Rico Open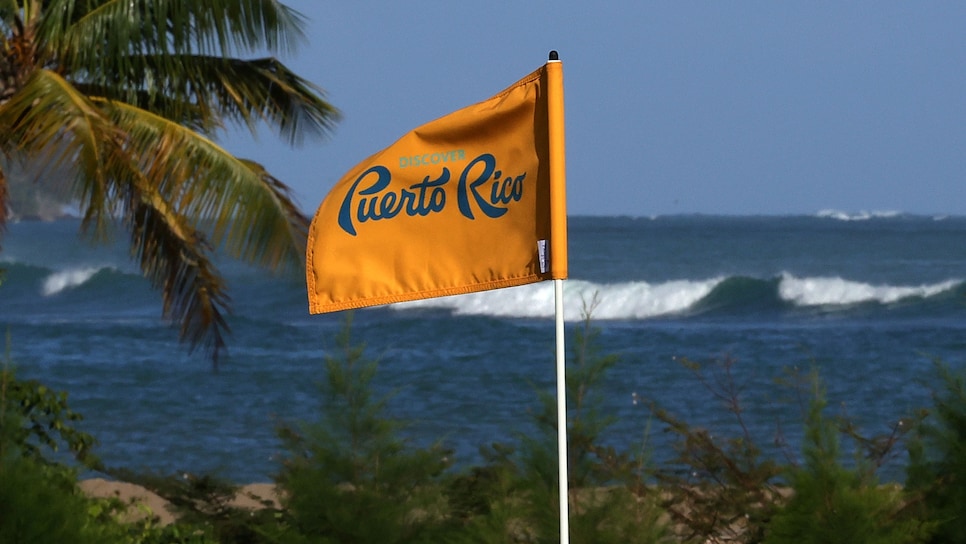 Everybody competing in this week's Puerto Rico Open had the same basic dream in mind: Win the tournament and secure your PGA Tour card for another two years. For Ryan Brehm, however, the dream had a few more strings attached.
In order to have any status on the tour after this week, Brehm had to win, or finish solo second. He was playing on the last start of a minor medical extension, and the FedEx Cup points earned from a top-two finish were necessary for him to gain at least partial status for the rest of the 2021-22 season. A win would secure full status for another two seasons as well.
If the pressure of that reality was weighing on the 35-year-old Michigan State grad, he didn't show it on Sunday at Grand Reserve G.C. in Rio Grande, Puerto Rico. Playing in his first PGA Tour event since the Wyndham Championship in August, and with his wife Chelsey on his bag, Brehm shot a closing five-under 67 to stretch a three-shot 54-hole lead into a six-shot victory over Max McGreevy.
En route to his first career tour win, Brehm bucked the trend of recent Puerto Rico Open champions. Since 2014, the 54-hole leader/co-leader had been able to close out the victory just once, that being Viktor Hovland in 2020. Meanwhile, only six times in the first 17 events of the 2021-22 tour season had a 54-hole leader gone on to win, Joaquin Niemann the most recent with his wire-to-wire win at the Genesis Invitational.
In 67 previous career tour starts, Brehm had earned a total of $810,391, with his biggest single payday being $72,750 for a T-11 showing at the 2021 Puerto Rico Open. With his win, Brehm pulled in a first-place prize money payout of $666,000 from an overall purse of $3.7 million.
Here's the prize money payouts for every golfer who made the cut in Puerto Rico.
Win: Ryan Brehm, 268/-20, $666,000
2: Max McGreevy, 274/-14, $403,300
T-3: Tommy Gainey, 275/-13, $218,300
T-3: Brandon Wu, 275/-13, $218,300
T-5: Chad Ramey, 276/-12, $142,912.50
T-5: Callum Tarren, 276/-12, $142,912.50
T-7: Brice Garnett, 277/-11, $97,356.25
T-7: Mark Hensby, 277/-11, $97,356.25
T-7: Jim Herman, 277/-11, $97,356.25
T-7: Nate Lashley, 277/-11, $97,356.25
T-7: Cameron Percy, 277/-11, $97,356.25
T-7: Matthias Schwab, 277/-11, $97,356.25
T-7: Vaughn Taylor, 277/-11, $97,356.25
T-7: Kevin Yu, 277/-11, $97,356.25
T-7: Christopher Gotterup - a, 277/-11,
T-16: Chan Kim, 278/-10, $58,275
T-16: Michael Kim, 278/-10, $58,275
T-16: Ben Kohles, 278/-10, $58,275
T-16: David Lingmerth, 278/-10, $58,275
T-16: Spencer Ralston, 278/-10, $58,275
T-16: Kyle Stanley, 278/-10, $58,275
T-22: Patrick Flavin, 279/-9, $37,308.34
T-22: Josh Teater, 279/-9, $37,308.34
T-22: Ricky Barnes, 279/-9, $37,308.33
T-22: Sung Kang, 279/-9, $37,308.33
T-22: Andrew Novak, 279/-9, $37,308.33
T-22: Brian Stuard, 279/-9, $37,308.33
T-28: Kiradech Aphibarnrat, 280/-8, $25,345
T-28: Aaron Baddeley, 280/-8, $25,345
T-28: Joseph Bramlett, 280/-8, $25,345
T-28: Nick Hardy, 280/-8, $25,345
T-28: Kurt Kitayama, 280/-8, $25,345
T-28: Richy Werenski, 280/-8, $25,345
T-28: Jared Wolfe, 280/-8, $25,345
T-35: Tyler Duncan, 281/-7, $20,165
T-35: Satoshi Kodaira, 281/-7, $20,165
T-35: Justin Lower, 281/-7, $20,165
T-38: Rafa Cabrera Bello, 282/-6, $17,575
T-38: Mark Hubbard, 282/-6, $17,575
T-38: Peter Uihlein, 282/-6, $17,575
T-41: Greg Chalmers, 283/-5, $13,151.45
T-41: Michael Gligic, 283/-5, $13,151.45
T-41: Bill Haas, 283/-5, $13,151.45
T-41: Jim Knous, 283/-5, $13,151.45
T-41: Scott Brown, 283/-5, $13,151.44
T-41: Scott Gutschewski, 283/-5, $13,151.44
T-41: Seth Reeves, 283/-5, $13,151.44
T-41: Chase Seiffert, 283/-5, $13,151.44
T-41: Dawie van der Walt, 283/-5, $13,151.44
T-50: Sangmoon Bae, 284/-4, $9,316.60
T-50: Brett Drewitt, 284/-4, $9,316.60
T-50: Fabián Gómez, 284/-4, $9,316.60
T-50: Kelly Kraft, 284/-4, $9,316.60
T-50: Curtis Thompson, 284/-4, $9,316.60
T-55: Seung-Yul Noh, 285/-3, $8,658
T-55: Victor Perez, 285/-3, $8,658
T-55: D.A. Points, 285/-3, $8,658
T-55: Austin Smotherman, 285/-3, $8,658
T-59: Rafael Campos, 286/-2, $8,436
T-59: D.J. Trahan, 286/-2, $8,436
T-61: Austin Cook, 287/-1, $8,177
T-61: Brian Davis, 287/-1, $8,177
T-61: Derek Ernst, 287/-1, $8,177
T-61: Chesson Hadley, 287/-1, $8,177
T-61: Richard S. Johnson, 287/-1, $8,177
T-66: Robert Garrigus, 288/E, $7,918
T-66: Bo Hoag, 288/E, $7,918
68: Trevor Werbylo, 289/+1, $7,807
69: Bryson Nimmer, 290/+2, $7,733
70: Matt Every, 294/+6, $7,659