PGA Tour
Puerto Rico Open leader has this 'right' answer when asked about having wife as his caddie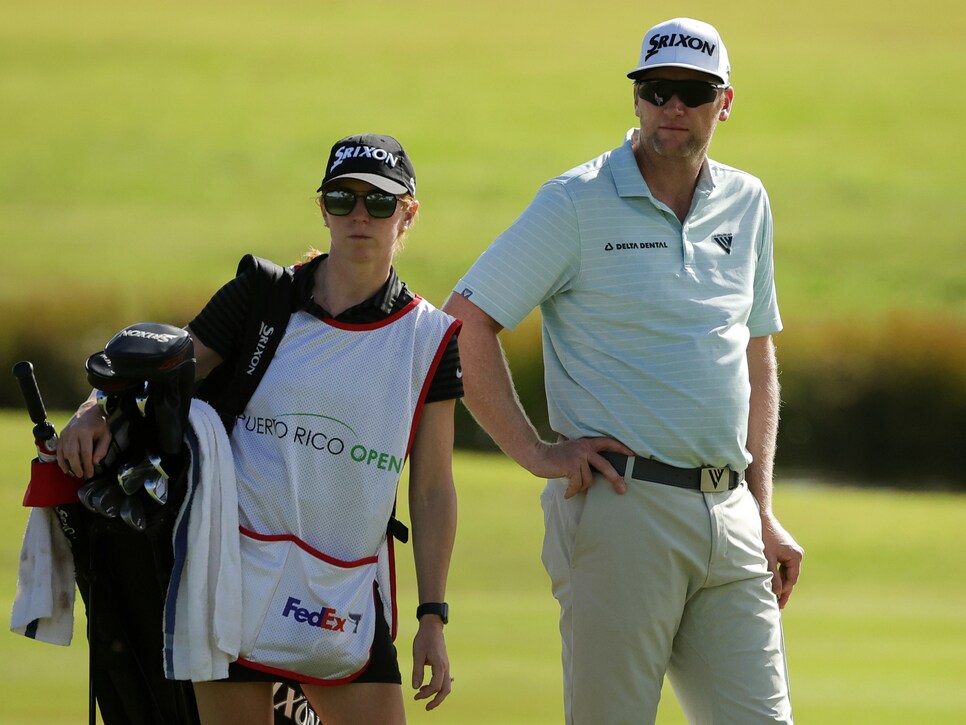 Ryan Brehm and his wife and caddie Chelsey Brehm prepare to play a shot on the second hole during the second round of the Puerto Rico Open.
Stacy Revere
There couldn't be much more pressure on Ryan Brehm that he's feeling this week in the Puerto Rico Open. The two-time Korn Ferry Tour winner is playing in his first PGA Tour event of the year and has exactly this one start to either win or finish second to keep some status while competing on a minor medical extension.
Brehm, 35, mostly struggled in 2020-21 on the big tour, posting only two top-25 finishes in 21 starts, though he began this year with an encouraging T-9 at the KFT's Astara Golf Championship last month.
And now he's on a bit of a roll that could be life-altering. Brehm finished birdie-eagle to shoot five-under-par 67 on Friday at Grande Reserve Country Club in Rio Grande, Puerto Rico, to get to 11 under and take a one-shot lead over a trio of players.
The difference this year for Brehm? It may be the person carrying his bag. With his former caddie, Mike Downey, sitting out for now, Brehm's wife, Chelsey, has taken over the looping. She has traveled with her husband for years anyway and has caddied before, so she said it hasn't been a big deal to get inside the ropes again.
"We have fun," Chelsey told media officials on-site. "I'm out walking all 18, I might as well contribute in some way."
There's no question, though, that it's different than simply having a guy who's working for you lug the bag.
"I don't know if it's really player-caddie; that's tough to do when you're husband and wife," Ryan said. "She gets the yardage book every week and she's double checking my numbers. I think she's got a much better feel for the game than when we started. She's getting wind directions and doing a lot of the little things that a caddie would do. I think it helps."
He turned to Chelsey. "What do you think?"
"Obviously, that's the right answer," she said to laughs.
For Chelsey, she said the most difficult part is checking the emotions that she might show when she's spectating.
"I do have an energy, and if he's feeling that, then that's good, bad, indifferent, I don't know," she said. "But I would say that I have to check what I feel outside the ropes and one foot in front of the other, take a breath, I find myself saying stuff like that to him even though on the inside I'm obviously not quite as calm as I'd like to pretend. It's fun, a good problem to have."
Ryan Brehm, who won five times in college and led Michigan State to three Big Ten championships, is in his second stint of the PGA Tour, notching three top-25s total. He's had more success on the KFT, where he won for the first time in 2016 and notched his second victory in the 2019 LECON Health Challenge.