Payday at Aviara
Here's the prize money payout for each golfer at the 2022 JTBC Classic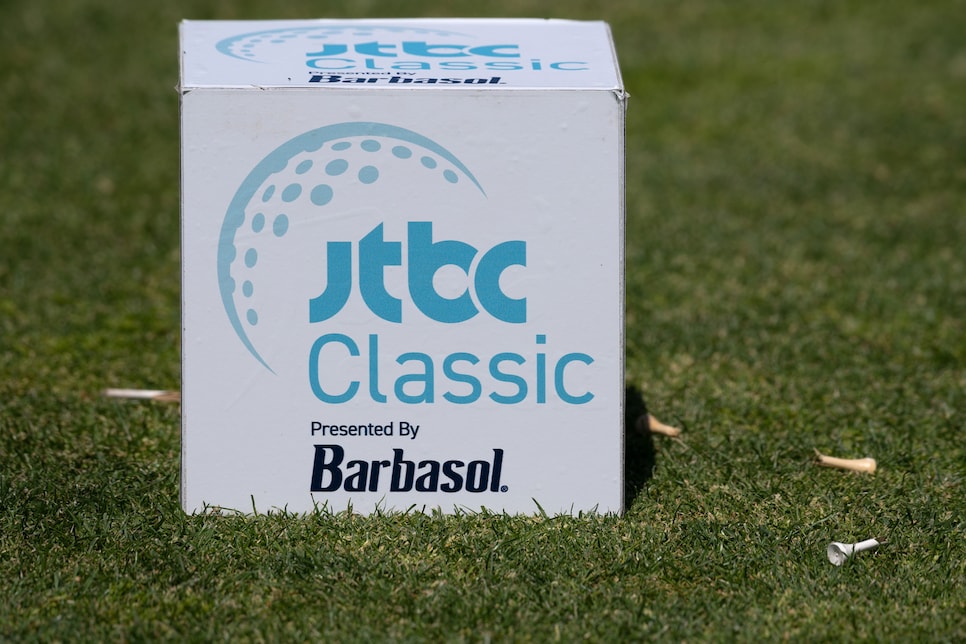 Big things were expected of Atthaya Thitikul, the 19-year-old Thai native having won four times on the Ladies European Tour (including twice as an amateur) before earning her LPGA Tour card last fall with a third-place finish in LPGA Q-Series. But this quickly?
In just her fifth start as an official LPGA Tour member, Thitikul is now a winner, beating Nanna Koerstz Madsen in a playoff to take the title at the JTBC Classic on Sunday. Thitikul shot a closing 64 at Aviara Golf Club in Carlsbad, Calif., for a 16-under 272 total.
With the win, she became the sixth Thai native to claim an LPGA Tour title and took home a prize money payout of $225,000 from a overall purse of $1.5 million.
Here's the prize money payout for every golfer who made the cut at Aviara.
P-2: Nanna Koerstz Madsen, -16, $135,995
3: Na Rin An, -15, $98,654
T-4: Pajaree Anannarukarn, -14, $62,667
T-4: Maude-Aimee Leblanc, -14, $62,667
T-4: Jin Young Ko, -14, $62,667
7: Charley Hull, -12, $42,068
T-8: Inbee Park, -11, $34,995
T-8: Lilia Vu, -11, $34,995
T-10: Amy Yang, -10, $29,038
T-10: Stephanie Meadow, -10, $29,038
T-12: Chella Choi, -9, $23,751
T-12: Ryann O'Toole, -9, $23,751
T-12: Lydia Ko, -9, $23,751
T-12: In Gee Chun, -9, $23,751
T-16: Lizette Salas, -8, $17,933
T-16: Allison Emrey, -8, $17,933
T-16: Xiyu Janet Lin, -8, $17,933
T-16: Alana Uriell, -8, $17,933
T-16: Moriya Jutanugarn, -8, $17,933
T-16: Nasa Hataoka, -8, $17,933
T-16: Janie Jackson, -8, $17,933
T-23: Annie Park, -7, $13,212
T-23: Mina Harigae, -7, $13,212
T-23: Alison Lee, -7, $13,212
T-23: Cheyenne Knight, -7, $13,212
T-23: Paula Reto, -7, $13,212
T-23: Austin Ernst, -7, $13,212
T-23: Hyo Joo Kim, -7, $13,212
T-23: Minjee Lee, -7, $13,212
T-23: Brittany Altomare, -7, $13,212
T-32: Hee Jeong Lim *, -6, $9,754
T-32: Mo Martin, -6, $9,754
T-32: Ayaka Furue, -6, $9,754
T-32: Yealimi Noh, -6, $9,754
T-32: Lauren Coughlin, -6, $9,754
T-32: Hye-Jin Choi, -6, $9,754
T-38: Lexi Thompson, -5, $7,911
T-38: Jeongeun Lee5, -5, $7,911
T-38: Gemma Dryburgh, -5, $7,911
T-38: Anna Nordqvist, -5, $7,911
T-42: Jenny Shin, -4, $6,130
T-42: Marina Alex, -4, $6,130
T-42: Sanna Nuutinen, -4, $6,130
T-42: Danielle Kang, -4, $6,130
T-42: A Lim Kim, -4, $6,130
T-42: Emma Talley, -4, $6,130
T-42: Kelly Tan, -4, $6,130
T-42: Leona Maguire, -4, $6,130
T-42: Pernilla Lindberg, -4, $6,130
T-51: Frida Kinhult, -3, $4,542
T-51: Yaeeun Hong, -3, $4,542
T-51: Haylee Rae Harford, -3, $4,542
T-51: Emily Kristine Pedersen, -3, $4,542
T-51: Jessica Korda, -3, $4,542
T-51: Kaitlyn Papp, -3, $4,542
T-51: Jasmine Suwannapura, -3, $4,542
T-51: In Kyung Kim, -3, $4,542
T-59: Sophia Popov, -2, $3,624
T-59: Jaye Marie Green, -2, $3,624
T-59: Hannah Green, -2, $3,624
T-59: Jenny Coleman, -2, $3,624
T-59: Jeongeun Lee6, -2, $3,624
T-59: Muni He, -2, $3,624
T-65: Madelene Sagstrom, -1, $3,276
T-65: Isi Gabsa, -1, $3,276
T-65: Eun-Hee Ji, -1, $3,276
T-68: Katherine Kirk, E, $3,053
T-68: Ariya Jutanugarn, E, $3,053
T-68: Morgane Metraux, E, $3,053
71: Stacy Lewis, 2, $2,942
T-72: Katherine Perry-Hamski, 3, $2,795
T-72: Cristie Kerr, 3, $2,795
T-72: Gerina Mendoza, 3, $2,795
T-72: Pornanong Phatlum, 3, $2,795
T-72: Sarah Schmelzel, 3, $2,795
T-72: Stephanie Kyriacou, 3, $2,795
T-72: Hinako Shibuno, 3, $2,795
79: Jiwon Jeon, 4, $2,656
80: Dewi Weber, 5, $2,622
81: Jennifer Song, 7, $2,588